The Best Beach Resorts of Crete
There are many beach resorts in Crete. We've listed a comprehensive Beach Resort A - Z guide that covers most, if not all of the resorts and beaches in Crete. But because there are so many we've compiled this page to highlight our favourite resorts on Crete.
Starting off in West Crete, in the Chania region there are a number of brilliant beaches and vibrant resorts with great nightlife, fabulous luxury hotels and excellent restaurants.
But the very best beach resorts in the region of Chania are Platanias and Agia Marina. These are neighbouring resorts and blend seamlessly together, so you're never quite sure where Platanias begins and Agia Marina ends. There is a road sign indicating the entry to Platanias but you could easily miss it.
Visitors staying at Platanias or Agia Marina usually arrive at Chania Airport or the port of Souda Bay by ferry or cruise ship.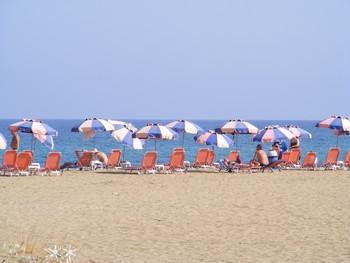 Travelling across Crete eastwards you'll find two of the most popular beach resorts of Kalyves and Almyrida. Both of these resorts are firm favourites with many regular and repeat visitors to Crete. Kalyves and Almyrida are near neighbours in the Apokoronos area of west Crete in the region of Chania.  Kalyves and Almyrida both have charming fishing harbours, beach front tavernas and the very best beaches in Crete.
Further eastwards you'll find the fabulous beach resort of Georgiopolis. Again, this is a firm favourite of many visitors to Crete. You cannot fail to fall in love with gorgeous Georgiopolis with its golden sands, varied accommodation from budget apartments to luxury hotels and beach front restaurants.
In the area of Rethymno on the north coast in the middle of Crete you will find neighbouring beach resorts of Platanes and Adelianos Kampos. Some misspell and mistake the sound alike Platanes in Rethymnon as Platanias that is found in Chania. Both beach resorts of Platanes and Adelianos Kampos have long stretches of golden sands with many luxury hotels, bars, shops, tavernas, cocktail bars and restaurants. There is so much choice in Platanes and Adelianos Kampos that there is something to suit all tastes and budgets.
Past Heraklion you'll find a trio of perhaps the most popular beaches resorts in Crete -  Hersonissos, Stalis and Malia. All three have the most fabulous beaches, with many people agreeing that Malia has the best beach on Crete. -  Hersonissos, Stalis and Malia have a huge choice of accommodation ranging from budget studios and self catering apartments all the way through to all inclusive 5 star luxury hotels. The choice in food and drink is also very wide ranging in Hersonissos, Stalis and Malia. You'll find traditional Greek Tavernas alongside Irish bars and  British, Italian and Chinese restaurants. 
And finally our most favourite beach resort is Istron on the Mirambello Bay just past Agios Nikolaos in east Crete. It has three stunning beaches, fantastic tavernas and great nightlife. We love Istron and all it has to offer. It is much smaller and more select than other beach resorts on Crete and is ideal for families. You are assured a warm and friendly welcome as a visitor to Istron.
---
Just some of the reasons we love Crete...


Scenic Views

Family Fun

Tasty Food

Culture

Hiking

Sailing

Country Lanes

Markets

Flora

Respect

Restaurants

Shopping

Olive Oil

Mythology

Ancient History

Nightlife

Beaches

Tradition

Raki

Fresh Fish

Quaint Villages

Birdlife

Romance

The People
---
© Copyright All Original Content 2006 - 2017 Completely-Crete.com. All Rights Reserved. Reproduction in whole or in part without permission is not permitted.

Click here to learn about developing your own money-generating website
from Site Build It! - even with little or no web experience!