Herbs and Spices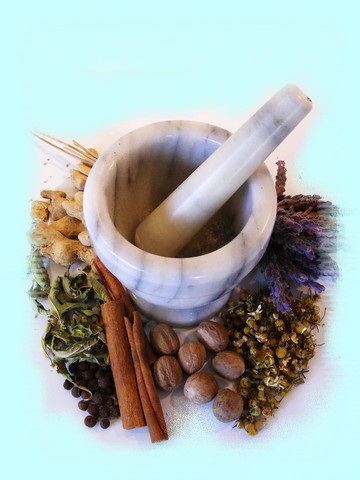 Crete has the most species of herbs and spices growing wild in Europe. The traditional Cretan diet features the use of organic herbs and spices quite heavily and adds flavour, aroma and variety to foods. Herbs like Oregano, Thyme and Marjoram are most often used and also spices such as cinnamon and nutmeg are often ingredients in the traditional Cretan diet.
Cretans also use many of the herbs and spices to make aromatic tea. Cretan tea, also known as Greek Mountain Tea and Dittany of Crete are the most popular but you'll also find Cretans drinking Chamomile, Lemon Verbena and Basil tea.
Cretan herbs and spices are organically cultivated here on the beautiful Greek Island of Crete. The organic herbs and spices are delightfully pure and natural and are without any artificial ingredients, colourings or flavourings. They are 100% organic and natural and will add flavour to many dishes.
Organic Basil

Greek Basil is often referred to as the 'King of Herbs' and is an essential addition to the store cupboard of top chefs and real food lovers. Basil is great to use in any recipes containing tomatoes. It is a very versatile herb and can add flavour to many dishes.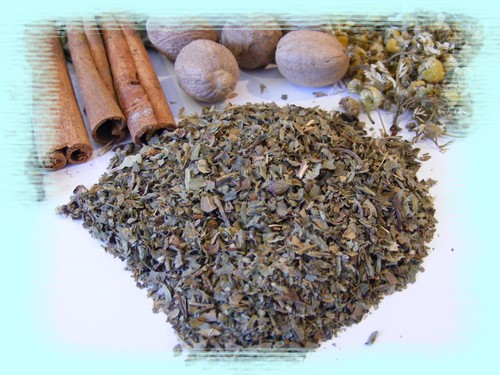 ---
Organic Bay Leaves

The Bay leaf is an essential ingredient to the Cretan diet style of cuisine. It's a very versatile herb to add to authentic Greek dishes and any flavoursome stew or slow cooked casseroles. Bay Leaves are organically cultivated here on Crete and are 100% organic and natural.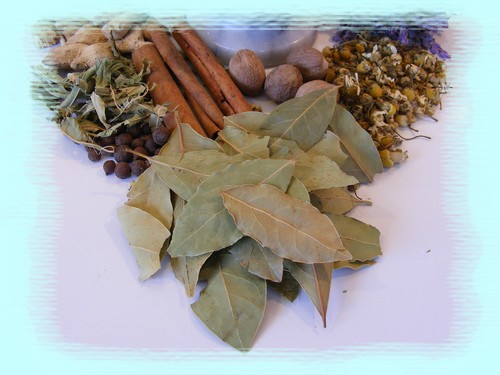 ---
Organic Chamomile

Dried chamomile makes a wonderful herbal tea or tisane that is said to promote restful sleep, aid digestion and generally relive stress. This lovely organic chamomile is wonderfully pure and natural and is full of aroma and flavour.
---
Organic Cinnamon

Cinnamon is used not just to flavour desserts and sweet dishes but also is added to Greek meat dishes such as traditional Stifado. The aromatic organic cinnamon sticks known also as quills will add natural flavour to a range of dishes.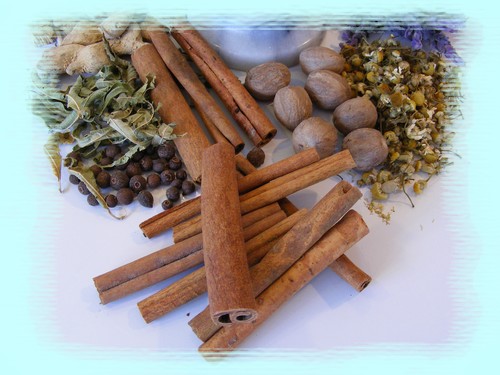 ---
Organic Cloves

Cloves are the dried unopened flower buds of an evergreen tree that look like little nails. Cloves are very aromatic and need to be used sparingly in dishes. Cloves are not just used to flavour desserts and sweet dishes but also are added to meat dishes.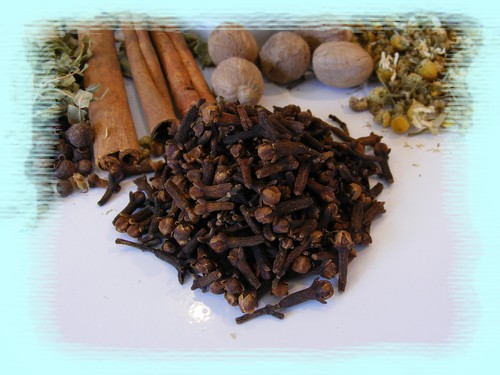 ---
Organic Cretan Tea

The plant and flowers that form Cretan Tea or Greek Mountain Tea, grow wild on the Greek Island of Crete. Cretan tea is drunk as part of the world renowned Cretan Diet, promoting good health and long life. it is very popular and is so refreshing!
---
Organic Cumin
Cumin is a hot and peppery spice used in Greek cooking to spice up meat dishes. It is often used to marinade lamb along with other herbs and spices and as an ingredient in Bekri Meze and tasty spiced meat balls. It certainly adds a hot peppery and spicy taste to meat dishes.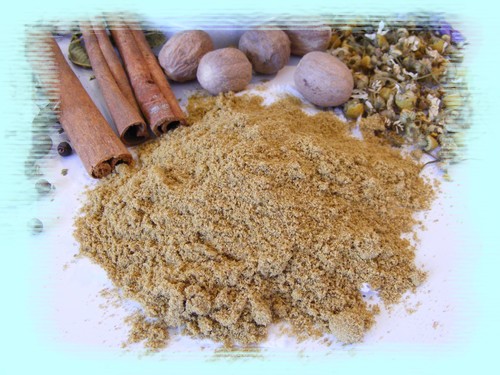 ---
Diktamo
Diktamo known as Dittany of Crete is a healing, therapeutic and aromatic plant that only grows on the mountainsides and gorges of the Greek island of Crete. From ancient times to the present day Cretan Dittany has been considered a panacea for many ailments.
You can buy Dittany of crete direct from our sister site.
---
Organic Lemon Verbena
Lemon Verbena is a small deciduous perennial shrub renowned for its citrus lemony fragrance. It smells wonderful and when the leaves are crushed the Lemon Verbena gives off a gorgeous lemon citrus aroma.
---
Organic Marjoram
Marjoram is used widely to flavour most meat dishes in the traditional Cretan diet and is used widely in many Greek dishes. It also enhances the flavour of tomato dishes and is used in salad dressings.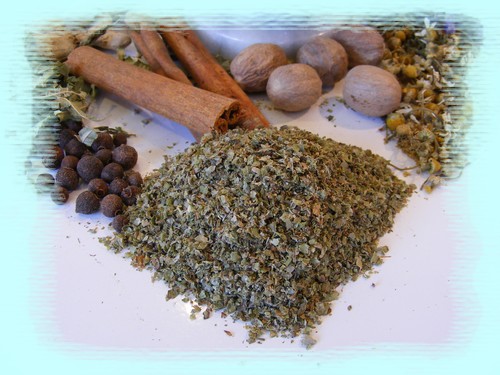 ---
Organic Nutmeg
Nutmeg is the spice used to give flavour to béchamel sauce that is used to make Greek Moussaka and Pastitsio. Nutmeg is also used to add spice to sweet dishes such as puddings, custards and spiced cakes.
---
Organic Oregano
Oregano is used widely in Greek cooking and is found in tomato sauces, with meats, fish, cheese, egg dishes, salads, cheeses, and with vegetables including tomatoes, courgettes, and green beans.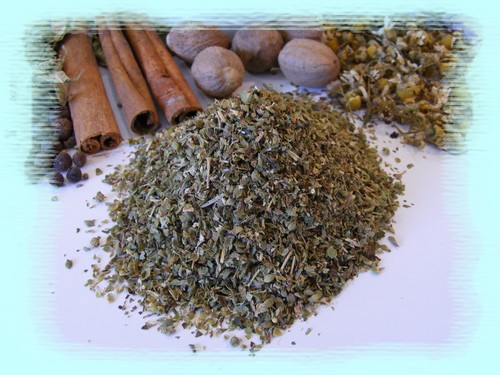 ---
Organic Rosemary
Rosemary is a very versatile herb that seems to complement and enhance a wide range of foods, particularly roasted meats. Rosemary is also used widely in marinades and breads, cooked greens and soups.
---
Organic Sage
On Crete, Sage is often used in the process of smoking sausages, and while baking the traditional hard bread of Crete named Dakos. Sage tea is also a popular drink on Crete and is said to ease menopause related ailments.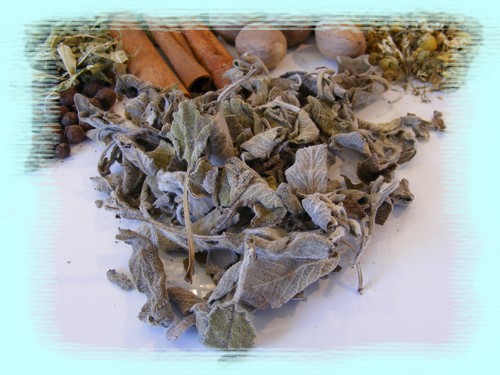 ---
Organic Thyme
Thyme is perfect for enhancing the flavour of olive oil, butter, vinegar, meats, poultry, fish, soups and stews. Used also for salads and cooked vegetable dishes, Thyme adds a super seasoning.
---
Just some of the reasons we love Crete...


Scenic Views

Family Fun

Tasty Food

Culture

Hiking

Sailing

Country Lanes

Markets

Flora

Respect

Restaurants

Shopping

Olive Oil

Mythology

Ancient History

Nightlife

Beaches

Tradition

Raki

Fresh Fish

Quaint Villages

Birdlife

Romance

The People
---
© Copyright All Original Content 2006 - 2017 Completely-Crete.com. All Rights Reserved. Reproduction in whole or in part without permission is not permitted.

Click here to learn about developing your own money-generating website
from Site Build It! - even with little or no web experience!