Secrets of Olive Oil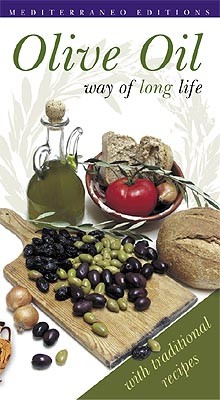 This is a lovely olive oil recipe book all about the mythology, history and folklore of the olive tree, olives and olive oil. It's also stuffed with lots of traditional recipes using olive oil for you to try at home.
Myths, history and folklore are the principal testimonies in tracking the olive culture which have been unbreakably linked with human existence in Greece for the past 5000 years.
The tree with the blessed fruit is praised for its contribution to our diet, good health, hygiene, beauty, heating, and lighting, and acquires a sacred nature of symbolic and religious proportions. Contemporary medical studies endorse the myths about olive oil proving, that being the principal ingredient of the Mediterranean diet; it provides good health and longevity.
In this book you can find ample information about the mythology, history and folklore of the olive tree, fruit and oil. At the same time you will be able to try culinary delights based on olives and olive oil thanks to the traditional recipes contained herein.
Back to Hand Picked Books

More Books from Amazon
---
Just some of the reasons we love Crete...

Did you love this page? Please share it with your friends!
---
© Copyright All Original Content 2006 - 2019 Completely-Crete.com. All Rights Reserved. Reproduction in whole or in part without permission is not permitted.

Click here to learn about developing your own money-generating website
from Solo Build It! - even with little or no web experience!