Crete Luxury Hotels
This Crete Luxury Hotels Page is from the Completely Crete website – an insiders guide to getting the most from this beautiful Greek Island.
Fancy a bit of 5 star top class pampering? Try one of the Crete luxury hotels on this wonderful Greek Island.
There are numerous top class luxurious hotels available in Crete. Because of its size, more so than any other Greek Island, Crete has a plethora of gorgeous 5 star luxury hotels to choose from.
Most of the best Crete hotels have luxurious spa facilities to really relax and de stress in perfect surroundings.
Whether you're planning a getaway break, family holiday, having a first or even second honeymoon, celebrating an anniversary or just enjoying a luxury vacation then read on.
Here, we've hand picked the very best selection of top class luxury hotels in Crete.
Crete Luxury Hotels in the Heraklion Region
Knossos Royal - Hersonissos – Heraklion
The 5 star deluxe accommodation at the Aldemar Knossos Royal Village luxury hotel offers elegant, comfortable and cool rooms with the amazing views of the sandy beach, gorgeous swimming-pools, the perfect athletic facilities, the atmospheric bar and wonderful restaurants.
For reservations and more information contact:
Aldemar Head Office
262 Kifissias Ave
Kifissia 14562
Athens
Greece
Tel: (+ 30) 210 62 36 150
Email: marketing@aldemarhotels.com
---
Creta Maris - Hersonissos – Heraklion
The Creta Maris hotel, just 24 km from Heraklion International Airport is close to the fishing village of Hersonissos, a long sweeping bay of sandy beach and crystal clear water. A small village with quaint twisting paths, small piazzas filled with the scents and colours of a wide variety of trees and flowers, Creta Maris is a unique combination of Aegean Architecture and luxurious facilities.
At Creta Maris, the choices for fun, entertainment, sport activities, water-sports, but also relaxation, exercising and beauty are endless. For relaxation and rejuvenation of body and mind, visit "Thalasso", experience the unique experience of total relaxation and take advantage of the rich properties of sea water.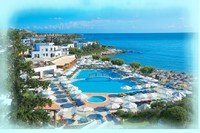 For reservations and more information contact:
Creta Maris
Limin – Hersonissos
70014
Crete
Greece
Tel.: ( +30) 28970 27000
E-Mail: creta@maris.gr
---
Crete Luxury Hotels in the Lassithi Region
Elounda Beach Hotel and Villas – Elounda - Lassithi
Elounda Beach Hotel is a superior deluxe Hotel and member of The Leading Hotels of the World and The Concorde Hotels.
The enchanting Hotel and Villa Resort offers so much that you are simply spoilt for choice; offering superb Restaurants and high standards of service in a relaxed, informal atmosphere with beautifully decorated Rooms fitted with hand-made furniture and luxurious marble Bathrooms. Bungalows and Suites.
The facilities are 5 star and the service is of the highest standard. Sports facilities cater for every taste and in addition, the hotel has a fabulous Spa offering a wide range of spa treatments.
The complex is set in beautiful Elounda overlooking the magnificent view of the crystal blue waters of Mirabello Bay.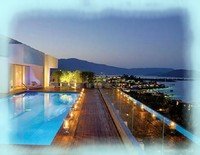 For reservations and more information contact:
Elounda Beach Hotel and Villas Elounda
72053
Crete
Greece
Tel.: ( +30) 28410 63000
Email: elohotel@eloundabeach.g
---
Istron Beach Hotel – Istron - Lassithi
Set on the beautiful Mirabello Bay in peaceful Istron, Kalo Horio the Istron Bay Hotel is a perfect place for a relaxing holiday. It is located at one of the best beaches in Crete – Golden Beach and close to the cosmopolitan town of Agios Nikolaos.
The Istron Bay is a family-run hotel that is run by people who really love what they are doing. The family members who work in the hotel likewise regard their long-serving employees as members of the family as well. This means that everybody works with the same feeling of giving hospitality and taking responsibility.
The Istron Bay Hotel has a very personal atmosphere, so that its guests feel right at home and are glad to come back again and again.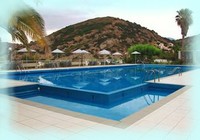 For reservations and more information contact:
Istron Bay Hotel
Istron
Agios Nikolaos
72100
Crete
Greece
Τel.: (+30) 28410 61303
Ε-mail: istron@agn.forthnet.gr
---
Crete Luxury Hotels in the Chania Region
Galini Deluxe - Agia Galini – Chania
Close to cosmopolitan Chania and the gorgeous sandy beach of Agia Marina you'll find the 5 star Galini Deluxe. The Crete luxury hotel offers a variety of rooms and suites on Half Board and All Inclusive basis.
Guests can enjoy a la carte restaurants, cocktail bars, indoor and outdoor swimming pools and a fitness centre. There is also a sauna, steam bath and massage room for relaxing spa treatments.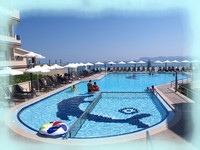 For reservations and more information contact:
Hotel Galini
Agia Marina
Chania
Crete
Greece
Tel.: (+30) 28210 68148
e-mail: reservations@galinihotels.gr

---
Minoa Palace Resort & Spa – Platanias – Chania
Minoa Palace Resort & Spa is a new luxury hotel and low-rise bungalows complex situated in popular area of Platanias, 12km west of Chania town centre and 24 km from Chania International Airport.
The beautiful view combines the White Mountains, the unique natural environment and the blue sea with its endless sandy beach. This prestigious hotel has excellent facilities combined with an impeccable service and the finest cuisine in luxurious surroundings.
Features of the Crete luxury hotel include the Spa with an indoor heated swimming pool, fully equipped fitness centre, sauna, Jacuzzi, personal sauna & spa-jet treatment, face & body treatments, cosmetics, aromatherapy, relaxing or healing massage by professionals, tai-chi, shiatsu, hairdresser's salon.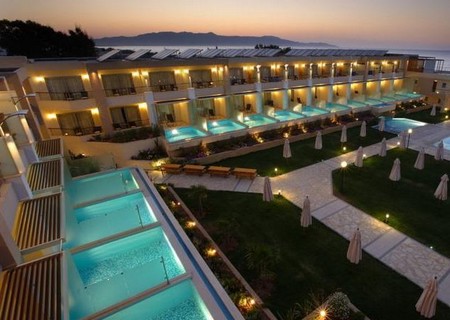 For reservations and more information contact:
Minoa Palace Resort & Spa
Platanias
73014
Chania
Crete
Greece
Tel.: +30 28210 36500
e-mail: info@minoapalace.gr
---
Kiani Beach Resort – Kalyves – Chania
Kiani Beach Resort is ideally located on the beach of Kiani, just a few kilometres east of Chania and close to Kalyves.
The large swimming pool outlined by sun-beds and umbrellas, enjoys the service of the pool bar for snacks and beverages and is just steps away from the beach of Kiani.
The shallow beach, children's swimming pool, playground, open theatre with much entertainment, ramps and elevators within the resort for easy manoeuvring of prams, makes this resort a haven for families with young children.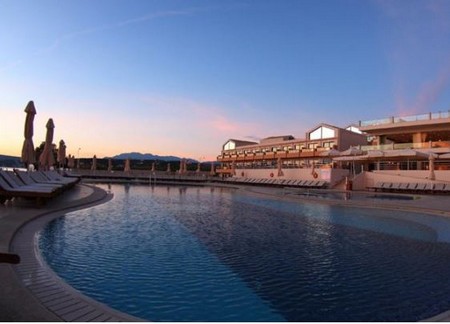 For reservations and more information contact:
Kiani Beach Resort
Kiani Akti Apokoronou
73003
Chania
Crete
Greece
Tel.: +30 28250 32300
e-mail: info@kianibeach.com
---
Kalyves Beach Hotel – Kalyves – Chania
The hotel " Kalyves Beach " lies by the sea, next to the river " Xydas " in Kalyves. Built on a really privileged area, it combines the blue green of the Cretan Sea (Kritiko Pelagos) and the beauty of the greek nature.
The unique location of the Kalyves Beach Hotel together with the impeccable service offered by the staff, and the warm atmosphere which reigns everywhere, can make your dream of vacations come true.
The beautiful decoration along with the particular style of the hotel can satisfy the requirements of even the most demanding customer.
The aim of the hotel is to offer you the famous Greek hospitality combined with a service of the highest quality, thus making your stay at the Kalyves Beach Hotel an unforgettable memory.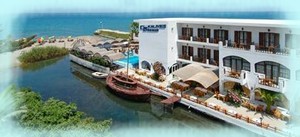 For reservations and more information contact:
Kalyves Beach Hotel
Kalyves Apokoronou
73003
Chania
Crete
Greece
Tel.: +30 28250 31285
e-mail: info@kalyvesbeach.com
---
Crete Luxury Hotels in the Rethymnon Region
Creta Palace - Rethymnon
The 5 star Creta Palace Hotel is situated just 300m away from a gorgeous sandy beach set in large beautiful, verdant gardens. The resort's excellent amenities include a sea-water swimming pool, a fresh-water pool, ten private pools, resort tennis, evening entertainment, indoor pool and a fitness centre.
New for July 2008 in the Creta Palace is the Elixir Spa featuring a Jacuzzi, Waterfall showers, 8 massage rooms and facial treatment rooms.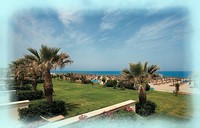 For reservations and more information contact:
Missiria
Rethymnon
74100
Crete
Greece
Tel.: ( +30) 28310 55181
Email: sales_cp@grecotel.gr
---
Porto Rethymno Beach Hotel – Rethymnon
Porto Rethymno Beach Hotel is directly situated on the promenade of Rethymnon town, just across the road from the long and sandy beach that follows the coastline for many kilometres. There are many restaurants, cafes, tavernas and shops, all within immediate walking distance.
The facilities provide the best in swimming, recreation, gastronomic delights and relaxation. The hotel balconies give a panoramic view of the old town and the lovely harbour of Rethymnon.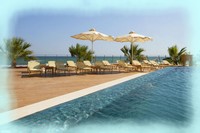 For reservations and more information contact:
Porto Rethymno
Rethymnon
74100
Crete
Greece
Tel.: ( +30) 28310 00330
Fax.: ( +30) 28310 20785

If you love Crete then you'll love the romantic Greek island of Santorini. Visit our sister site of Simply Santorini. Com for all you'll need to know about Santorini.

---
Just some of the reasons we love Crete...


Scenic Views

Family Fun

Tasty Food

Culture

Hiking

Sailing

Country Lanes

Markets

Flora

Respect

Restaurants

Shopping

Olive Oil

Mythology

Ancient History

Nightlife

Beaches

Tradition

Raki

Fresh Fish

Quaint Villages

Birdlife

Romance

The People
---
© Copyright All Original Content 2006 - 2017 Completely-Crete.com. All Rights Reserved. Reproduction in whole or in part without permission is not permitted.

Click here to learn about developing your own money-generating website
from Site Build It! - even with little or no web experience!