YOU will be Completely
Crazy about Crete!
Why Crete?
It's Simple...



Wonderful Weather

Brilliant Beaches

Irresistible Resorts

Spectacular Scenery

Magnificent Mountains

Georgeous Gorges

Warm Hearted People

Fabulous Flora and Fauna

Fantastic Fresh Food

White Washed Villages




| | |
| --- | --- |
| | You can now follow us on Twitter! Click to Follow and get up to the minute news of what's going on in Crete, and what we are up to. |
Where is Crete?
This ancient land, largest of the Greek Islands, lies outstretched at the southern edge of Europe.
Look on any map and you'll find it embraced by the bluest of blue Mediterranean, Aegean, Ionian and Libyan Seas gently caressing the golden sands of its numerous pristine Crete beaches.
The most southerly point in Europe, it basks in glowing sunshine for over 300 days a year.
Holidays in Crete
Crete is a very popular destination for holidays and vacations of all kinds, holidays in Crete are available in many varieties from a wide selection of pretty, self-catering villas to a choice of luxury hotels. There is something for everyone with wonderful landscapes, superb beaches and many sites of historical interest.
Getting to Crete from the UK
Flying to Crete from the UK during the main season is cheap and convenient. Operators fly from many UK airports with arrivals at either Heraklion or Chania. Several companies offer flights to Crete. Summer flight schedules run until October, meaning there are several flights each day, but this reduces later as airlines scale back during the off-peak period.

Who lives on Crete?
The Cretans of course! These are a people and community who are warm and welcoming. They embrace all visitors, helping them enjoy all the attractions and holiday resorts of this magnificent island.

The Minoans lived here, as did the Romans, Byzantines, Turks, and Venetians at different ages in history. Now it is becoming home once again, to discerning non-Greeks from far and wide who, like us, have fallen head over heels in love with the lifestyle this island paradise offers.

What is Crete?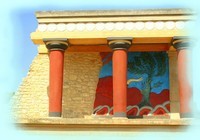 Also known as Kriti, Creta and Kreta, this beautiful island is a unique and captivating blend of ancient civilisations and modern lifestyles. Steeped in myths and legends, it is the birthplace of Zeus, home of the Minotaur and King Minos, and setting of many enthralling episodes of Greek mythology.
As the centre of the ancient Minoan civilization, there are many archaeological sites to explore, Knossos being the most famed. You'll not need to wander far to stumble across some ancient ruin or other. Museums of natural history, folk art and archaeology scatter the island.
Our favourite Greek island is not just known for its ancient relics and old fossils! Young and vibrant it can be – when it wants to. With a cosmopolitan café culture, exciting nightlife, a lively music scene and chic shopping.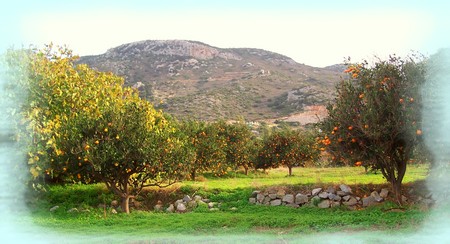 The Cretan scenery is spectacular and stunning. Magnificent mountains, gorgeous gorges, lovely landscapes and beautiful Crete beaches create an environment of unsurpassed natural beauty. Rare flora and fauna, marine and bird life find their home in this lovely setting. This is truly a nature lover's paradise. If you are into photography you'll get some brilliant pictures too!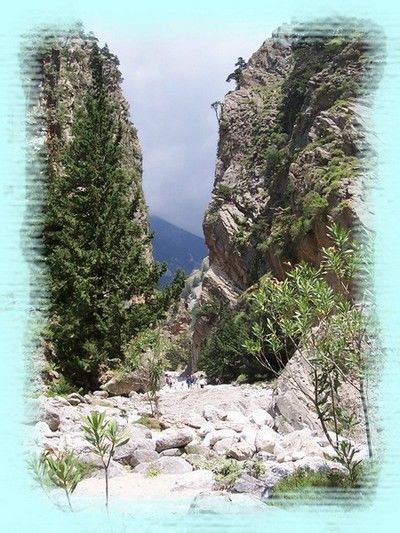 The fertile Cretan plains are home to thousands of olive groves, vineyards, organic fruits and vegetables and wild herbs. The seas are awash with fresh fish.
This abundance has led to the development of the famous Crete diet and is a Foody's delight. The Cretan Diet is internationally famous and prolongs life and health for all those who enjoy it.Cretan olive oil is simply the best in the world and we all know the health benefits of that.
Walking, hiking, biking, diving, snorkelling, swimming, paragliding, windsurfing - these are all just some of the ways to enjoy the beauties of this Greek Island if you are energetic and adventurous!
Crete maps and a good travel guide will reveal places to really get you energised.
Try out the world famous Samaria Gorge for starters!

Don't worry, this Greek island is a place to relax and stretch out on a beach too, where you can de-stress and travel back to a gentler time.


Want to know more?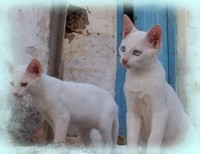 This is the site for you!
Crete really is the Greek Island with something for everyone. Take your time to explore and let your curiosity get the better of you – we are sure you will be informed and entertained, finding out things that might surprise you!
Look out especially for our Cretan Diet page as well as our Best Crete Beaches Guide and our Cretan Village Shop - but remember, there is so much more on this site.

---
Privacy Policy ║ Site Blog ║ Contact Us

© Copyright All Original Content 2006 – 2013 Completely-Crete.com. All Rights Reserved. Reproduction in whole or in part without permission is not permitted.

Click here to learn about developing your own money-generating website
from Site Build It! - even with little or no web experience!