Crete beaches - Looking for the best that are truly family friendly?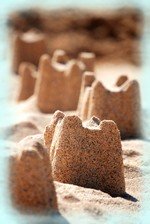 Our Family Friendly Beach Guide will help you find shallow safe waters with all amenities for your best family holiday.
Having kids to look after can be a worry, and you need the perfect beach to keep everyone happy. An unforgettable family holiday is made all the easier when you know where to go.
Check out these Family Friendly "must haves" for a stress and worry free family vacation:
Easy Access
No scrambling down rocks or steep cliffs with buggy, baby and kiddies in tow!
Warm Shallow Waters
Safe, clean, shallow waters ideal for paddling, playing and simply cooling off!
Baby Soft Sand
The very best sandcastles are made from the very best ingredients – soft, soft sand and clean, crystal clear water!
Great Amenities
Close by showers, toilet, and first aid facilities. And most importantly – ice cream!
Parent Pampering
The perfect beach to stretch out, relax and be assured that the children are happy, safe – and having a great time!
The best news is that we've found the most family friendly beaches here in Crete!
Here's our Family Friendly Beach Guide...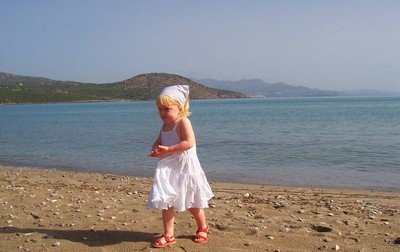 Golden Beach
Chrissi Akti, or Golden Beach, is aptly named as the soft sand has a warm golden glow to it. There's no less than three sandy beaches within a short walk from the town of Chania, West Crete.
The beaches here boast clear and shallow waters – perfect for children. One of the beaches has a play area for the kids too, plus great facilities such as umbrellas, sun beds and water sports. It can get quite busy during July and August, particularly at weekends, as many locals cool off in the hottest weather.

Kalyves Beach
Kalyves (or Kalives) is a beautiful, picturesque village located about 20 kilometres east of Chania on the western side of the island. It has two wonderful sandy beaches with crystal clear waters. The main beach of the village is the most popular because of its central location. It's golden sands sweep around the bay, backed by shady trees and tempting tavernas. The beach slopes gently into shallow clear waters, making it ideal for children. It can get a bit choppy at times though, depending on the wind direction
The nearest village to Kalyves Beach is Kalyves village.
Almyrida Beach
Almyrida (sometimes spelt Almirida) is a lovely friendly, fun tourist resort and fishing village. It has a small sandy beach with shallow water perfect for kids. It is well equipped with all the amenities a family would want for a day at the beach.
Again, this beach is on the western side, about 25 kilometres east of Chania, and benefits from being protected from the Meltema – the northern summer winds.
Check out the sweet village of Almyrida with this link.
Rethymno Town Beach
Rethymno Town Beach stretches seemingly endlessly more than 20 kilometres along the sandy shore near Rethymnon on the north coast in the centre of the island. There are plenty of watersports facilities and all along there are beach bars and tavernas. This beach is often busy and bustling but because of its sheer length you'll always find a quieter spot if that's what you want.
Click on the link to find out more about Rethymno Town.
Agia Galini Beach
Agia Galini is a popular and picturesque fishing village on the couth coast and is 58 kilometres south of Rethymnon. It has a luxuriously long sandy beach with Aegean blue waters. Great for families. Everything for the tourist is available here with a wide range of water sports on offer. Because of its length, there are quieter stretches too if you want a more secluded beach experience.

The nearest village to Agia Galini Beach is Agia Galini.
Agia Pelagia Beach
Agia Pelagia resort lies 16 kilometres west from the town of Heraklion. The beach is long and has beautiful golden sand.

The water here is almost always constantly calm and crystal clear because it is well protected from the Meltema (northern summer winds).
It is a very well organised beach with plenty of amenities for swimming, sunbathing and plenty of water sport facilities. It is well known as one of the best beaches on the North Coast.

Stalis Beach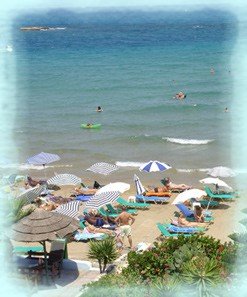 Stalis, also known as Stalida, is around 30 kilometres east from Heraklion Town. Stalis beach is wonderful beach with soft white sand and crystal clear and shallow waters. It is perfect for families with children. The sea can become choppy though so care should be taken on windy days. The resort itself is fantastic and has everything for the family and is very well organised. The beaches on this stretch of coast are all stunning, some of them sandy and suitable for swimming and others rocky, perfect for snorkelling.
This is a great place and one of our favourites, click this link for more details on Stalis.
Almyros Beach
This beach is just a few kilometres outside Agios Nikolaos, East Crete. easily the best beach in this cosmopolitan and picturesque town, it is long, sandy and set in a beautiful protected bay. The water is very shallow and is very much suited to families with children. Almyros Beach offers the visitor all the comforts and facilities expected of a fully organised beach resort.
The nearest town to Almyros Beach is Aghios Nikolaos
Aghios Panteleimonas
The beach of Aghios Panteleimonas is located in Istron, Kalo Horio on the beautiful Bay of Mirabella. We lived here for a couple of years so we know it well!
It is just a picturesque fifteen minute drive east from Agios Nikolaos. Often named Silver Beach or Church Beach, it is easily accessible with soft sand and just a few pebbles. It is very well equipped and has a tiny sweet church right on the beach.
The shallow waters make it ideal for children. Aghios Panteleimonas is a particular beautiful beach, quiet and isolated. Many locals use it and rate it as one of their favourites. It's certainly one of ours, and our toddler granddaughter!
The nearest village to Aghios Panteleimonas Beach is Istron.

Makrigialos Beach
The white sandy beach of Makrigialos on the south coast of the Lassithi region is well protected from winds. 'Makri' means long, and 'yalos' means shore.The beach has clear and clean shallow waters and is ideal for families with small children. You can enjoy swimming and water sports too at this well organised beach. All facilities for swimming and sunbathing such as umbrellas, sun bed rentals are available.
---
Just Some of the Reasons We Love Crete...

Did you love this page? Please share it with your friends!
---
© Copyright All Original Content 2006 - 2023 Completely-Crete.com. All Rights Reserved. Reproduction in whole or in part without permission is not permitted.

Click here to learn about developing your own money-generating website
from Solo Build It! - even with little or no web experience!