Agios Nikolaos
Agios Nikolaos (alternative spellings Aghios Nikolaos, Ayios Nikolaos) is the capital town of the prefecture of Lassithi on the Greek Island of Crete.
This lovely town retains a traditional, quaint and tranquil fishing town lifestyle, which hasn't lost any of its charm despite the vibrant tourist industry. The pretty town lies east of the island's capital Heraklion, north of the town of Ierapetra and west of the town of Sitia. It is one of the best holiday destinations to Crete. 

Voulismeni Lake
Agios Nikolaos Marina
The Market at Agios Nikolaos
Voulismeni Lake

A famous central landmark of the town is Agios Nikolaos lake, known as "Voulismeni". According to Greek Mythology, the goddesses Athena and Artemis bathed in the lake that is supposedly bottomless.
It is an especially charming location with many open-air cafes and restaurants along the bank. Small fishing boats bob gently alongside ducks and geese on the lake and add character and atmosphere to this relaxing location.
Try an ice-cold café frappe here at one of the comfy cocktail - coffee bars as you sit watching the world go by.
The town of Agios Nikolaos is named after the charming 7th century Byzantine chapel of St. Nicholas, erected on the spot called "Nissi" during the 7th century AD, with its bell tower, drum and dome.
The chapel has a number of well-preserved frescoes of the 9th, 10th and 11th centuries and is a great place to visit. It also rewards its visitors with a breathtaking view of the town and bay.
Agios Nikolaos Marina
The town has a wonderful international marina and port with many large yachts mooring here. There are lots of luxury yachts as well as the functional small fishing boats.
You'll often see large cruise liners at the harbour, unloading their cargo of tourists and day trippers, to fill the bars and restaurants around the lake and the bay.
You can enjoy a gentle stroll around this beautiful marina and harbour, enjoying the sights and sounds of a busy port.
Hotels in Agios Nikolaos
The excellent and varied choice of accomodation in and around Aghios Nikolaos makes this beautiful town the perfect place to stay for a holiday in Crete.
There is a wide and varied range of Agios Nikolaos accommodation including luxury Agios Nikolaos hotels, smaller hotels in Agios Nikolaos and Agios Nikolaos apartments, studios and rooms to rent.
 place to stay for a holiday in Crete. There are luxury hotels here including the

There are also a few budget hotels in **** and a choice of apartments, studios and rooms to rent. You'll also find private villas in the village and its surrounding areas of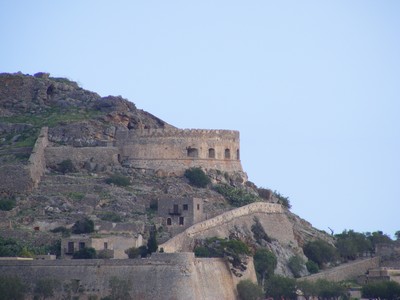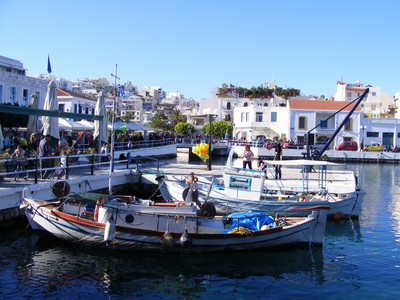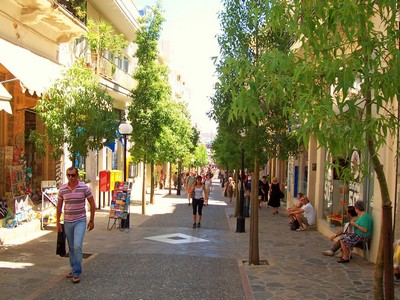 Restaurants in Agios Nikolaos
 many of the restaurants who offer great food at value for money prices with genuine Cretan hospitality.
Crete Attractions Nearby
Shopping is also a lot of fun in Aghios Nikolaos with many quaint shops selling local ethnic products like honey, herbs and spices and olive oil.
Of particular note are the gold and silver jewellery shops. Many of which have their own goldsmiths busily crafting in their workshops at the rear creating beautiful designs that glisten and glitter in the front showrooms.
The weekly market in Agios Nikolaos on Wednesdays is vibrant and bright and very busy. It's a great atmosphere. There are lots of bargains to be had too.
Popularised by the brilliant best selling novel 'The Island' written by the very talented Victoria Hislop, Spinanlonga Island is definitely the island to visit from Agios Nikoloas.
Daily boat trips take you to the small island of Spinanlonga that was a leper colony until as late as the 1950's.

Click here to learn about this intriguing Spinalonga Island.
Two museums of note are found in Agios Nikoloas. The Folk Museum of Aghios Nikolaos is where you can see some fine examples of Folk Art And Creative Crafts including lace making, Cretan embroidery and weaving. The small Folk Museum of Agios Nikolaos can be found at the Port Authority's building next to the Tourist Information Office beside the bridge of the canal connecting the Voulismeni Lake with the sea.
An Agios Nikolaos museum to visit is the Archaeological Museum. It is a light and airy building housing tastefully exhibited collections of Minoan artefacts from the eastern side of Crete.
The Museum houses archaeological findings from the cemetery of Aghia Photia, dating back to 2300 BC. The collection includes more than 1500 vases. Together with the Minoan treasures, the Museum also exhibits the skull of a young Roman athlete, adorned with a gold olive-leaf wreath dated to the 1st century AD.
The best Crete attractions nearby are many and varied. You'll be spoilt for choice with things to do in Crete if you choose this beach resort as your base.
Served well by the efficient bus service KTEL,

Agios Nikolaos Beaches
Slap bang in the centre of the cosmopolitan and chic shopping town of Aghios Nikolaos in the Lassithi region is the unromantic sounding Municipal Beach known also as Ammos Beach.

It is very popular because of the great facilities offered. As it shares the space with a Mini Golf course, there is an admission fee, but it well worth it. It is pebbly but has clean and clear waters. There's a lot of grass and trees for shade too with sunbeds, umbrellas and showers. There are also swimming pools, sport facilities and a bar, in case you need to have a cool drink or a light meal. 
The other main beach within the town is the Kitroplatia Beach which is quite pebbly. It is in a great location as it is surrounded by restaurants, tavernas, coffee and cocktail bars.

Getting to Agios Nikolaos
Flights to Heraklion Airport will mean a fairly quick transfer. Also arriving by sea at the Heraklion Port makes it easy and quick to get to this town. It does have its own port but only a few ships and ferries to Crete arrive there.
A brilliant and cheap bus service KTEL connects Agios Nikolaos with many of the villages of eastern Crete including Istron, Kalo Horio, Kritsa, Sissi, Amoudara and Elounda.
But to really enjoy freedom to travel car rental is ideal.
It's a good idea to book your hire car in advance. During the height of the season in July and August, when demand is at its peak, booking is essential. There are many online services available for getting around in Crete by hire car.

We really do recommend hiring a car to get around Crete, to enjoy your stay fully. If you're staying in Agios Nikolaos you can easily get to many of the attractions like the Lassithi plain, Sitia, Vai Beach and the Minoan settlements of Malia and Knossos plus the archaeological museum at Heraklion by car.
There are many companies that offer car hire on Crete, but we think it's a good idea to book in advance.

---
Just Some of the Reasons We Love Crete...

Did you love this page? Please share it with your friends!
---
© Copyright All Original Content 2006 - 2023 Completely-Crete.com. All Rights Reserved. Reproduction in whole or in part without permission is not permitted.

Click here to learn about developing your own money-generating website
from Solo Build It! - even with little or no web experience!