Almyrida
Almyrida (alternative spellings Almirida, Almeirida) is a lovely fishing village and seaside resort to the east of Souda Bay on the Greek Island of Crete. It is found in the Apokoronos area of Crete which is renowned for its outstanding beauty.
Located around 25 km east of the town of Chania and easily accessed via Chania airport or Souda Bay port, Almirida beach resort is a great place for families, romantic couples and the young at heart who enjoy a beach holiday. This beach resort is a great place to stay as it is small enough to retain a quaint charm but big enough for a choice of places to eat and drink.
Visitors who enjoy walking, hiking, biking, water sports including diving will also enjoy a holiday at this lovely fishing village. With the wonderful backdrop of the White Mountains (Lefki Ori) and brilliant views of the Souda Bay, this area boasts some of the most breath-taking scenery on Crete.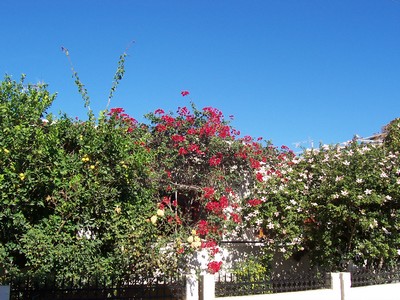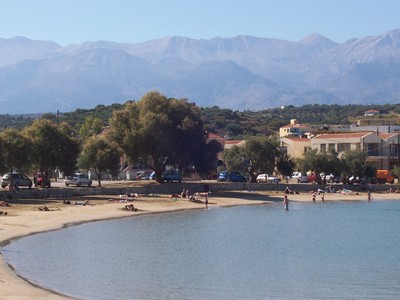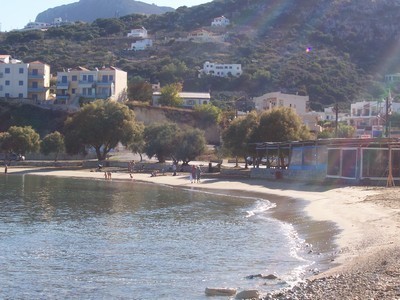 It is a nature lover's paradise, especially in springtime when all the spring flowers are in bloom.
There are some water sport facilities offered in Almirida such as windsurfing and canoeing and there is also a diving centre here. The village has a variety of café bars, cocktail bars and shops, dotted throughout the fishing village.
Hotels in Almyrida
There are studios, self catering apartments and budget hotels in Almyrida. There are also luxury villas in the village to rent and private villas in the surrounding area such as Plaka, Kokkino Horio, Kambia and Vamos.
There are a number of luxury hotels in this lovely beach resort too. The Almyrida Beach Hotel and  Almyrida Beach Residence have a great location right on the beach front.
The varied choice of accommodation in and around the Cretan village and beach resort makes this beautiful Crete beach resort an ideal place to stay for a holiday in Crete – no matter what your budget.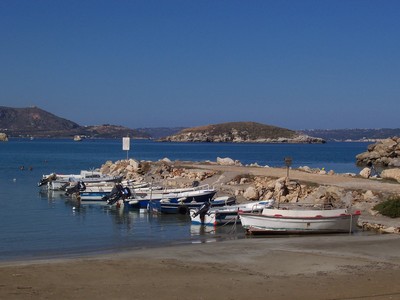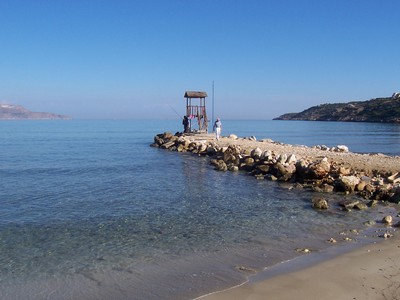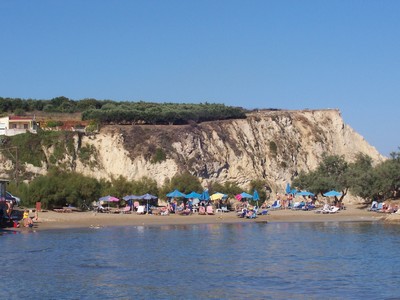 Restaurants in Almyrida

As with many Crete beach resorts the restaurants in Almyrida offer fabulous food that make up the Cretan diet. Home grown salads and vegetables grown locally are very popular, fresh fish, Cretan specialities such as Dakos, cheese pies served with honey and Horta and Greek traditional dishes such as Moussaka, Stuffed Tomatoes, Rabbit Stifado and Lamb Kleftiko are always available in most of the restaurants in Almyrida. There are also restaurants in Almyrida that serve fabulous wood oven pizza and tasty pasta.
There are also a number of cafe style coffee bars that transform into cocktail bars as night falls. You can get an English breakfast, toasties, omelettes and other snack foods throughout the day and evening.
 
We've eaten many times in the restaurants in this beach resort and all offer traditional Cretan hospitality with excellent menus.
If you love eating fresh fish overlooking the sea then the fish restaurants in this village will be perfect for you. The little fishing harbour is where the little fishing boats go out from and bring back the catch of the day to supply the restaurants. So you're always ensured of completely fresh fish.
Crete Attractions Nearby
There are many Crete attractions and things to do in Crete if you are staying in Almyrida. One of the best Crete attractions is the Botanical Park at Omolos, Chania which is only about a half hours drive away. This is one of our most favourite places to visit on Crete. A little further and you'll find the Samaria Gorge. Limnoupolis Water Park – which we highly recommend is also only a half hour drive away.
If you want to discover some of the ancient history and wander around archaeological ruins then nearby Aptera is a must see destination. The views over Souda Bay are breath-taking and the ruins quite spectacular.
Another wonderful place to visit nearby is Souda Bay War Cemetery, which is as beautiful as it is moving.
The traditional village of Gavalohori is only about five minutes drive away. Gavalohori is a very old village with an interesting history which is explained in the local Folklore Museum. The museum is well worth a visit. The Women's Cooperative of Folk Crafts also have a small shop where you can buy traditional Cretan craft items.
And of course the one of the top Crete attractions is the Venetian harbour town of Chania which is only a short distance away.
You are really spoilt for choice for things to do in Crete if Almyrida is your base.
Almyrida Beaches

Crete beaches are renowned for their beauty and Almyrida has two gently shelving sandy beaches in a small bay backed in places with waterside tavernas.
Both beaches are safe for children as the sands are soft and golden and gently shelving. Perfect for making sandcastles!
The water is crystal clear and ideal for swimming and snorkelling.
The main beach is also great for people with disabilities too as it is easy to access from the road.
There's also a pebbly beach too which is great for snorkeling.
We have to say that Almyrida has one of the best beaches in Crete.
Getting to Almyrida

Almyrida is a coastal resort in Apokoronas about 25 kilometres east of Chania.
Flights to Chania Airport make it easy and quick to get to but any flights to Heraklion Airport will mean a longer drive. Also arriving by sea at the Souda Port at Chania will make getting to Amlyrida quicker than arriving at Heraklion Port.
By car, you can reach the town after leaving the New National Road at the Kalyves/Armeni exit. Head towards Kalyves and follow signs to Plaka and Almyrida.
---
Just Some of the Reasons We Love Crete...

Did you love this page? Please share it with your friends!
---
© Copyright All Original Content 2006 - 2023 Completely-Crete.com. All Rights Reserved. Reproduction in whole or in part without permission is not permitted.

Click here to learn about developing your own money-generating website
from Solo Build It! - even with little or no web experience!