Limnoupolis Water Park

Limnoupolis Water Park is located in the Chania area of Crete and is a fantastic place to spend the day just having fun. It is, of course brilliant for kids and is one of the best things to do in Crete for families.

Of all the water parks in Crete, we love Limnoupolis Water Park for many reasons.

It is not spread out too far, so you don't have to walk miles to get to the different slides, pools, sunbeds or places to eat.
And the food and drinks served at the water park are quite reasonably priced but you can take your own food and drink into the park. This is great news if you are staying at a hotel that provides packed lunches.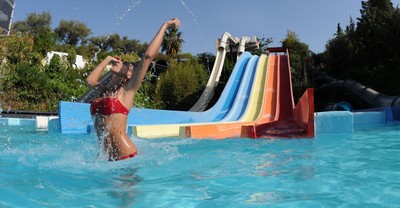 The opening times for Limnoupolis Water Park are normally 10.00am - 6.00pm and you can choose to go for the whole day or just an afternoon.

Usually the water parks in Crete open from the beginning of May until the end of October, but they open later and close sooner if the weather is inclement.
There are plenty of slides, including the Black Hole and Triple Twist.
There is the Crazy river as well as the Lazy River which wend its way around the water park.
There is a very large pool with a swim up bar. A zip wire runs along the length of the pool and is great fun for all ages. They have the huge inflatable sphere that children can 'walk on water' on this pool too. 

There are plenty of sunbeds - enough for everyone even in the height of summer.
Prices for
Limnoupolis Water Park
It is reasonably priced for both adults and kids and children under 3 years old are free. Also people over 60 go free too.
The prices for children aged 4 - 12 are a good deal, being cheaper than some of the other water parks in Crete.

Limnoupolis Water Park also offers discounted afternoon rates, if you just want to spend an afternoon there.

There is also a price structure for people who do not want to use the slides and use just the pools for swimming.
You can also get a great deal on repeat visits at this water park.
So if you are staying in the Chania area of Crete and you love water parks then plan your trip to have a great time.

How to get to the Water Park

If you have a hire car it is easy to find the water park as it is well sign posted.
The Sat Nav coordinates are 35.4681670, 23.9699570

You can also get there by local bus. But a great way to get there is to ride on the fun bus.

Ask for details at your hotel, apartments or tourist office.

---
Just some of the reasons we love Crete...

Did you love this page? Please share it with your friends!
---
© Copyright All Original Content 2006 - 2020 Completely-Crete.com. All Rights Reserved. Reproduction in whole or in part without permission is not permitted.

Click here to learn about developing your own money-generating website
from Solo Build It! - even with little or no web experience!