Kalyves
Kalyves sometimes spelt as Kalives is one of the best beach resorts in Crete.  It is a holiday destination overlooking Souda Bay on the Greek Island of Crete. It is found in the Apokoronos area of Crete which has stunning scenery and abundant flora and fauna.
You'll find this charming fishing village about 20km east of the town of Chania and its easily accessed via Chania airport or Souda Bay port.
If you're looking for a glorious beach holiday, romantic getaway, family holiday or gorgeous base to explore the many Crete attractions then this is the ideal location.
Kalyves beach resort is a working village that gives visitors a taste of traditional Cretan life. You're assured a very warm welcome and some fine examples of traditional Greek and Cretan food and drink that make up the famous Cretan diet.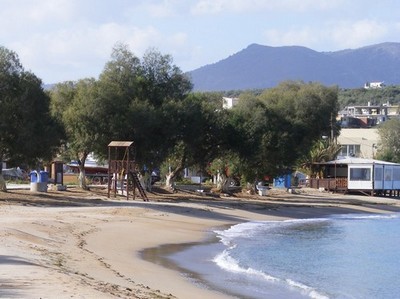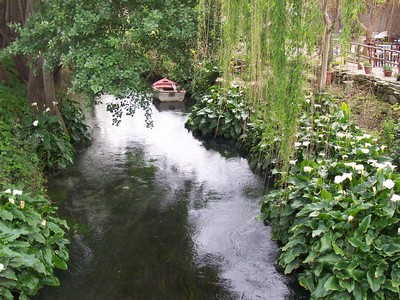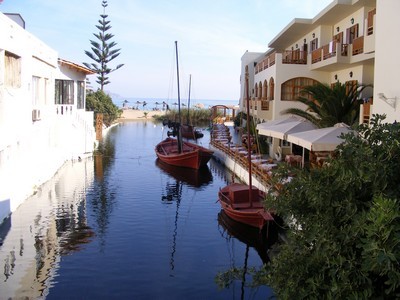 Like its neighbouring fishing village of Almyrida, it shares the same stunning backdrop of the White Mountains (Lefki Ori) and stunning views of Souda Bay with the Apokoronos area boasting some of the most breathtaking scenery on Crete.
If you want a great beach holiday on Crete and simply love to stretch out on soft golden sands then this is the place for you. But equally if you like to walk, hike, bicycle, bird spot, photograph or paint glorious nature and scenery then you won't be disappointed either.
The village has a couple of pharmacies, banks, butchers, bakers, greengrocers and other shops so everything you need is at hand.
Hotels in Kalyves
The excellent and varied choice of accommodation in and around Kalyves makes this beautiful seaside resort an idyllic place to stay for a holiday in Crete. There are luxury hotels in here including the Kalyves Beach Hotel and the nearby Kiani Beach Resort.
There are also a few budget hotels in Kalyves and a choice of apartments, studios and rooms to rent. You'll also find private villas in the village and its surrounding areas of Megala Chorafia, Almyrida, Plaka, Kokkino Horio, Kambia and Vamos.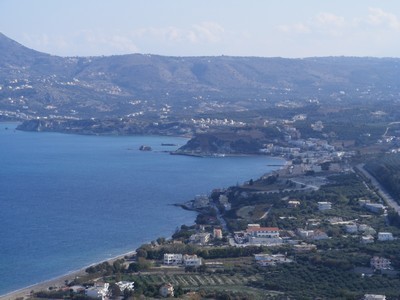 Restaurants in Kalyves
We've eaten many, many times in the restaurants in Kalyves (we lived here for some time). We can highly recommend many of the restaurants who offer great food at value for money prices with genuine Cretan hospitality.
The beach side restaurants are always very popular overlooking the golden sands and crystal clear waters, offering fresh fish, fabulous healthy salads and melt in the mouth slow cooked lamb, beef or rabbit dishes all served with plentiful potatoes. All washed down with some chilled crisp white wine – what could be nicer!
There are other restaurants in dotted throughout the village too. So there is plenty of choices in where to eat and drink.
Crete Attractions Nearby
The best Crete attractions nearby are many and varied. You'll be spoilt for choice with things to do in Crete if you choose this beach resort as your base.
Served well by the efficient bus service KTEL, Kalyves is a pleasant bus ride from the impressive town of Chania with its Venetian harbour and great shopping in the old town.
You can also get to the brilliant Botanical Park at Omolos, Chania which is only about a half hours drive away. The Crete Botanical Park is one of the loveliest of all Crete attractions. The stunning views of the Omolos Plateau coupled with the nature trek style of the park is an experience not to be missed. We love it there and go as often as we can – the restaurant there has plenty of tasty examples of what the Cretan diet is made up of. They also use the fruits grown at the park to make a tasty, healthy and literally 'picked fresh from the tree' fruit salad. 
Another wonderful place to visit nearby is Souda Bay War Cemetery. Trees and shrubs on three sides with the open sea of the bay in front surround the beautiful and moving cemetery. It is the last resting place of 1,527 of the known 2000 British Commonwealth war dead, the majority of whom lost their lives in the Battle for Crete between May 20th and May 31st, 1941. 
You can also easily join an excursion from the village to walk Samaria gorge – the most challenging of things to do in Crete.
For families looking for a fun filled day out you will find no better than Liminopolis Water Park. This is a firm family favourite and is around a half hour drive away.
If you want to discover some of the ancient history and wander around archaeological ruins then nearby Ancient Aptera is a fabulous place to visit. Overshadowed by more famous archaeological sites at Knossos or Malia, the former city state of Aptera is not yet on the tourist route and so can be investigated in relative peace. Perched 230 metres up on a hill overlooking Souda Bay with panoramic views of the whole plain of Chania, Ancient Aptera has ruins including an amphitheatre that is quite spectacular.
Kalyves Beaches
The main beach at Kalyves is divided by the bridged small river found at the Kalyves Beach Hotel. Its golden sands sweep around the bay, backed by shady trees and beach side tavernas. The beach slopes gently into shallow clear waters, making it ideal for children. This is perhaps our most favourite beach of any Crete beaches.
There is a long stretch of beach towards Kalami which is less popular and therefore less crowded than the main beach but it does have a few pebbles.
Getting to Kalyves

Kalyves is a coastal resort in Apokoronas about 20 kilometres east of Chania.
Flights to Chania Airport make it easy and quick to get to this resort but any flights to Heraklion Airport will mean a longer drive. Also arriving by sea at the Souda Port at Chania will make getting to Kalyves quicker than arriving at Heraklion Port
By car, you can reach the town after leaving the New National Road at the Kalyves/Armeni exit.
---
Just Some of the Reasons We Love Crete...

Did you love this page? Please share it with your friends!
---
© Copyright All Original Content 2006 - 2023 Completely-Crete.com. All Rights Reserved. Reproduction in whole or in part without permission is not permitted.

Click here to learn about developing your own money-generating website
from Solo Build It! - even with little or no web experience!