This Eating Out in Crete page is from the Completely Crete website.
Eating out Guide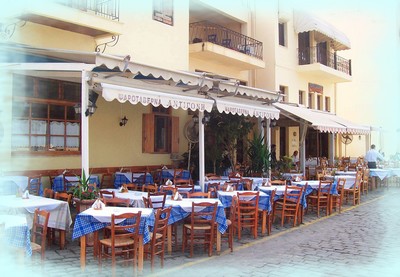 CHANIA HARBOUR RESTAURANT
Eating out in Crete is a great experience.
There's a wide variety of places to eat, accommodating a range of tastes and budgets.
This comprehensive Crete food guide explains the different types of establishment you can eat in, ranging from the basic kafeneions to the plusher and posher estiatorios.
Whether you want authentic Cretan Diet dishes, Greek mezes, fast food, or an authentic fish taverna, this guide is for you.
Reviews
There are real reviews of real restaurants and other eateries too. Check out the experiences of our friends, family and other contributors, to our Crete Restaurant Review Section.
Submit your own review!
Send us your reviews of places you have eaten and we'll include them in our Restaurant Review Section.
There are many different names for places to eat in Crete, depending on what they serve and their main dishes.
Kafeneion (kajeneion) and Ouzerie (ouzeri)
KAFENEIONS IN CRETE ARE MOSTLY FREQUENTED BY MEN
Small traditional bars where you mainly go to buy drinks will also provide or sell food too.
Kafeneions are mostly frequented by men who go there to while away the morning and early afternoon drinking coffee normally.
Greek coffee is not like Nescafe, but is boiled in a special pot on a hot stove until the mixture of coffee grains, water and (sometimes) sugar is brought to a frothing boil. This is then poured out into small espresso style cups and allowed to settle (otherwise you get a mouthful of fine coffee grains - a glass of water is provided in case of accidents due to premature consumption).
As the afternoon draws on the Cretan male will look to raki, ouzo, or possibly beer, to help further stimulate the conversation, or add some spark to the backgammon contest.
It is tradition to serve small place or mezedes with alcohol. This has translated to providing nuts and crisps in the bars and tourist spots.
In some more tradition drinking establishments, away from the tourist hotspots, the small dishes or mezedes provided can almost comprise a meal in themselves! We've had small dishes of casseroled chicken, country sausage, salad plates of tomato, cucumber and pickled cabbage, rusk (twice baked bread - hard!), snails, and plates of fruit.
All this gets given to you free with any alcohol. We have often ended up buying a white wine and carafe of raki for about €3.50 - and getting what amounts to a free meal with it too!
One time we were lucky enough to be present at one particular kafeneion when a local farmer brought in some mushrooms. The owner promptly cooked them and little plates of freshly sautéed mushrooms were passed out to all the people present! We've never tasted mushrooms as delicious as those.
Mezedhopolio (Mezedopwleio)

NOTICE THE WORD "MEZEDOPWLEIO"
Some small kafeneions or ouzeries will also advertise themselves as Mezedhopolio. This comes from the word mezes or mezedhes which is a meal of different small dishes, similar to tapas in Spain.
Here you can buy small dishes of traditional Cretan and Greek cuisine to go with your ouzo, raki or any other drink you want.
Taverna (Taberna) or Estiatoria (Estiatorio)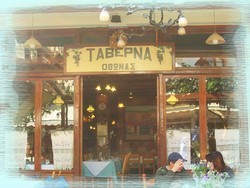 The Crete taverna is the traditional eating place for Cretans and tourists alike and in the past was an informal type of restaurant only open in the evenings.
Now the name applies to almost all restaurants and most are open all day (especially during the tourist season).
Estiatorio was the name given to the more formal restaurant, although the distinction between taverna and estiatorio is now blurred somewhat, although you will still see both names (in Greek!).
All the traditional Greek and Cretan dishes will be served here, including:
Moussaka - baked minced lamb with aubergines, potatoes and béchamel sauce
Kleftico - slow baked lamb with potatoes and cheese
Yemista -peppers and tomatoes stuffed with rice and vegetables (sometimes minced meat)
Stifado - beef casserole in tomato sauce cooked very slow
Pastitsio - baked minced beef with macaroni pasta and béchamel sauce
Greek salad - with feta
You'll find some Cretan specialities too, including delicious pies (sfakia pie) made with lamb, some cheese ones, and also chicken versions. Try the smoked pork if you see it on the menu. Local salads (as opposed to "Greek") are worth trying too, but make sure you have room because they can be quite substantial.
Snails and rabbit are very popular here as well.
Fish Taverna (Yarotaberna)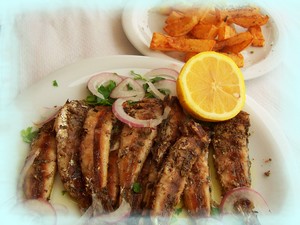 FRESH FISH IS DELICIOUS IN CRETE
From the words psari (meaning fish) and taverna, you get psarotaverna.
Fish restaurants abound in Crete offering fresh fish caught the very same day and often just off the beach where the restaurant sits.
If you're up early enough you might catch the local fishermen coming ashore at the nearby harbour. Later you'll see them driving round the town with their catch on the back of their trucks, calling off at restaurants as they go.
Obviously, fish will be a speciality here, but don't expect it to be cheap. Fish is a bit of a luxury as fishing stocks are reduced and a good catch harder to find throughout the Mediterranean.
Psistarias (Yhstarias)
GRILLED FOOD IN CRETE
Vegetarians beware! The Psistaria is another variation on the regular café or restaurant and is somewhere that specialises in grilled meats.
Often much less formal and than a traditional taverna or restaurant, here you can get grilled chicken, lamb and pork - usually cooked over hot coals.
Traditional souvlaki is a must try in Crete (not suitable for vegetarians) with chicken, pork and mixed varieties available.
Other dishes are available too including the full range of salads.
Western Fast Food
You won't find many MacDonald's in Crete. We've seen a couple of signs, but never stumbled on the outlet, and we suspect that they didn't last long and had to close. We know of one in Malia on the eastern side of the Island, but even though there's a sign in Rethymnon - we've never seen it.
We probably suspect that tourists are on the whole not looking for a MacDonald's style of cuisine on holiday, and the Greeks have their own version: Goodys.
Tourist bars and cafés
Of course, in the tourist hotspots of Crete such as Malia, Stalis and Hersonissos in the east of the Island, you will find the largest concentration of "International Cuisine" with Full English (and Irish) breakfasts, Pukka pies, curries, fish and chips, and the rest.
There are some Chinese, Mexican and Indian restaurants too, again mainly in the tourist resorts and the large towns.
Bars in the resorts will do a nice line in snacks based around the burger and the pizza, so if you don't like Greek food, you won't starve.
CAKE SHOP IN CRETE
Zacharoplastio (
Zacaroplasteio)
This means cakes!
It's enough to make you go bananas! Enjoy a coffee and delicious cake in the afternoon at the local zacharoplastio.
Why not! You're on holiday after all!
Don't forget to visit our Cretan Village Shop where you can buy Crete Recipe Books, books on the Cretan Diet and Cretan Olive Oil and how it can make you healthier and live longer. We also supply the very best top quality Cretan Extra Virgin Olive Oil organically grown and traditionally produced plus the best quality dried Organic Cretan Herbs and Spices that add flavour, aroma and variety to foods so you can reproduce genuine Cretan cuisine.
We ship anywhere in the world, direct from our little Crete Village Shop!
Crete Restaurant Reviews
We've collected some details of a few restaurants, tavernas, cafés or kafeneions we have visited to include in the guide. We love Crete and we hope to give you a flavour of the variety of eating out experiences we've discovered.
We also include reviews sent in to us by visitors to our site, family and friends too.
We rate each eatery we review based on the following criteria:
Quality of food and drink
Character, charm and atmosphere
Service
Value for money
Extra 'specialness'
Yes, we know there is no such word as 'specialness' but we needed a word that describes that certain something. That indefinable extra specialness that helps to differentiate the ordinarily brilliant food, friendly atmospheres and low prices of the majority of all eateries in Crete to the truly excellent.
We also know that our opinion is just that - our opinion. But we wanted to share with you the lovely places that we have found in eating out in Crete. So maybe on your next visit you can try out one or two of our recommended places and give us your opinion!
And if we've overlooked your favourite place to dine - let us know and we'll try to include it in our Eating Out in Crete Guide.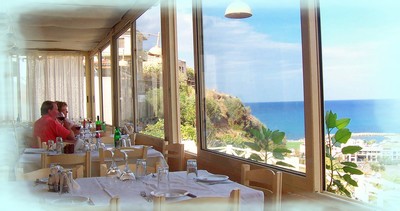 CLICK ON THE PERFECT CRETE BEACH
PICTURE TO GO BACK TO THE TOP





HOME
---
Privacy Policy ║ Site Blog ║ Contact Us ║ Send us your Crete Restaurant Review



© Copyright All Original Content 2006 – 2008 Completely-Crete.com. All Rights Reserved. Reproduction in whole or in part without permission is not permitted.

Click here to learn about developing your own money-generating website
from Site Build It! - even with little or no web experience!