Malia on the beautiful Greek Island of Crete …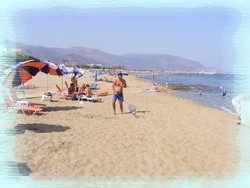 MALIA
This Malia page is from the Beach Resorts section of the Completely Crete website.
Malia is a wonderful vibrant beach resort on the north coast of the gorgeous greek island of Crete. It is found in the prefecture of Heraklion, around a half hour drive from Heraklion airport.
Close to popular Hersonissos and next to stunning Stalis, Malia is a great place to visit.
Eating and Drinking in Malia
For those who like a home away from home there is a McDonalds in Malia, a Fish and Chip Shop and a traditional British Pub named the Red Lion. The slightly more more adventurous can try the local Greek fast food of the Gyros.
Similar to a British late night Kebab, the Greek Gyro (pronounced YEER-oh) is made up of mixed rotisserie meats, a small amount of salad such as tomatoes, lettuce and onions and tzatziki (yogurt, cucumber and garlic sauce) and French fries encased in a flat pita bread. Delicious!!!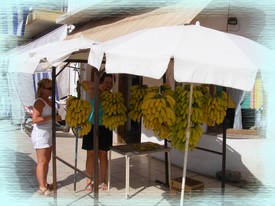 MALIA BANANAS
Or to really sample Greek cuisine at its best try the traditional Greek Tavernas such as the San Giorgio Restaurant, Kalemsa Restaurant or the Milos Taverna in Malia Old Town. They all serve grilled meats such as Souvlaki and chicken or oven baked Moussaka, Stifado (Beef Stew) or Kleftiko (Lamb Stew).
For a cheap, quick and healthy snack visit one of the street stalls selling gorgeous little baby Malia bananas. They're none better in the whole world!
Read more on Going Bananas in Malia
Malia Nightlife
Malia nightlife has to be the hottest on the entire Greek Island of Crete. Malia clubs, bars and hot places to see and be seen add up to a throbbing heart beat of excitement, exhilaration and elation. Some of the coolest places for Malia nightlife are Camelot Castle, Malibu Club and Banana Club. All have free entry and open at 11.00pm until well into the early hours.
Camelot Castle is the biggest of the Malia clubs and has imposing turrets towering over the tiny street of Malia. There is an indoor and outdoor bar area with great music filling the night air. An outdoor big screen shows all the action happening at this vibrant Malia club.
Other pulse points are the Malia clubs of Club UK, Sugar Club, Factory and The Venue. Although familiar brand names of drinks like Mangers, Guinness and Tetleys are available in Malia try the local beer of Mythos. Beer drinkers will love Mythos Beer. It's a Greek produced lager beer. It's quite strong at 5% and has a subtle nutty taste to it. Served ice cold it is the perfect accompaniment to Souvlaki and fried potatoes with a Greek salad. Yammas!
MALIA CLUBS
The Malia clubs serve a vast array of drinks including very extravagant cocktails. But if you cannot wait until the midnight hour when most of the clubs are beginning to get going try the bars at Malia. You'll find lots of happy hour, 'buy one get one free' bars in Malia. Funny how happy "Hour" extends from 8.00pm – 11.00pm at most bars!
Try Yiasou which serves exotic cocktails in melon halves or for Sex on the Beach or a Screaming Orgasm give Café Mambo a try.
Malia Beach
Malia beach is awesome at 6 kilometres long and is one of the most popular trendy beaches in Crete. It is extremely popular particularly with the 18-30 crowd. The beach is very well organised, offering everything you could want in terms of water sports including jet skis, parasailing, banana boats and donuts.
After all that exercise you can always chill later by stretching out on a sun bed and topping up your tan on one of the best beaches on Crete. The stunning beach with fine white sand and crystal clear water is considered to be one of the top locations in Crete.
Gorgeous Greek Beach Boys will find the perfect spot for you and provide you with sunbeds, drinks, snacks and a fair bit of flattery. Malia is always buzzing and has loads of beach bars along the long stretch of sandy coast.
Further to the east there is a much quieter beach frequented by the locals who adore the crystal clear waters, soft white sand and a more peaceful setting. You'll find the Potomos Beach close to the Palace of Malia Minoan archaeological site.
Palace of Malia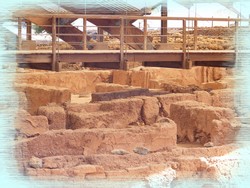 PALACE OF MALIA
The Minoan Palace of Malia from the Bronze Age, along with the Palace of Knossos was destroyed by an earthquake during the Late Bronze Age.
You can visit the excavations of the ruins of the Palace of Malia today. Excavation is ongoing but in places you are allowed to wander.
If you love Crete then you'll love the romantic Greek island of Santorini. Visit our sister site of Simply Santorini. Com for all you'll need to know about Santorini.


---
Just Some of the Reasons We Love Crete...

Did you love this page? Please share it with your friends!
---
© Copyright All Original Content 2006 - 2023 Completely-Crete.com. All Rights Reserved. Reproduction in whole or in part without permission is not permitted.

Click here to learn about developing your own money-generating website
from Solo Build It! - even with little or no web experience!