Stalis is also known as Stalida...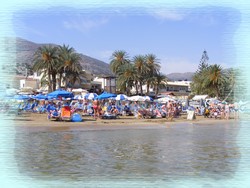 STALIS
This Stalis page is from the Towns and Villages of Crete section of the Completely Crete website.
Stalis, also known as Stalida, is around 30 kilometres east from Heraklion Town. We love Stalis because it has something for everyone.
The beach is very long with soft golden sand and is gently shelving making it perfect for families with young children. The choice of places to stay, shop, eat and drink are plentiful and wide ranging.
Whether you want a full English breakfast all day, everyday or some real Cretan cuisine including rabbit Stifado or lamb Kleftiko you'll find it in Stalis.
You'll find cheap rooms to rent or top luxury hotels with everything in between. You'll also find cheap fast food outlets and fancy restaurants too.
Whenever we've stayed in Stalis we've had a brilliant time and we're sure you will too.

Sightseeing around Stalis
The resort of Stalis itself is a long stretch behind the beach and is lined with little shops, café bars, tavernas and restaurants.
There are lots of tourist shops selling everything you could need for a beach holiday including swimwear, beach balls and lilos and buckets and spades for the kids.
The clothing shops are a great place to pick up some real bargains. Some of them are high-class boutiques and carry a range of designer clothing. For bargains too on luxury items such gold and silver jewellery try the fantastic jewellers shops. Many of the pieces are handmade by the resident goldsmith working at the rear of the shop.
Other shops sell local products like pottery and embroidered linen items, thyme infused honey, olive oil and herbs and spices.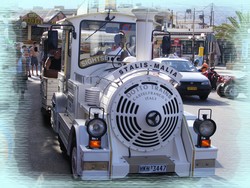 HAPPY TRAIN
Catch the Tourist Happy Train that takes you to nearby Hersonissos or Malia for a lazy trip along some of the best coastline in Crete.
Take a trip up to nearby Mochos for a traditional "Greek Night" where tasty food and local wine and Raki are offered and Greek dancing takes place in the village square. Mochos is a hillside village with a few tiny tavernas, a huge church and some of the most warm-hearted people in all of Crete. Take care with the local firewater – Raki – that comes free of charge at the end of your meal!
No trip to Crete would be complete without visiting the Minoan settlement of Knossos and the Archaeological Museum of Heraklion. And if you're staying in Stalis you are within easy reach of these top two Crete attractions.
Eating and Drinking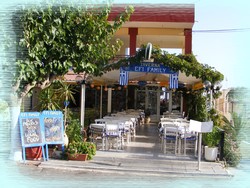 GOLDEN HEART RESTAURANT
Stalis is crammed packed with a choice of bars, tavernas and restaurants. The wide range of choice for eating and drinking is tremendous and caters for all tastes.
You can find traditional Greek food in lovely friendly Tavernas like the Golden Heart and the Efi Family Taverna but also a huge array of fast food outlets including Mary's Gyros Shop. There are Mexican, Italian, Chinese and Indian restaurants too as well as British favourites such as full English or Irish breakfast, burgers and fish and chips.
Our favourite breakfast places are the Mythos Restaurant on the beach and heading in the direction of Hersonissos the Nine Muses traditional Greek Taverna. Both offer a full British breakfast at incredibly reasonable prices with friendly and attentive service.
But for the absolute top value and best Big Breakfast in Stalis try the fabulous Satellite Bar.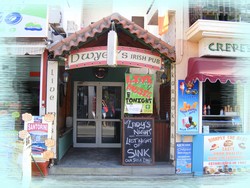 If you're Irish or just love Irish Bars then Stalis is the place for you. Slainte Irish Bar, the Irish House and Dwyers Irish bar and the Leprechaun Irish Pub offer a traditional warm Irish welcome right in the heart of Stalis. Live entertainment, Irish bands and acts feature and a great time is had by all.
We saw a fabulous Irish Elvis at the Irish House who enthralled the crowds Las Vegas style with his swiveling hips, white lycra outfit and wonderful singing voice. We loved him!
For a British Pub experience try the Britannia Inn or the Rose and Crown or have a cocktail or two in the Bar Code or relax cocktail bars. Our favourite bar in Stalis though for a late nightcap of Ouzo is the little Café Village bar playing 50's and 60's music.
For clubs and more lively nightspots head into nearby Hersonissos or Malia where you'll find a much wider range of dance and nightclubs.

Stalis Beach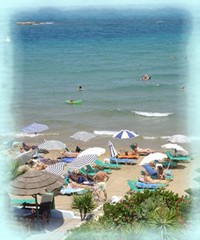 STALIS BEACH
Stalis beach is wonderful beach with soft white sand and crystal clear and shallow waters. It is perfect for families with children. The sea can become choppy though so care should be taken on windy days.
The resort of Stalida itself is fantastic and has everything for the family and is very well organised. The beaches on this stretch of coast are all stunning, some of them sandy and suitable for swimming and others rocky, perfect for snorkelling.
If you love Crete then you'll love the romantic Greek island of Santorini. Visit our sister site of Simply Santorini. Com for all you'll need to know about Santorini.
---
Privacy Policy ║ Site Blog ║ Contact Us

© Copyright All Original Content 2006 – 2016 Completely-Crete.com. All Rights Reserved. Reproduction in whole or in part without permission is not permitted.

Click here to learn about developing your own money-generating website
from Site Build It! - even with little or no web experience!