Agia Galini
Agia Galini is a popular and picturesque fishing village and beach resort on the south coast of Crete and is 58 kilometres south of Rethymnon town. If you are looking for peace and serenity, then this is the village for you as it's name translates as Saint Serenity or Holy Peace.

Agia Galini also spelt as Aghia Gallini and even Agia Gallini is a very pretty little village on the quieter south coast of Crete. It is a perfect holiday resort with just the right amount of accommodation, tavernas and bars to give the visitor a choice but not too much to be overwhelming.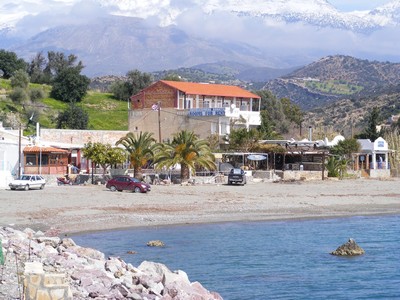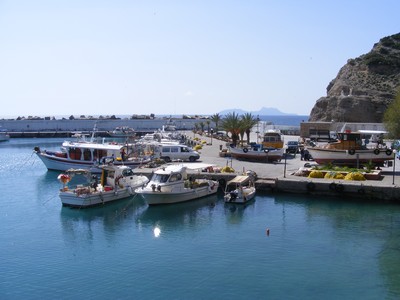 The village of Agia Galini has all the charm of a traditional picturesque Cretan village with white washed houses dotted about the narrow winding lanes that wend their way down to the little fishing harbour.
Although this village is one of the smallest beach resorts on Crete compared to the bustling north coast giants of Platanias, Hersonnisos, Malia and the like, lots of visitors flock there to enjoy its romantic beauty.
It is a very family friendly place and is very welcoming of children. The little village is mostly pedestrianised so you can walk freely around the quaint little place.

This makes it one of the best beach resorts in Crete. 
We enjoy visiting Agia Galini as it is so picturesque with a lovely beach and enough choice in tavernas and bars not too become bored frequenting the same place. Fishing trips, boat trips and some water sports are available too.
We find this village to be a very laid back and peaceful holiday resort particularly in the early season of May and June and later in September and October. In the height of the season of July and August the little village might seem too overcrowded for some visitors.
Greek Mythology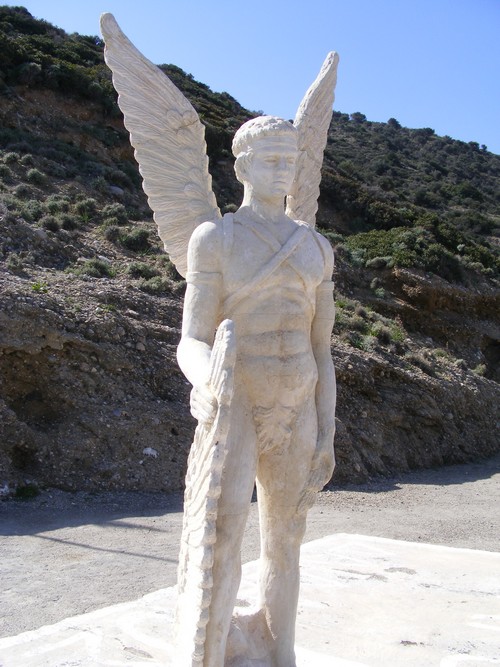 For fans of Greek mythology make sure you look out for the white statues of Daedalos and Icarus who are poised to take flight from the harbour of this fishing village.
The father and son reputedly took flight from Agia Galini with their wings made from wax and feathers to escape from King Minos. But flying too close to the sun the wax melted and Icarus fell into the sea.
Hotels in Agia Galini
This fishing village is a great place to stay for a holiday in Crete. There aren't any 4 0r 5 star luxury hotels in the village but a good selection of budget hotels and a choice of apartments, studios and rooms to rent. We particularly like the Glaros Hotel Apartments for its fantastic location and stunning views of the harbour and sea.
We also like the Irini Mare Hotel which serves fabulous breakfasts and dinners. It has 3 pools and is close to the beach, so you have the option of pool or beach.

You'll also find private villas in the village and its surrounding areas.

Restaurants in Agia Galini
There are plenty of choices for wining and dining and nightlife in this beach resort. Most of the cafes, bars and tavernas are centrally located around the harbour area and offer the best in local food and friendly hospitality.
We like the roof garden of the Pantheon for its food, service and terrific views of the harbour and sea. We also like the friendliness of the Kosmos which serves the best lamb on the spit with gorgeous potatoes.
There are plenty of other restaurants and Tavernas in the village for you to choose from including the popular Taverna Onar and the Taverna Kipos.

You're assured a very warm welcome and some fine examples of traditional Greek and Cretan food and drink that make up the famous Cretan diet.
Crete Attractions Nearby
Staying in Agia Galini is a great base for visiting nearby Matala, Aghia Triada and the Minoan Phaistos Palace.
If you are visiting this Crete resort in the height of the summer perhaps take a trip to the glorious and cooler mountain village of Zaros where the spring mountain water comes from.
You can also take a ferry to Preveli beach. Further afield you can get to the wonderful town of Rethymnon quite easily along some very scenic routes.
You'll be spoilt for choice with things to do in Crete if you choose this beach resort as your base.
Agia Galini Beaches
Agia Galini has a sandy beach with beautiful blue clear waters of the Lybian Sea. It is one of the best beaches in Crete for families.
Everything for the tourist is available here with a wide range of water sports on offer. Because of its length, there are quieter stretches too if you want a more secluded beach experience.
Getting to Agia Galini
Because of its central location flights to Heraklion Airport or Chania airport are equally as good. From the airports or by boat from Souda Port at Chania or Heraklion Port, the transfer distance  is approximately 9okm.

---
Just Some of the Reasons We Love Crete...

Did you love this page? Please share it with your friends!
---
© Copyright All Original Content 2006 - 2023 Completely-Crete.com. All Rights Reserved. Reproduction in whole or in part without permission is not permitted.

Click here to learn about developing your own money-generating website
from Solo Build It! - even with little or no web experience!