Apokries - Carnival in Crete...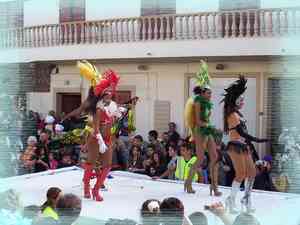 Apokries - Carnival
The three week period prior to the Greek Orthodox 40 day Lent is a time of celebration and is known as Apokries or Carnival.
During Lent it is a time of fasting and abstinence leading up to Easter. For the whole of Lent and throughout Holy Week, there are no weddings, parties or celebrations. Also fasting and abstinence from meat, drinking wine and restrictions on other foods makes for a sombre and sober time. So before this period of deprival there are three weeks of fun, food and festivities. The three week period is named Apokria meaning "abstention from meat".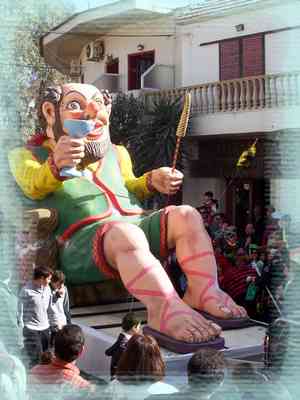 During Apokries, more commonly known as Carnival, there are many celebrations and festivities.
The Apokries period in early spring has its roots in Ancient Greece when the Greek god of wine, fertility and ecstasy, Dionysus was worshipped and revered with much drinking of wine and merriment.
Today on Crete and elsewhere in Greece Apokries is a time to party, let your hair down, dress up and have some fun. Rethymnon has the biggest celebrations on Crete with a packed three weeks of events, parties and parades culminating in a massive procession of themed decorated floats with the locals dressed in colourful fancy dress.
Other villages also celebrate with their own smaller processions.
The period of Apokria consists of three feasts.
Protofoni
The first feast of Apokries is named 'Protofoni' or 'Announcement'. During this week readings from the Triodeon (book of the Three Holy Sacraments) are made daily in churches and on the Sunday the feast of Protofoni announces the beginning of Carnival.
Kreatini
The second feast of Apokries is named Kreatini and is known as 'Meat Week'. This is traditionally the last opportunity to eat meat before Lent. The Thursday of this week is named Tsikno Pempti or Burnt Thursday where feasting on grilled meats are the order of the day. Many parties, including fancy dress parties or the wearing of masks are held in bars or clubs commence during this week.
Tirini
The third feast of Apokries is called Tirini and is known as 'Cheese Week'. Cheese, eggs and dairy products are enjoyed heartedly during this week as meat is not allowed.
Tyrofagis Sunday
This is the last day of Apokries when the grand parades take place. This is of course the biggest celebration of Apokries when music, eating, drinking and making merry is almost obligatory.
Colourful floats filled with colourful characters parade throughout the main streets to the crowds of enthusiastic and usually fancy dress wearing spectators.
Balloon sellers mingle with spectators while music is played loudly and adds to the carnival atmosphere. Later parties with much eating and drinking continue throughout the evening.
Clean Monday
'Kathara Deftera' or Clean Monday, which falls on the 2nd of March in 2009, marks the end of Apokries and the beginning of Lent.
Fasting begins on this day where traditionally no meat, fish, eggs, dairy products, olive oil or wine are allowed to be consumed for the 40 days leading up to Easter.
Clean Monday is a Bank Holiday in Greece and heralds the beginning of spring. Many families enjoy this day by taking Lenten picnics to the mountains or the beach. The foods consumed on this day contain 'no blood'. Instead salads, fresh and pickled vegetables, shellfish, octopus, squid and bread are enjoyed. A delicious sweet of Halva is also consumed. It is traditional to fly kites on this day.
---
Just Some of the Reasons We Love Crete...

Did you love this page? Please share it with your friends!
---
© Copyright All Original Content 2006 - 2023 Completely-Crete.com. All Rights Reserved. Reproduction in whole or in part without permission is not permitted.

Click here to learn about developing your own money-generating website
from Solo Build It! - even with little or no web experience!