April in Crete
April in Crete is a amazing time of year. Birdsong, fragrant herbs and spring flowers fill the hillsides as the sun gets warmer and the days get longer. And fortunately this is when some direct flights to Crete commence bringing visitors to the island.
The April weather in Crete can be unpredictable with some light rainfall but generally sunny and warm. As the month goes by the temperatures usually rises.
Visitors to Crete increase and some of the hotels, restaurants and bars begin to reopen after the winter months. 
Weather for April in Crete
April weather in Crete can see some quite chilly days but also some very hot ones with temperatures rising as the month progresses. Rainfall is not normally a feature of the April weather in Crete. There can be rainfall on Crete in April but this is normally light showers that pass quickly.
There is normally still snow on top of the mountains of Crete in April which looks very picturesque at this time of year. 
Temperatures can vary from a low 12°C to a high 20°C with an average of 17°C. 
We've found that in April the weather in Crete usually has about 5 clear blue sky and sunny days per week with the odd cloudy or sometimes showery day. The night temperatures can fall and duvets or blankets are needed for the colder nights.
Dining outside is not normally an option in April in Crete with the restaurants and hotels providing indoor seating instead.
Flights to Crete in April
Flights to Crete in April begin to get more frequent as the month progresses making it easier to fly direct to Crete. International flights to Crete bring visitors to Chania Airport and the busier Heraklion Airport. You can sometimes pick up cheap flights to Crete in April but you would need to book either early or try for a last minute deal.
Hotels in Crete in April
Visitors to Crete in April can find some very good deals. There are limited hotels and apartments open in Crete at this time. Some of the luxury hotels do open up in April in Crete and visitors can find they are paying a quarter of the summer price. The all inclusive hotels are excellent value at this time of year. Otherwise you can find really cheap apartments to have a spring or early summer holiday in Crete.
Things to do in Crete in April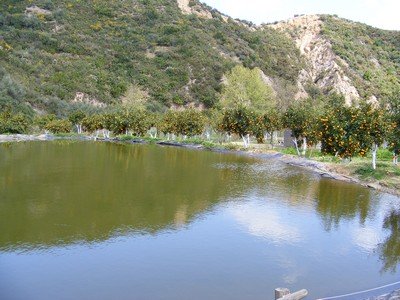 If you are visiting Crete in April there are activities you can enjoy.
April in Crete sees the opening of Crete Botanical Park near Chania. It is open from April 1st right through until November from 8.30am - 8.30pm each day. One of the best Crete attractions for visitors of all ages
You'll find the Botanical Park of Crete in the foothills of the beautiful White Mountains on the lovely scenic road leading up to Omalos (the starting point of the Samaria Gorge). A cross between a scenic hike and an interesting nature trail, the Botanical Gardens offers visitors a fantastic day out away from the beach. The 1 to 2 hour trek takes you through some of the most spectacular scenery, alive with butterflies and a variety of wild birds. The many and varied plants, herbs and trees thrive in two hundred square kilometres of beautifully planted terraces on the hillside. The botanical gardens are just 15km from Chania Town, just past Fournes, and is easily accessible from many of the resorts of Western Crete.
Rather than sun worshipping beach dwellers, Crete in April usually draws in visitors who like to walk, bike or bird watch. This is the ideal time to do any of these activities. Painting or photography are also popular pursuits in April in Crete.
April in Crete is also a perfect time to visit some of the archaeological sites like Knossos near Heraklion, Aptera close to Chania or the Minoan Palace at Malia as there aren't as many visitors as in the hot summer months.
Greek Easter usually falls in April and very occasionally in early May and does not always coincide with Western Easter. Easter in Crete and Greece in general is a very big deal – much more so than Christmas. Lent and the whole of Easter week sees fasting and feasting, celebrations and religious rituals, customs and traditions and special foods eaten. If you are visiting April in Crete you may be lucky enough to witness Easter in Crete.
---
Just Some of the Reasons We Love Crete...

Did you love this page? Please share it with your friends!
---
© Copyright All Original Content 2006 - 2023 Completely-Crete.com. All Rights Reserved. Reproduction in whole or in part without permission is not permitted.

Click here to learn about developing your own money-generating website
from Solo Build It! - even with little or no web experience!