August in Crete

August in Crete is scorchio! August weather in Crete is very hot with constant sunshine each day. You'll rarely see a cloud in the sky.
Crete in August is brilliant for a beach resort holiday and many of the very popular resorts such as Stalis, Hersonissos, Malia in the east, Platanias and Agia Marina in the west or Rethymno, Panarmo and Platenes in the centre are full of tourists sunbathing by day and enjoying themselves in the bars, clubs and restaurants by night.

The beaches are usually packed in August in Crete and not just with visitors from the UK, Germany, Scandinavia or other countries throughout the world but also Greeks, particularly from Athens.
The whole of Greece seems to come to a grinding halt in August as many of the locals descend on the beaches to swim, splash about and enjoy the beach life of the resorts. And the island of Crete is very popular with Greeks from the mainland.
Weather for August in Crete
August weather in Crete can see temperatures soaring sometimes past the 30°C mark with no or little rainfall and constant sunshine. We've known it to rise to above 40°C during heat waves!
Temperatures can vary from a low 22°C to a high 29°C with an average of 26°C.
Rainfall is not normally a feature of the August weather in Crete
We've found that in August the weather in Crete is very hot and we cannot recall any rainfall in August.
If you're staying on Crete in August you will most likely need to use the air conditioning during the nights to help you sleep.
Flights to Crete in August
Flights to Crete in August are frequent which makes it very easy to fly direct to Crete. International flights to Crete bring visitors to Chania Airport and the busier Heraklion Airport. There aren't many cheap flights to Crete in August as this is the most popular month by far.
Hotels in Crete in August
Visitors to Crete in August can find a wide range of accommodation on offer. August in Crete is the most popular time and often the hotels are full to capacity. Budget apartment's right through to 5 star luxury hotels or private villas are available in the month of August. There aren't so many bargains to be had at this time of year as the hotels can and do charge a premium.
Things to do in Crete in August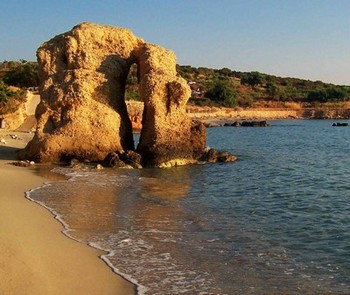 In August in Crete there is no better place than the beach. Although most of the beach resorts are busy and full of tourists there are some more secluded beaches to try. These tend to be rocky or pebbly beaches that are lacking in amenities but don't attract as many tourists as the big beach resorts. You'll find this type of beach on the south coast or at the extreme ends of the island around Sitia in the east or Kissamos in the west.
If you do prefer a busy and bustling beach with lots of amenities then you'll enjoy the water sports and beach activities that are on offer on Crete in August in the popular beach resorts. There are opportunities to have fun in the water including wind surfing, water skiing, jet skis, banana rings, parasailing and pedalos. Some resorts also have scuba diving centres.
Other than the beach, a day at one of the water parks in Crete in August can provide not only a place to cool off but also some fun too. There are 4 big water parks on Crete for visitors to enjoy -  Aquapark south of Hersonissos, Water City at Anopolis, Heraklion, Star Beach in Hersonissos and Limnoupolis at Chania.
The water parks in Crete do get crowded in August but they are such fun and a great way to spend a hot day splashing and sliding in the cooler waters.
---
Just Some of the Reasons We Love Crete...

Did you love this page? Please share it with your friends!
---
© Copyright All Original Content 2006 - 2023 Completely-Crete.com. All Rights Reserved. Reproduction in whole or in part without permission is not permitted.

Click here to learn about developing your own money-generating website
from Solo Build It! - even with little or no web experience!