Banks in Crete Guide

Banks in Crete Guide:
Navigating the Banking System in Crete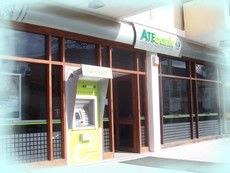 Welcome to our comprehensive Banks in Crete Guide, on navigating the banking system in Crete. Whether you're a resident, an expat planning a long-term stay, or a tourist on vacation, understanding how banks function in Crete is essential.
In this guide, we delve deep into the specifics of Crete's banking system. We help you understand the basic banking norms, opening hours, holiday schedules, and what you need to open a bank account. We will explore the major banks on the island, their offerings, and locations.
Our aim is to simplify banking in Crete for you. Whether you need to exchange currency, understand the rules around ATM use, or you're curious about how the local banking system affects the economy and tourism, we've got you covered.
Join us as we take a journey through the complexities of the banking system in Crete, making it easy and approachable for all. Whether you're in Heraklion, Chania, Rethymno, or any other part of this beautiful island, this guide is designed to help you handle your banking needs with confidence.
---
Understanding Bank Hours and Holidays in Crete
Traveling to the beautiful island of Crete brings you into the heart of Greece's unique culture, history, and natural beauty. However, it's essential to understand the local banking system to make your stay smooth and trouble-free. Continuing our Banks in Crete Guide to help you.

Greek banks typically operate from Monday to Thursday from 8:00 am to 2:30 pm and on Friday from 8:00 am to 2:00 pm. This schedule may vary slightly from bank to bank, and it's always a good idea to check specific hours with your local branch.
On weekends, banks in Crete are closed, so you'll need to plan your banking transactions for the weekdays. Also, keep in mind that banks are usually busiest at the beginning and end of the month, so consider this when planning more substantial transactions.
Greek holidays play a significant role in the operating hours of banks. On public holidays like Independence Day (March 25), Labor Day (May 1), and Ochi Day (October 28), banks will be closed. Banks also observe religious holidays, such as Orthodox Easter and the Assumption of Mary (August 15), so these should be taken into account when planning your trip.
Beyond these regular holidays, August is traditionally a vacation month in Greece, and many services operate on reduced hours. While banks generally maintain their standard hours, they may have reduced staff and services during this month, leading to longer wait times.
ATMs are widely available across Crete and offer 24/7 access to cash. However, it's a good idea to avoid relying solely on ATMs, especially during public holidays or strikes when replenishment may be irregular.
Understanding the banking system in Crete will help ensure you have access to your money when you need it and can avoid any unnecessary stress or inconveniences during your holidays. By knowing bank operating hours and the effect of Greek holidays, you can focus on enjoying the beautiful landscapes, delicious food, and warm hospitality that Crete has to offer.

---
Using ATMs in Crete: What Every Tourist Needs to Know
Crete, with its inviting beaches, rich history, and vibrant culture, is a popular destination for tourists worldwide. As you plan your trip to this Greek island, understanding how to use ATMs in Crete can enhance your experience by ensuring hassle-free transactions during your stay.
ATMs are widely available in Crete, particularly in the cities and larger towns. These machines offer services in various languages, including English, making them user-friendly for international visitors.
When using ATMs, it's important to note that Greek banks generally charge a fee for each transaction made with a card issued by a foreign bank. This fee can vary but typically ranges between 2 to 5 euros per transaction. To reduce these costs, it might be more economical to withdraw larger sums less frequently, thus lowering the number of transactions and associated fees.
Remember to consider any charges your home bank may impose for foreign transactions. Prior to your departure, it's advisable to consult with your bank about these potential fees, enabling you to plan and budget effectively.
In Crete, ATMs usually operate 24/7, offering easy access to cash. However, it's recommended to avoid relying solely on ATMs, especially during Greek public holidays or on Sundays, when ATMs might not be replenished immediately.
Greece uses the Euro, and this is the currency dispensed by ATMs in Crete. Machines often offer options for withdrawing different note denominations. It's useful to have a mix of smaller notes and coins for instances where change for larger bills may not be readily available.
Credit cards are widely accepted in Crete, particularly in hotels, restaurants, and shops. Still, it's sensible to have a combination of cash and cards for payment.
Security is key when using ATMs. Opt for machines attached to banks, as these are typically safer than standalone ones in less crowded areas, which could be potential targets for skimming devices.
By familiarizing yourself with the banking system and ATM usage in Crete, you can look forward to enjoying your trip with financial peace of mind.
---
Exchanging Currency in Crete: Banks vs. Currency Exchange Services
As you get ready for your trip, no "Banks in Crete Guide" will be complete without understanding the ins and outs of currency exchange in Crete.
The official currency of Greece, including Crete, is the Euro (€). Therefore, it is necessary to carry euros while you're on the island, especially for small local shops and restaurants that might not accept credit cards. So how should you go about converting your money to euros? There are two main options: banks and currency exchange services.
Banks in Crete
The banking system in Greece is modern and widespread. In Crete, you can find branches of Greek banks, as well as ATMs, in most cities, towns, and even in some larger villages. Some of the prominent banks include National Bank of Greece, Piraeus Bank, and Alpha Bank. They usually offer competitive exchange rates and are considered the safest places for currency exchange.
However, keep in mind that banks in Greece typically operate from Monday to Thursday between 8:00 a.m. and 2:30 p.m., and on Friday from 8:00 a.m. to 2:00 p.m. This might limit the times you can exchange your currency. Also, it's advisable to carry your passport or another form of ID, as it might be required for the transaction.
Currency Exchange Services
Besides banks, there are numerous currency exchange services in Crete, particularly in areas with a high concentration of tourists. These services provide convenience as they often have extended hours and are open on weekends. Additionally, they provide immediate cash, saving you time compared to waiting for transaction processing in a bank.
On the downside, these services often offer exchange rates that are less favorable compared to banks. There might also be service charges or commission fees, which can add up, especially for larger transactions. Therefore, it's crucial to ask about the full cost before exchanging your money.
Overall, while both banks and currency exchange services have their pros and cons, the best option depends on your specific needs. If you're looking for the best rates and security, banks may be the preferred choice. On the other hand, if convenience and accessibility are your top priorities, currency exchange services might be a better fit.
Remember to inform your bank about your travel plans to ensure smooth transactions and avoid potential disruptions to your card services. With careful planning, you can enjoy your holiday in Crete with a focus on the island's beauty, not on money matters.
---
Concluding our Banks in Crete Guide

Navigating the banking landscape in Crete doesn't have to be a daunting experience. With this comprehensive guide at your disposal, you should find it easier to manage your finances while enjoying all the magnificent experiences this island has to offer. From understanding the bank hours and holidays to utilizing ATM services effectively, from exchanging your currency in the most beneficial way to safeguarding your finances, this guide aims to cover all aspects of the banking system in Crete for tourists.
Whether you're planning to stay for a week or considering an extended vacation, having a clear understanding of the banking system will allow you to focus on the more enjoyable aspects of your trip. With its rich history, mouthwatering cuisine, and serene beaches, Crete is a paradise waiting to be explored. With your financial matters in order, all that's left for you to do is to immerse yourself in the local culture, savor the delectable Mediterranean food, and create memories that will last a lifetime.
So pack your bags, book your flights, and rest easy knowing that your financial needs in Crete are well understood and taken care of. Your Cretan adventure awaits!
---
Just Some of the Reasons We Love Crete...

Did you love this page? Please share it with your friends!
---
© Copyright All Original Content 2006 - 2023 Completely-Crete.com. All Rights Reserved. Reproduction in whole or in part without permission is not permitted.

Click here to learn about developing your own money-generating website
from Solo Build It! - even with little or no web experience!