Blue Flag Beaches in Crete
There are many Blue Flag Beaches in Crete, Greece. The best beaches in Crete are awarded the prestigious Blue Flag year on year, despite the ever increasing stringent standards to be met. Crete beaches come out top each year over all other Greek islands and areas of mainland Greece. And Greece as a whole is always in the top three out of almost 50 countries for most awarded Blue Flag Beaches.
Despite having fewer beach resorts than other areas of Crete, the prefecture of Lassithi has consistently won the most Blue Flags for its clean beaches. And we have to agree that Lassithi does have some of the very best beaches in Crete.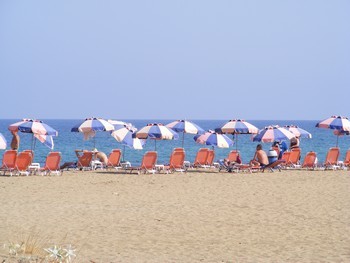 The best beaches in Crete and Greece are amongst the European beaches that have to meet a new 'excellent' standard required under the new EU Bathing Waters Directive. 
Crete beaches that want to be awarded a prestigious Blue Flag must meet 32 criteria which include cleanliness, organisation of the beach, environmental education and information, safety and security of visitors and protection of natural resources.
Blue Flag Criteria
Crete beaches have complied with the most stringent of Blue Flag Beach criteria:
Water Quality
The water has been tested and passed as being 'excellent' for bathing and free from sewage or industrial pollution.
Environmental Management
The beach has fulfilled cleanliness standards and is constantly controlled by an environmental management system.
Safety and Services
Beaches awarded the Blue Flag are recognised as having comprehensive safety provisions such as lifeguards overseeing bathers or lifesaving equipment available for use.
Environmental Education and Information
Information regarding coastal eco-systems, beach conduct codes and water quality is prominently displayed for the benefit of beach users. 
Top Blue Flag Beaches in Crete
In the prefecture of Chania, which has some of the best beaches in Crete and in Greece overall there are many beaches that have been awarded Blue Flags including the popular beach resorts of Agia Marina and Platanias. Also in the Aporokronos area of Chania you'll also find the fishing village beach resorts of Alymirida and Kalyves have both been assessed as Blue Flag Beaches. Kalyves beach is in our top 10 best beaches in Crete.
Rethymnon prefecture has many popular beach resorts that have also been judged worthy to receive Blue Flags. These include the long stretches of Crete beaches at Adelionos Kampos and Platanes. The pretty fishing village of Parnomos has also been awarded a Blue Flag.
In the Heraklion prefecture the popular Crete beach resorts of Hersonissos and Ammoudara are considered Blue Flag status beaches amongst many others around that area.
The Lassithi region has many beaches that have been awarded Blue Flags in and around the Agios Nikolaos area plus in the far east at Sitia. South coast Crete beaches that have been awarded Blue flag status include Makrigialos, Ierapetra and Matala.
---
Just Some of the Reasons We Love Crete...

Did you love this page? Please share it with your friends!
---
© Copyright All Original Content 2006 - 2023 Completely-Crete.com. All Rights Reserved. Reproduction in whole or in part without permission is not permitted.

Click here to learn about developing your own money-generating website
from Solo Build It! - even with little or no web experience!