Car Hire in Crete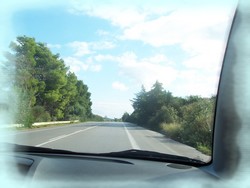 This Car Hire in Crete page is from the Holidays in Crete and Living in Crete sections of the Completely Crete website.
Car hire in Crete is probably the best way to explore this beautiful Greek island. There are plenty of good car rental companies and hire car agencies offering everything from small scooters to large 4x4 land cruisers.
Car Hire in Crete is relatively inexpensive and driving is normally a pleasure with good roads free from heavy traffic.
See our Driving in Crete guide for hints and tips of how to get the most from driving around this fabulous island.
Being the largest of the Greek Islands, Crete is quite big and measures 260 by 60 kms. So there's a lot of ground to cover if you want to see all the magnificent scenery and sites the Island has to offer.
There are car rental companies in all four prefectures covering the areas of Chania, Rethymnon, Heraklion and Lassithi.
You can pick up your hire car directly at Chania Airport or Heraklion Airport, or arrange pick up in each capital town of Hania, Rethymno, Iraklion and Agios Nikolaos. You can even arrange to have your hire car delivered to your hotel or apartment.
It's a good idea to book your hire car in advance. During the height of the season in July and August, when demand is at its peak, booking is essential. There are many online services available for getting around in Crete by hire car. One that stands out is holidayautos.co.uk
We really do recommend hiring a car to get around Crete, to enjoy your stay fully. There are many companies that offer car hire on Crete, but we think it's a good idea to book in advance with nationally recognised companies who offer the right insurance.
101 Oscar Car Hire
We bring you excellent car hire (Crete based) services with amazingly cheap car rentals in Crete. If a trip to Crete is what you are thinking of then come to us and open your eyes to one of the top car rental on Crete. We provide attractive solutions and cheap, discount car rental packages to suit all your car renting needs.
VISIT OSCAR CAR'S WEBSITE
RentaCar-Crete.Eu - Heraklion Airport
Rentacar-Crete offers you low cost car hire with the best fully inclusive car hire rates. We are proud to offer you the best insurance, working together with Greek and European Insurance companies, special Internet offers and excellent services designed to win customer's loyalty.
VISIT RENTACAR-CRETE'S WEBSITE
ANNA CARS Car Rental Services - Heraklion Airport
Being in business since 1984 our main aim is to ensure you a stress-free rental experience by providing a variety of cars with features you need for safety and comfort.
VISIT ANNA CARS WEBSITE
OTHER CAR RENTAL COMPANIES IN CRETE
AUTOCRETA Car Rental Crete
- Car rental company in Heraklion Crete offers quality car hire service for holidays in Crete.

Crete Car Rental Center - Reliable car rental company in Crete. With 20 different models we have cars for every budget. Our professional staff will explain you everything in English, French, Dutch, Italian and German language.

Also...

---
Just Some of the Reasons We Love Crete...

Did you love this page? Please share it with your friends!
---
© Copyright All Original Content 2006 - 2023 Completely-Crete.com. All Rights Reserved. Reproduction in whole or in part without permission is not permitted.

Click here to learn about developing your own money-generating website
from Solo Build It! - even with little or no web experience!