Chickpea Recipe with Beef or Pork
Ingredients for Cretan Chickpeas with Beef or Pork
1 kilo of beef or pork
1 kilo chickpeas, soaked overnight in water
8 tbsp Olive Oil
2 large onions, chopped
2/3 large tomatoes, chopped
salt, pepper
Method
Cut the meat into chunks and brown all over in hot oil. Take out the meat and brown the onion. Put the meat back and add the tomatoes. Simmer for about 10 to 15 minutes, then add the strained chickpeas. Add enough water to cover everything and add salt and pepper. Let this simmer until cooked (about 1½ hours). Simple!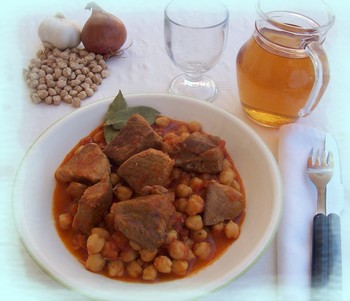 MEAT WITH CHICKPEAS
---
Just Some of the Reasons We Love Crete...

Did you love this page? Please share it with your friends!
---
© Copyright All Original Content 2006 - 2023 Completely-Crete.com. All Rights Reserved. Reproduction in whole or in part without permission is not permitted.

Click here to learn about developing your own money-generating website
from Solo Build It! - even with little or no web experience!