If you like wine, you will love Cretan Wine...
Dating back to Minoan times Cretan wine has found its way to the dinner tables of successive generations of Cretan families. An integral part of the Cretan Diet, wine, has been happily consumed to complement the tasty food enjoyed here on this fabulous Greek Island.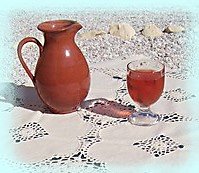 Cretan wine is mainly home-made and rarely bottled, with many families harvesting their own vines, pressing the grapes and fermenting the wine. The wine some families produce is a golden brown colour with a fairly high alcohol content (13 - 14%) and tastes as strong as port or sherry. Other families take their grapes to a cooperative and they produce very good bottled and boxed wine. This wine is very reasonably priced and is extremely drinkable.
Alongside the main wine cooperatives of Peza Union, Arhanes, Sitia, and Kissamos are professional independent producers. The key private producers are Minos, Lirarakis, Douloufakis, Paterianakis, Creta Olympias, Boutaris, Lidakis, Ntourakis, Mazanis, Oikonomou, Papadakis, Michalakis Bros.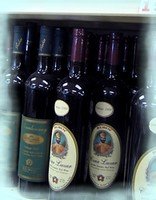 20% OF ALL GREEK WINES ARE PRODUCED IN CRETE
Today twenty percent of all Greek wine production comes from Crete. Within the current classification of Greek wine there are several Cretan appellations, including Peza for dry white wine and red wine, Arhanes for dry red wine, Dafnes for dry and sweet red wines and Sitia for dry and sweet red wines.
Many visitors want to sample the wines of Crete and to visit the key wineries in the Heraklion region. Why not combine an excursion to the nearby historical Minoan Palace of Knossos with a visit to a winery to sample excellent wines? This sounds like a perfect day trip out!
Fantaxometoho Boutaris Winery
The Boutari Winery and wine tasting hall is inside an estate vineyard called Fantaxometocho just 8km from Heraklion. It is open daily to visitors from 10.00am - 6.00pm. The Boutari Winery in Crete offers the visitor:
A guided tour of the production facilities
A tour of the underground wine cellars
A multi-media show of the history of winemaking in Naoussa
An introduction to the art of wine-tasting
The opportunity to enjoy wines in combination with local, traditional dishes
The opportunity to purchase current and older vintages of Boutari wines as well as wines of limited production
The opportunity to purchase wine related books and accessories
Minos Wines
Located on the right side of the road close to the exit from the Peza village is the Milliarakis Winery of Minos Wines. Wine tasting combined with an exhibition of old winery machines (pumps, bottling machines), as well as of an old traditional stone-made winepress makes for an interesting and informative day out. Stock up on wine and selected Cretan products like olive oil, olive soap, spices, honey, and herbs from the winery shop to take home and your memories of Crete can last longer.
The wine hall is open everyday during the summer.
Peza Union Winery
The Peza Agricultural Union is located on either side of the main road passing through the upland valley in the heart of the Peza appellation district, a couple of kilometres past the Peza village. The village of Peza in the Municipality of Nikos Kazantzakis is about 15 km southeast of Heraklion.
Grape and olive cultivation has taken place in this region since the Minoan era, 4,000 years ago. In 1933, a group of local farmers formed a strong union, the Union of Agricultural Cooperatives of Peza, producing wine and extra virgin olive oil. Nowadays the union is composed of 19 first-degree associations with 3000 members [almost all the farmers of the area (97%)].
Free entry to the exhibition centre which is open from 9.00am - 3.00 pm Monday to Saturday includes wine tasting of 3 different kinds of wine along with traditional meze with olive oil.
Here are some useful links to Cretan Wine Producers' web sites:
---
Just Some of the Reasons We Love Crete...

Did you love this page? Please share it with your friends!
---
© Copyright All Original Content 2006 - 2023 Completely-Crete.com. All Rights Reserved. Reproduction in whole or in part without permission is not permitted.

Click here to learn about developing your own money-generating website
from Solo Build It! - even with little or no web experience!