Crete Accommodation
There is a wide choice of Crete accommodation ranging from camp sites to luxury 5 star hotels and everything in between.
We've been lucky enough to stay in lots of Crete accommodation over the years, all over the island.

Budget Accommodation in Crete
We've stayed in budget Crete apartments in Georgioupoli and Stalis on the north coast and Paleochora and Sfakia on the south coast.

Budget accommodation in Crete in self catering studios and apartments, can and do vary in their standards. But we've always found them to be clean and well maintained. The owners of such Crete accommodation usually live on site or very close by. And normally with Crete apartments it is a family business, so you can expect mother to do any cooking and cleaning, dad looking after  the gardens and pool, teenage son manning the bar and 8 year old daughter waitressing!
For example we've stayed in the Filia apartments in Stalis where 3 brothers, their wives and children all muck in to make holidaymakers feel welcomed, happy and satisfied. We'd personally recommend these apartments for families who are looking for a cheap but cheerful holiday.
We also loved the Sunshine Studios and Apartments in Stalis, owned and run by twin brothers.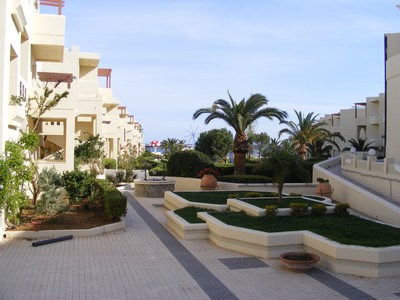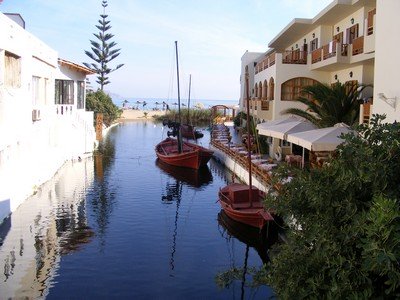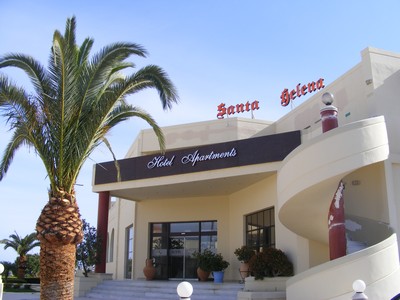 Another good budget hotel we've stayed in is the Hotel Oreia apartments in Paleochora on the south coast of Crete. It is a great location for the 2 main beaches and the harbour.
We've also stayed a couple of times at the family run Manto Studios in Paleochora and can highly recommend staying there. Very clean rooms, great location and fabulous breakfast.
Away from the beach resorts of Crete, we've stayed in the mountain village of Zaros at the Keramos Hotel which offers genuine Cretan hospitable at incredibly good prices.  Zaros is the perfect base location for walking, bird watching, photography or orchid spotting.
 Luxury Crete Accommodation
At the other end of the scale we've also been lucky enough to stay in some 5 star luxury Crete accommodation. We were among some of the first guests at the newly built 5 star Mitsis Laguna Resort at Anissaras. We were stunned by the first class service, decor and overall attractiveness of one of the best Crete hotels. After our initial stay, we've made quite a few return trips to this beautiful hotel.

We stayed just one night at the 5 star luxury GDM Megaron hotel in Herakion, as it was handy for the airport. Again, we loved the opulent decor and stylish rooms.
Just a note about the all inclusive 5 star Crete hotels - although classed as 5 star, some of them do not match up to standard of luxury you may expect. But this is very much reflected in the price. For example we've stayed at the Blue Marine Spa and Resort at Vathi, near Aghios Nikolaos, which again looked stunning, but fell short of a true 5 star experience, but for the price we paid were not disappointed.
A few 4 star hotels often exceed ones expectations. We particularly like the Hermes Hotel in Aghios Nikolaos, which is good value for money. We've stayed at the Hermes a number of times over the years. 
Another all inclusive 4 star hotel, we've stayed in many times is the Blue Sea Resort at Stalis. Again, very good value for money.
We've stayed a couple of times at the Kalyves Beach Hotel but not since it went all inclusive. It is in the perfect location, right on one of the best beaches in Crete.
Just west of Chania, we've stayed at the Rania Beach Hotel at Platanias, close to Agia Marina. The main building is right on the beach, so its in the perfect location.
Yet another good budget hotel we've stayed in was the Hotel Axos in Platanes, Rethymon. Very good value for money with a great pool and family feel to the hotel.
But our absolute favourite of all luxury hotels in Crete is Corissia Park in Georgioupoli. It has the ability to make you feel one of the family and nothing is too much trouble. We love the service,  food, the pool, the closeness of the beach, the entertainment evenings and the gardens.
Villas in Crete

There are numerous villas in Crete for rent. Again, you can get some budget villas but also some very plush luxury villas. Villas in Crete can work out to be very good value for money for families and groups of people.
On average villas in Crete comfortably suit 4- 6 people but there are larger Crete villas to house 8 10 people.
---
Just Some of the Reasons We Love Crete...

Did you love this page? Please share it with your friends!
---
© Copyright All Original Content 2006 - 2023 Completely-Crete.com. All Rights Reserved. Reproduction in whole or in part without permission is not permitted.

Click here to learn about developing your own money-generating website
from Solo Build It! - even with little or no web experience!