Explore Crete by Campervan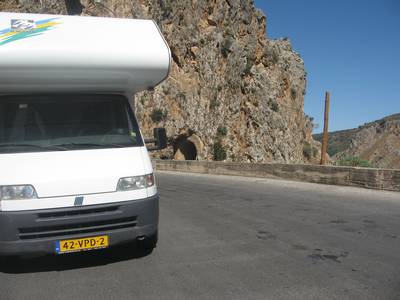 Crete is Greece's largest island, with a total length of 160 miles and a coastline of over 650 miles. Also Europe's most southern part (island of Gavdos) with a great Mediterranean climate where the sun shines virtually all year round.
Crete is very mountainous and there are three main mountains: Lefka Ori in the west, Ida Ori in the central part of Crete (Psiloritis is 2454m high) and Dikti Ori (with the Lassthi plateau) more to the east.
It's no surprise that Crete is the most popular vacation destination in Greece. Large in size, a great climate, beautiful beaches, authentic villages, picturesque harbours, rich culture, and many archeological sites. Crete has is all!
Crete By Motorhome
The Island has so much to offer, but it is just too long and mountainous to see everything by making daytrips. Traveling every day for hundreds of kilometers is very exhausting and time consuming. And you also miss the best moments like a beautiful sunset or the quietness of a desolated beach at sunrise. So why not enjoy all the Island has to offer and travel around in a campervan? Take your time to travel along the quiet and beautiful places of the southern coast. Take a tour through the mountains, see places like Vianos, Anogia and Zaros. Go to the beautiful beach of Elafonisi, make a boat trip to Ballos.
Go to the unexpected and there you will find original Cretan hospitality. Small places do have surprisingly beautiful locations like small churches, breathtaking views, old kafenions (coffee shops) or a beautiful bay. Take your time and get out when you can to enjoy all the beauty. You're on a vacation!
Camping

Feel free to go where you want to go, stay where you want to stay. Free camping is still allowed at most places. That makes your vacation a unique experience. Around the island are nice camping sites too.
All with electricity and sanitary facilities. Some even have a swimming pool. Of course you can switch easily between free and organized camping.
About Motorhome Crete
Motorhome Crete is owned by a Greek and Dutch couple and cooperates with a Cretan rental car business. Our goal is to stay a small business for we appreciate personal contact, quality and flexibility. We take pride in personally cleaning the campervans and execute small repairs to supply you with the very best RV's we can.
We ourselves pick you up from the airport, take enough time to inform you about the use of the motorhome and can be reached day or night through our cell phones.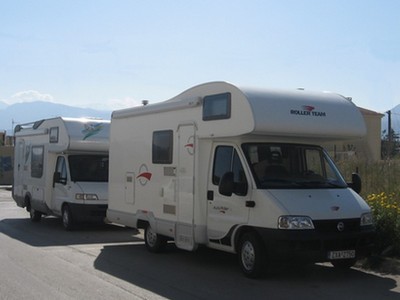 The campervans have strong petrol engines that take a mountain easily. And obviously they have all the essential equipment needed for you to enjoy your stay on Crete! We advise you to take at least two weeks to tour the Island. Although you might not be travelling far each day you need to take your time on the mountain roads to take in the breath taking scenery. Plan your own tour! For more details visit our website:
---
Just Some of the Reasons We Love Crete...

Did you love this page? Please share it with your friends!
---
© Copyright All Original Content 2006 - 2023 Completely-Crete.com. All Rights Reserved. Reproduction in whole or in part without permission is not permitted.

Click here to learn about developing your own money-generating website
from Solo Build It! - even with little or no web experience!