Ela Restaurant in Chania, Crete
- for excellent Food in a stunning location
This Ela Restaurant Page is from the Completely Crete Eating Out Section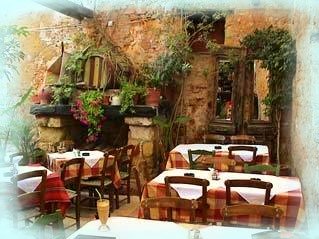 Restaurant: ELA
Reviewed by: Completely Crete
Town/Village: Chania
How to find it: This can be found in the back streets of the Old Town of Chania, at Kondilaki 47 (turn into Baladinou off Halidon Street for the alleys of the Old Town).
Comments:
This is a wonderful place to eat. It's only open in the summer months though, as the restaurant Ela is in the shell of an old Venetian building without a roof. The décor can only be described as rustic, with no plaster on the walls, exposed supporting beams and lots of overgrown vines and flowers decorating the old stones that surround you. Simply charming!

The building dates back to 1650. It was apparently first used as a soap factory.
Later it was used as a school, then a wine cellar and distillery for spirits and liqueurs. Later still, it was a factory for processing cheese and various kinds of sweets.
Luckily for us it is now a popular place to eat in Chania. The prices are very reasonable too. We took some family members who were holidaying in Crete for lunch there. They and we were really impressed. Although it was bursting at the seams with many like-minded hungry tourists wanting lunch, the waiters were very attentive with fairly swift service for Crete!
We all chose the traditional lamb with potatoes and a mountain of Greek salad. The house white wine was delicious too. On asking for the bill we were treated to a complimentary dish of fresh fruits with ice cream with cream and of course - the obligatory raki.
The food was faultless, the waiters brilliant and the total atmosphere and ambience were wonderful.
We wholeheartedly recommend the restaurant Ela to you and urge you to visit the next time you are in Chania.
Here's what Lulu from Denmark has to say about Ela Restaurant in Chania:
"It's my very best meal in Chania ever. It's real Greek food with the best products. The very nice to sit in the beautiful location. All the staff were very nice and the service was good. Nice with live music. I will be back. I am sorry I found the restaurant so late in my holiday."
Here's what Ron from the United States has to say about Ela Restaurant in Chania:
"Ela is a charming and well kept bit of Cretan paradise in the old quarter of Chania. The food is fresh and prepared with care, the staff are all attentive and friendly, and the ambience is as good as it gets. Lunch is wonderful but try Ela at night with the stars overhead and the live music and candlelight...you won't be sorry."
---
Just Some of the Reasons We Love Crete...

Did you love this page? Please share it with your friends!
---
© Copyright All Original Content 2006 - 2023 Completely-Crete.com. All Rights Reserved. Reproduction in whole or in part without permission is not permitted.

Click here to learn about developing your own money-generating website
from Solo Build It! - even with little or no web experience!