European Health Insurance Card
This European Health Insurance Card Page is from the Completely Crete Living in Crete HEALTH section.
The European Health Insurance Card (EHIC) replaced the E111 form in January 2006 for EU citizens travelling within the European Union.
THIS PAGE IS IN THE PROCESS OF BEING UPDATED AND MIGHT NOT BE COMPLETELY ACCURATE AT THIS TIME
E111 forms are no longer valid. You should ensure that you have a EHIC before you travel to Crete. The EHIC is only valid in Crete for short-term visitors and travellers who are normally resident in another EU country and not for those who are living in Crete longer term. (See
IKA national insurance for general health care.)
The EHIC is available free of charge and in the UK is issued by the Department of Health. You can obtain the EHIC by completing the form within the Department of Health leaflet "Health Advice for Travellers" (HAFT). This is available through most UK Post Offices or by telephoning 08701 555 455. Or go directly to apply online via the Department of Health website.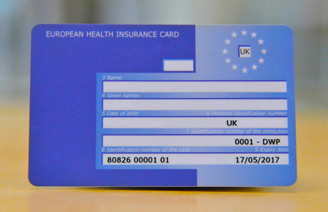 The EHIC is valid in Crete and Greece and throughout the EU. If you or any of your dependants are suddenly taken ill or have an accident during a visit to Crete, necessary medical treatment will be provided free or at reduced-cost - in most cases on production of a valid EHIC. Only state-provided treatment is covered, and you will be treated on the same terms as insured Greek nationals.
Private treatment is generally not covered, and state-provided treatment may not cover all of the things that you would expect to receive free of charge from the NHS. Remember an EHIC does not cover you for all the medical costs that you can incur, or for repatriation. It is not an alternative to travel insurance. You will still need appropriate insurance to ensure you are fully covered for all eventualities.

---
Just Some of the Reasons We Love Crete...

Did you love this page? Please share it with your friends!
---
© Copyright All Original Content 2006 - 2023 Completely-Crete.com. All Rights Reserved. Reproduction in whole or in part without permission is not permitted.

Click here to learn about developing your own money-generating website
from Solo Build It! - even with little or no web experience!