Field Gladiolus (Gladiolus italicus) – the most elegant of the wild flowers of Crete…
The lovely bright pink Field Gladiolus is also known as Gladiolus italicus, Italian Gladiolus or Wild Gladiolus and is a gorgeous example of the wild flowers of Crete.
You can see the Wild Gladiolus in full bloom in the spring months throughout the whole of the Greek island of Crete. It belongs to the Iris family and grows from a bulb, flowering from March through to June.
FIELD GLADIOLUS
We've seen the lovely magenta flower at the eastern part of the island around Elounda and Agios Nikoloas and also to the west of Crete around Georgioupolis and the resorts of Kalvyves and Almerida in the Chania prefecture.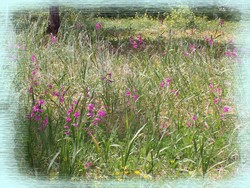 ITALIAN GLADIOLUS
The stems and leaves are green-grey in colour. The leaves are sword shape – hence the name gladiolus which means sword. The Italian Gladiolus is said to be the symbol of Roman Gladiators because of its sword like appearance.
The ancient Greek name for the wild gladiolus was xiphium, from the Greek word xiphos, also meaning sword.
This elegant slender plant sometimes referred to as Wild Gladiolus (Gladiolus italicus) is a wonderfully decorative flower that is simply stunning when you see it through the olive groves and surrounding meadows.
GLADIOLUS ITALICUS(Latin)
If you enjoy nature photography or painting wild flowers you'll love these graceful and vibrant flowers as a subject matter.
Here on the Greek island of Crete March and April are probably the best months for these flowers when they are in full bloom and fill the meadows with their deep pink colour.
Around 8 to 16 deep pink flowers grow on a single tall spike like stem and sway gently in the spring breeze. In meadows masses of this vibrant pink wild flower brigten up the landscape.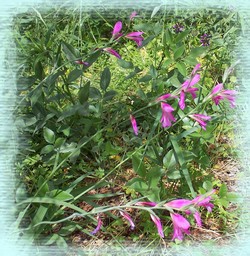 WILD GLADIOLUS
In Greek mythology the Field Gladiolus is thought to be a handsome boy transformed into a beautiful flower. The Roman poet Ovid wrote that the handsome young Spartan prince Hyakinthos loved by both the sun god Apollo and the west wind Zephyros was killed and transformed into the flower Hyancinth.
Others suggest he was transformed into the elegant Field Gladiolus. The love rival Zephyros grew jealous of Apollo and one day as the pair were playing discus, blew the discus off course causing it to hit Hyakinthos and kill him. The grieving Apollo then transformed the dying youth into the beautiful flower of the wild gladiolus.
---
Just Some of the Reasons We Love Crete...

Did you love this page? Please share it with your friends!
---
© Copyright All Original Content 2006 - 2023 Completely-Crete.com. All Rights Reserved. Reproduction in whole or in part without permission is not permitted.

Click here to learn about developing your own money-generating website
from Solo Build It! - even with little or no web experience!