Georgioupolis
This Georgioupolis page is from the Beach Resorts section of the Completely Crete website.
Georgioupoli is a beach resort and village about 40 k east of Chania and about 20 k west of Rethymno. It lies at the western end of a huge stretch of sandy beaches about 9 k long!

You can get here easily following the National road. The village and beach are literally 2 minutes off the main Highway. You can also get here via the old road from Vrisses and Vamos, which is a pleasant quiet route through eucalyptus lined lanes and country roads.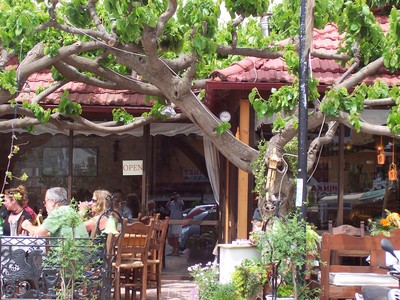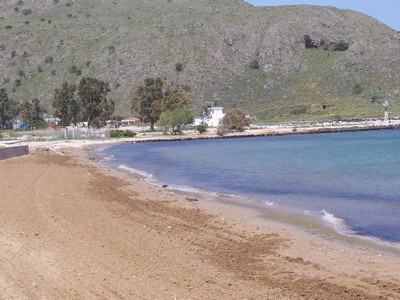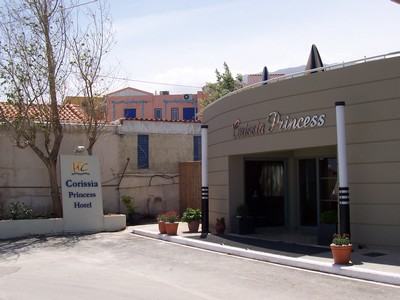 Georgioupoli is one of our favourite places and we have endeavoured to visit often, wherever we have lived on the Greek Island of Crete.

There are many hotels, bars, and restaurants to choose from at this popular Crete beach resort. The western end is dominated by the Corrissia Park hotel complex. There's a huge pool and bar with sun beds available to all, either in the gardens near the pool, shaded by huge eucalyptus trees, or on the beach just over the quiet road. The last time we were there, they charged €5 for the sun beds and umbrella, and you got a glass of orange juice thrown in!

The Almiros river enters the sea at the  western edge of the village providing a small harbour full of working fishing boats. We've seen pelicans here. Once, when gazing back at the shore from 50 meters in the sea, we saw a flock of flamingoes circling the bay!

Restaurants in Georgioupoli
The Restaurants in Georgioupoli are pretty standard. In fact, those around the town square and the roads leading off it have almost identical menus and quality, which is reasonable. This is great if you love to explore the Crete/Greece basics such as souvlaki, stifado, kleftico. lamb chops, greek salad, etc. You'll also find the ubiquitous pasta dishes available too, which seem to be so popular with tourists.
Even if you're not staying at the Corissia Park Hotel, you are welcome to dine in their restaurant and bar. The restaurant is open for a buffet breakfast and a great buffet dinner too. Snacks are available at the bar for lunch.

Crete Attractions Nearby

Kournos Lake is a large body of water within walking distance from the village. There are lakeside restaurants and some  relaxing watersports (!) available such as pedalos and small boats for hire. Great for kids. You can also get to the lake on the tourist Happy Train.

---
Just Some of the Reasons We Love Crete...

Did you love this page? Please share it with your friends!
---
© Copyright All Original Content 2006 - 2023 Completely-Crete.com. All Rights Reserved. Reproduction in whole or in part without permission is not permitted.

Click here to learn about developing your own money-generating website
from Solo Build It! - even with little or no web experience!