Graffiti in Greece
Week beginning 11th August 2008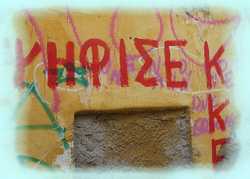 GREEK GRAFFITI
Travellers to Greece, Crete, and less so the Islands, will often be surprised by the sight of graffiti on walls, buildings, and sometimes even ancient sites.
Some of this graffiti is thousands of years old! But much has its origins in a more modern era.
Graffiti is an urban blight in many developed western countries, and the perpetrators are treated as criminals for defacing public buildings and casting a blight over the urban landscape. Because Greece has some reputation as an idyllic, aesthetic Mediterranean holiday destination and home to some of the best ancient monuments in the world, the presence of graffiti can come as something of a shock.
In Greece, there appears to be a more tolerant attitude to graffiti, or ambivalence. Why?
The situation is particularly bad in Athens, and if you take the urban train from the port at Piraeus to Athens centre, you will see some fine examples of Greek graffiti.
Greece has had a long and turbulent history, and graffiti has played its part as a medium through which those seeking political and social freedom have expressed themselves. Perpetrators of this kind of expression often risked imprisonment, or even death, for daring to challenge the oppressive authorities of, even recent, years.
Much of this type of expression can be seen in Greece and remains as a testament to those who challenged the authoritarian regime of the time, which continued until as recently as 1974. This is unlikely to be removed.
GREEK GRAFFITI
Paradoxically, although Greece is the birthplace of Democracy, it is one of the youngest in Europe, and the Colonel's Junta is still a recent memory for many. So we come to another reason why graffiti is tolerated more in Greece. The authorities are less inclined to stamp out this kind of expression for fear of appearing overly dictatorial and oppressive.
This could also explain Greek authority's approach to many laws and regulations that are not vigorously enforced.
Since 2002, smoking has been banned in Greece from most public buildings including hospitals, railway stations, and half of every bar, restaurant and café. This is rarely enforced as any visitor will find out!
Although riding a motorcycle without a helmet is against the law, you will often see this flouted, sometimes within eyeshot of the police who take no action.
I don't think we will see a major effort to eradicate graffiti in Greece anytime soon. They are going to have to cope with a universal ban on smoking in all public places by 2010 - we'll see!
---
NEWS FROM CRETE AND GREECE
These news reports appeared in the Kathimerini newspaper this week:
Helios Airways Flight 522...
Relatives of some of the 121 people killed when Helios Airways Flight 522 crashed at Grammatiko, NE of Athens, three years ago attend a memorial service at the crash site yesterday. Cyprus's chief prosecutor Petros Clerides pledged that anyone found responsible for the accident would face prosecution, adding that he expects developments in the case next month.
Faithful email their prayers
Authorities at the Church of the Virgin Mary on the island of Tinos, one of the most sacred pilgrimage sites in the country, say they have received hundreds of e-mails from Orthodox faithful living abroad and in Greece. The church authorities said their e-mail address had been bombarded with some 500 messages over the past few days, about the same number as it received during the whole of 2007. Many of the notes have been sent by worshippers who are unable to travel due to health problems or financial difficulties.
"The service has been created for people who may not be able to visit the Church of the Virgin Mary ... but who can send their messages which we will bring before (the Virgin's) icon," said Metropolitan Dorotheos of Syros who oversees the church on Tinos.
The majority of the messages have been sent from Cyprus, the USA, Germany, Australia and Austria with some 10 percent of the notes coming from Greece. Worshippers can send their messages to info@im-syrou.gr.


---
Just Some of the Reasons We Love Crete...

Did you love this page? Please share it with your friends!
---
© Copyright All Original Content 2006 - 2023 Completely-Crete.com. All Rights Reserved. Reproduction in whole or in part without permission is not permitted.

Click here to learn about developing your own money-generating website
from Solo Build It! - even with little or no web experience!