Traditional Greek Salad Recipe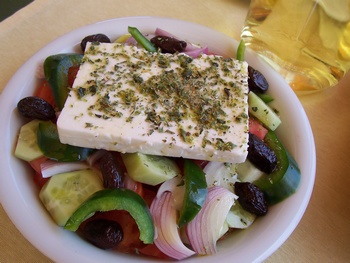 AUTHENTIC GREEK SALAD
Ingredients for Greek Salad

½ red onion
½ a long Cucumber
1 red and 1 green pepper (capsicums)
1-2 big soft red tomatoes
Rectangular slab of Feta Cheese
Extra virgin olive oil
10-12 black olives
Oregano
Salt, pepper
Method
Take the ingredients (except the feta) out of the fridge about 1 hour before you make up the salad. Salad vegetables always taste better when not fridge cold, especially tomatoes.
Peel the cucumber and chop the vegetables into mouth sized pieces and mix gently in a bowl with the olives. Season with salt and pepper, and drizzle with plenty of olive oil.
Pop the slab of feta on the top and drizzle with more oil, then sprinkle with oregano.
Have a good chunk of granary bread handy, because there'll be some lovely olive-oily juice at the bottom when you finish.
A soft, light white wine goes well with this authentic Greek Salad!
You can vary the salad by adding a truly Cretan twist. Use a softer cheese in place of Feta - a soft goat's or sheep's goes well. In Crete they use Mizithra. Another variation might be the inclusion of capers - often found on Santorini, and Crete.
---
Just Some of the Reasons We Love Crete...

Did you love this page? Please share it with your friends!
---
© Copyright All Original Content 2006 - 2023 Completely-Crete.com. All Rights Reserved. Reproduction in whole or in part without permission is not permitted.

Click here to learn about developing your own money-generating website
from Solo Build It! - even with little or no web experience!