January in Crete
January in Crete is obviously much quieter than the more popular tourist season commencing in April right through to November and is almost unrecognisable as the same place that you'll find in say June, July or August – and not just because of the temperatures.
Visitor numbers to Crete are very low in the month of January and because of this a lot of the hotels, bars and restaurants are closed during this time. January can see some glorious sunny days but also some heavy rain too.  
Weather for January in Crete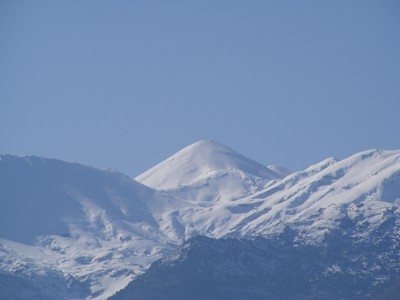 January weather in Crete can see a wide range of temperatures, rainfall and sunshine.

You'll find snow on top of the mountains of Crete in January and on a clear blue sky day the landscape is very reminiscent of Switzerland or Austria.
Temperatures can vary from a low 8°C to a high 16°C with an average of 11°C. Night-time temperatures can plummet quite considerably though, rarely reaching freezing or below.
Rainfall is a feature of the January weather in Crete with the possibility of up to 14 days of heavy rain. And boy can it rain in January in Crete. It can be torrential and relentless lasting for 2 or 3 days!
We've found that in January the weather in Crete can average about 2 or 3 clear blue sky and sunny days per week with very pleasant temperatures allowing for a thin jacket or cardigan rather than a heavy winter coat.
Flights to Crete in January
Flights to Crete in January are not as frequent as the summer months. In fact winter in Crete can be difficult to get to as there are no direct flights to Crete in January. You'll need to fly to Athens and get a connecting flight from Athens to Chania, Sitia or Heraklion airport. This can work out to be quite costly in comparison to the direct cheap flights to Crete in the summer months.
Hotels in Crete in January
Visitors to Crete in January may have limited choices as to the accommodation and hotels that are open. There are some hotels open in January in Crete, particularly in the main towns of Chania, Heraklion, Rethymnon and Sitia but you may have to search long and hard to find hotels in the holiday resorts.
Things to do in Crete in January
The wild Anemones are blooming in Crete in January and the wonderful colours of pinks, lilacs, violets and deep purples brighten up the hillsides of Crete. Anemones are known as wind flowers and are associated in Greek mythology with Anemoi meaning wind gods. The Anemoi send Anemones in the early spring to herald its coming.
The orange groves are heavy with fruit and look simply stunning brightening and adding colour to the landscape of Crete.
Add to this the light pink almond blossom that begins to bloom in January in Crete and you have a landscape that looks and smells beautiful.
The 1st January in Crete is of course New Years Day and a public holiday but it is also the date when Greek children can expect their Christmas presents from Saint Basil (Aghios Vassilis) whose feast day is celebrated on this day.
If you are visiting Crete in January you may witness the 'Blessing of the Waters' which commemorates the feast of Epiphany on the 6th January. January 6 is a greek public holiday. Epiphany in when the Greek Orthodox Church celebrates Jesus's baptism and so the 'Blessing of the Waters' is a symbol of this in which young men, and in recent years some young women dive into their local harbour to retrieve the cross which has been blessed by a priest and thrown into the water. The reward for such bravery - or foolhardiness considering the ice cold temperatures of the water in Crete in January – is all year round good luck.
Olive picking is very much in evidence in January in Crete. You will see whole families harvesting their family olive groves at this time. Offer to lend a hand and they'll probably repay you with a tasty picnic lunch!
---
Just some of the reasons we love Crete...

Did you love this page? Please share it with your friends!
---
© Copyright All Original Content 2006 - 2019 Completely-Crete.com. All Rights Reserved. Reproduction in whole or in part without permission is not permitted.

Click here to learn about developing your own money-generating website
from Solo Build It! - even with little or no web experience!