July in Crete
July in Crete is a great time for a beach resort holiday. July weather in Crete is glorious with wall to wall sunshine each day. You'll rarely see a cloud in the sky. Many of the beach resorts are full to capacity particularly by the end of the month when most of Europe's school holidays commence.
The sea temperatures are perfect to enjoy a refreshing cool off after baking in the sun.
Many of the hotels are full and the bars and restaurants too. Crete in July has a great atmosphere with everyone enjoying the sunshine and the friendly and welcoming Cretan hospitality.
Weather for July in Crete
July weather in Crete can see temperatures soaring sometimes past the 29°C mark with no or little rainfall and constant sunshine.
Temperatures can vary from a low 22°C to a high 29°C with an average of 26°C.
Rainfall is not normally a feature of the July weather in Crete
We've found that in July the weather in Crete is very hot and we cannot recall any rainfall in July. The hot sunny weather forces most people to spend time on the beach or by the pool.
If you're staying on Crete in July you may need to use the air conditioning during the nights to help you sleep.
Flights to Crete in July
Flights to Crete in July are frequent which makes it very easy to fly direct to Crete. International flights to Crete bring visitors to Chania Airport and the busier Heraklion Airport. There are some cheap flights to Crete in July but you would need to book early to get a bargain.
Hotels in Crete in July
Visitors to Crete in July will find an excellent choice of accommodation on offer. July in Crete is a very popular time and often the hotels are full to capacity. Budget apartment's right through to 5 star luxury hotels or private villas are available in the month of July.  There are some bargains to be had but you may need to book early to pick up the bargains.
Things to do in Crete in July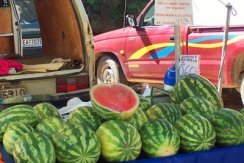 If you dine at most of the restaurants or traditional Greek Tavernas on Crete in July you'll most likely be treated to a big plate of fresh, juicy water melon with a small carafe of Raki.
The water melons grow to massive sizes on this Greek Island and taste at their very best in July in Crete.
Hop on one of the Happy Trains that you'll find in most of the popular beach resorts such as Stalis and Malia in the east, Platanias and Agia Marina in the west or Rethymnon in the centre and take a trip to see some of the sights of Crete in July. We particularly like the Happy Train trip that takes you from the wonderful beach resort from Georgioupolis to Kournas lake. You can jump off the train and spend a couple of hours at Kournas Lake and hire a pedalo and return to Georgioupolis by the Happy Train later.
If you are visiting Crete in July then you may like to go to one or two of the fabulous water parks you'll find across the island. There are 4 big water parks on Crete. 3 of the Waters parks in Crete are found close to Hersonissos near Heraklion. The other big water park on Crete – and our favourite is Limnoupolis, Chania.
The water parks in Crete do get crowded in July but they are such fun and a great way to spend a hot day splashing and sliding in the cooler waters.
In July in Crete there are many Saints feast days that whole villages celebrate. Each village has its own patron Saint in which locals take special bread to be blessed by the priest that is later distributed to the entire congregation on the Saints feast day.
After the service the villagers form a procession and walk along parading church icons and banners on the feast day. The following evening a feast with plenty of delicious food and Cretan wine, traditional Cretan dancing and music are played well into the early hours. Visitors are made very welcome.
---
Just some of the reasons we love Crete...

Did you love this page? Please share it with your friends!
---
© Copyright All Original Content 2006 - 2019 Completely-Crete.com. All Rights Reserved. Reproduction in whole or in part without permission is not permitted.

Click here to learn about developing your own money-generating website
from Solo Build It! - even with little or no web experience!