Lawyers in Crete
This Lawyers in Crete page is from the Property in Crete section of the Completely Crete website.
There are lots of good lawyers in Crete who can help you to buy your Crete property. Almost all the lawyers in Crete speak English and are experienced in acting for overseas buyers buying property here.

So if you are thinking about buying a Crete property on this beautiful Greek Island, you'll need a lawyer (solicitor) to guide you through the process.
Check out our Crete Property Guides for property throughout the island.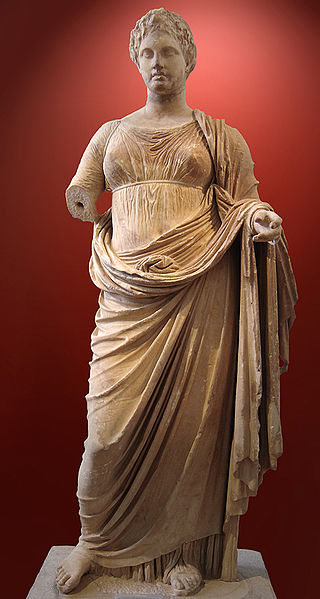 Themis Greek Goddess of Law
A lawyer (solicitor) registered to practice in Crete is needed for both the buyer and seller.
Your lawyer acts solely on your behalf and will carry out necessary legal surveys, conduct a property title check, and ensure the property is free of legal encumbrances.
Your lawyer will oversee the transfer of monies; and change the ownership of the property into your name.
We have found that lawyers speak very good English (and fluent German, French and Italian too!) and smoothly take you through the buying process. A lawyer will help you find a surveyor, an accountant and acquire a tax number for you if you give them Power of Attorney. (We strongly recommend this.)
Giving a Power of Attorney to your lawyer enables them to complete the sale on your behalf. This is an option frequently taken up by overseas buyers who can't stay in Crete during the buying process.

Your lawyer will acquire and check copies of the property title (contract deed), check outstanding debts and taxes on the property, check the topographic plan, appoint a Public Notary, prepare the purchase contracts, pay the purchase transfer tax, and pay (on your behalf) the associated costs required by Greek law.
A Public Notary is a government official who ensures that the sale is legal and performed in accordance with all necessary regulations.
If you purchasing your Crete property through an estate agent or real estate company they most likely will refer you to a suitable lawyer and will recommend that you use his or her services.
Some people however may prefer to find their own lawyer so that they know that any advice they get is truly independent.
Check out our What, Where and Why to Buying in Crete Guide.
Take a look at our Crete Property Frequently Asked Questions FAQ too.
We've gathered together the following list of Lawyers in Crete that you can contact directly. Each of the Crete Lawyers have a website in English.
English Speaking Lawyers in Crete

Chania Lawyers


Email: ritadask@crete-lawyers.com
Telephone No: 28210-27275
Mobile No: 6944-754517



Email: info@propertylaw.gr
Telephone No: 28210 28831
Mobile No: 6945 152682




Email: info@crete-property-purchase-law.eu
Telephone No: 28210 59644
Mobile No: 6937 048306
Heraklion Lawyers

Email: dimitriosmoustakas@gmail.com

Telephone No: 2810 221008
Mobile No: 6936861254
Aghios Nikolaos Lawyers


Email:

gvergetakis@ath.forthnet.gr


Telephone No: 28410 26069
Mobile No: 6974 764082
---
Other Crete Lawyers

Below are Crete Lawyers without websites.

Chania Lawyers

Anna Peridou
Email: anfoudoul@acn.gr
Telephone No: 28210 72014
Fax No: 28210 91895
Mobile No: 6973 326673

Eleni Kokkinaki
Email: geo-kok@otenet.gr
Telephone No: 28210 42710
Telephone No: 28210 42678
Mobile No: 6945 152682

Joanna Tzanakakis
Email: joannapapagiannaki@hotmail.com
Telephone No: 28210 27470
Fax No: 28210 27570
Mobile No: 6972 778395

Elvi Hatsaki
Email: elvistassinou@yahoo.com
Telephone No: 28210 59644
Mobile No: 6937 048306
Fax No: 28210 43800

---
Rethymnon Lawyers

Haris Papadakis
Email: dragonlaw@hol.gr
Telephone No: 28310 57046
Mobile No: 6932 908381

Christiana Papadosifou
Email: mictat@otenet.gr
Tel/Fax No: 28310 52420
Mobile: 6974 875067

Savas Zannetos
Email: zannetos@otenet.gr
Telephone No: 28310 26258
Mobile No: 6932 134620


---
Heraklion Lawyers
Euclides Pl. Eleftherias
Email: euclides@otenet.gr
Tel No: 2810 226774
Tel No: 2810 221040

George Kopidakis
Email: Jkopidakis@otenet.gr
Tel No: 2810 286393
Fax No: 2810 286393
Mobile No: 6932 430039

Zoe Lama
Email: zlama@her.forthnet.gr
Tel No: 2810 341300
Fax No: 2810 341300
Mobile No: 6944 587180

Sofia Panayiotaki
Email: m-kalai@otenet.gr
Tel No: 2810 289985
Fax No: 2810 342677
Mobile No: 6944 811277

Ariana Papadaki
Email: arianna_papadaki@yahoo.gr
Tel No: 2810 289247
Fax No: 2810 286393
Mobile: 6945 580694

Dimitris Xyritakis
Email:apostolakh@her.forthnet.gr
Tel No: 2810 224834
Fax No: 2810 226189
Mobile No: 6976 707101

---
Lassithi Lawyers
Sofia Polytechneio
Email: sofi-k@otenet.gr
Telephone No: 28410 24644
Mobile No: 6945 948455

Eleni Klontza
Email: elklontza@otenet.gr
Telephone No: 28410 22012
Mobile No: 6944 441478

Maria Mavroforou
Email: mariamavroforou@gmail.com
Telephone No: 28410 27552
Mobile No: 6998 401125

Theofanis Koinakis
Email: fankoin@yahoo.gr
Telephone No: 28410 23105
Mobile No: 6947 846322

---
Just some of the reasons we love Crete...

Did you love this page? Please share it with your friends!
---
© Copyright All Original Content 2006 - 2022 Completely-Crete.com. All Rights Reserved. Reproduction in whole or in part without permission is not permitted.

Click here to learn about developing your own money-generating website
from Solo Build It! - even with little or no web experience!