Learn Greek
This Learning Greek Page is from the Completely Crete Moving to Crete Section.
Trying to learn Greek is very difficult. Despite living in Crete, taking Greek language lessons, and trying to learn through books and Greek language websites we continue to struggle with anything more that just the basics.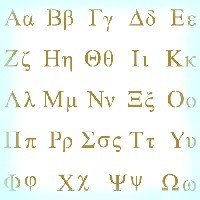 Frustratingly, when we attempt to converse with the locals here in Crete in their mother tongue - they insist on practising their English on us!
Many of the Cretans speak English to some degree or other and almost all Cretan children have private English lessons on top of their school lessons.
We're lucky in that we don't need to learn to speak Greek fluently and can get by with our limited vocabulary.
This would not be the case, however for anyone wanting to find employment here or set up a business. Other than tourism related summer jobs where Greek is not demanded, most jobs would require you to read and write Greek and speak it fluently.
The Greek language is probably the oldest in Europe and has been spoken for some 4,000 years, and must be one of the most difficult to learn!
The difficulty arises not just with learning an entirely different alphabet, but also with knowing where to place the stress on each and every word. When the stress is put in the wrong place it can change the meaning completely! And as for Greek grammar ……aaaghhh!
Having said that, it really is worth at least trying to learn Greek. You won't just 'pick it up' but must make a real effort to learn. Children are the exception to this rule and seem to speak fluently within 6 months or so of living in Crete!
There are lots of websites helping you to learn Greek but we like this one: Learn Greek Website
---
Just some of the reasons we love Crete...

Did you love this page? Please share it with your friends!
---
© Copyright All Original Content 2006 - 2019 Completely-Crete.com. All Rights Reserved. Reproduction in whole or in part without permission is not permitted.

Click here to learn about developing your own money-generating website
from Solo Build It! - even with little or no web experience!