This Page has Crete and Greece Related Links, Resources and Things you Might Find Useful...

We feel that these sites all contain something of value that you might find useful or interesting, but please let us know if you find any of them to be offensive or inappropriate for any reason and we will make sure that they are removed.
First, we must recommend our sister site:

Simply Santorini.com Enjoying the Greek Island of Santorini – an insider's guide to getting the most from Thira – the honeymoon Island. Santorini hotels, resorts, romantic locations, beaches, history, sunsets and much more! If you love Crete then you'll love the wonderful Greek island of Santorini.


Here are some Crete and Greece related sites that we have personally found interesting...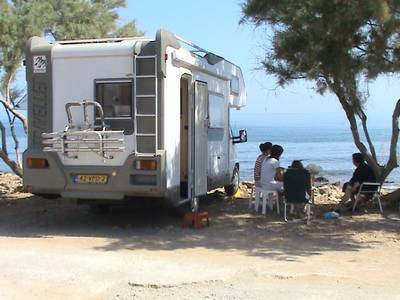 Motorhome Crete is owned by a Greek and Dutch couple whose goal it is to stay a small business concentrating on personal contact, quality and flexibility. They will pick you up from the airport, give full instructions about the use of the motorhome and can be reached day or night through their cell phones.
Botanical Park of Crete - A virtual paradise for thousands of plants. An environment full of colour and aromas with different types of fruit trees, flowers, herbs, pharmaceutical and ornamental plants, all nurtured in this unique botanical park of over 200,000 square metres. Together with a place to enjoy real Cretan Nutrition in our restaurant, using traditional cooking methods and fresh products. Discovering the blessed island of Crete starts here...
Mirtos or Myrtos in South East Crete and wide surroundings - More than 2000 photo's and movies about Mirtos in the South Eastern part of Crete and wide surroundings.
Mediterranean Cruises Cafe - A comprehensive vacation guide to seeing the best that Europe has to offer with Mediterranean cruises. Candid reviews of the cruise lines and how to get the best value for your money.
Find long term rent Crete - We present you with all types of property for rent Crete can offer and help you find the rental in Crete that suits you! Find the kind of long term rent Crete is famous for in our listings of long term rentals in Crete.
Eria Accessible Resort - Eria resort is the first accessible hotel in Greece, that has been designed to offer the most pleasant and comfortable holidays to disabled travelers, their families and their helpers!
Ermis Real Estate, Rethymno - We are Ermis Real Estate - a company from Rethymno. We offer profesional sevices in renting and buying holiday houses and other properties for more than 27 years.
Greek Island Holidays - Tourist holiday travel guides to the Greek Islands.
Aori Walks - Original walks in Crete. Trekking in the white mountains. One and two week walking tours. Tailor made tours.
Check out East Macedonia while staying at Kairos Garden - the most charming and relaxed of northern Greece hotels. We only have nice guests!
Taverna Vassilis - Katse Kala - Traditional Greek tavern situated in Western Crete Falasarna.
Crete Hotels - Crete Holidays - Travel guide for Crete with list of Crete hotels, travel information for Crete island, Crete beaches, maps of Crete.
Crete Holidays - Book Crete holiday deals and read informative Crete travel guides and Crete hotel reviews.
Crete Deals - Crete holiday deals from UK airports. This site allows accommodation only or package bookings.
Crete Now - Crete Now brings to you carefully selected Crete property for sale and rent in the region of Chania, Chania Old Town, Kidonia, Platanias, Maleme, Kolymbari, Kasteli, Akrotiri and Apokoronas, West Crete and Agios Nikolaos and Elounda, East Crete.
Vacations in Greece - Offers hotel booking, restaurants and car rental for Athens and the Greek islands. Also includes Greek recipes, photos and videos, local maps and weather reports.
Kavos - The perfect holidays guide about Kavos Corfu. Everything you are looking for, hotels, apartments, nightlife, travel info, you can easily find it here.
Heraklion Taxi, book Heraklion airport transfers from the convenience of your home
Crete car rental, car hire agency in Crete Greece with instant price quote and no-credit-card booking system
Car Hire in Heraklion Airport, offer you quality services, in competitive and affordable prices. Car hire in Heraklion Airport, is one of the largest car rental companies in Heraklion, Crete
Chania airport car hire, is a prominent Car hire company in Chania and Western Crete, providing business and leisure travelers with a wide range of rental cars and services.
Greece Travel Secrets is a website of travel tips and vacation information for Greece and the Greek islands, written by travel experts and guidebook authors Donna Dailey and Mike Gerrard.
Wild Herbs of Crete Great site with lots of information about Cretan aromatic plants and their essential oils. Babis and Janina from "Wild Herbs of Crete" have been collecting and distilling essential oils exclusively from wildcrafted aromatic Cretan plants since 1994.
Life in Crete A couple's attempt at self-sufficiency and starting a business on a Greek Island.
Car Hire Crete - Crete car hire services since 1975.
www.kreta.nl - The Vacation and information site for Crete, Greece.
Walk with Donkeys - tells of our donkey rehabilitation programme and what we offer for people who would like to walk with the donkeys.
Corfu Weather - In this website we provide information about the weather conditions in Corfu Greece. Holiday weather forecast for Corfu Island (Kerkyra).
Corfu Greece - Complete holidays guide about Corfu Greece.
Greece - The most popular and comprehensive travel guide to Greece! Also the biggest Greece directory with travel related sites.
www.meetandeatguides.com - A Fine Dining and Wining Guide to the Island of Crete that unveils the wealth of Cretan cuisine in top restaurants, tavernas and wineries.
Astronomy & Art-Workshop - A truly unique and exciting experience in South East Crete. Combine Nature and beautiful village life. Enjoy the tranquillity and the view. Be creative with professional guidance. We offer different programs. We welcome everybody. Both beginners and experts can enrol.


---
Just Some of the Reasons We Love Crete...

Did you love this page? Please share it with your friends!
---
© Copyright All Original Content 2006 - 2023 Completely-Crete.com. All Rights Reserved. Reproduction in whole or in part without permission is not permitted.

Click here to learn about developing your own money-generating website
from Solo Build It! - even with little or no web experience!