Watching Mamma Mia in Chania …
Week beginning 28th July 2008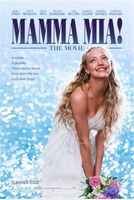 This week we decided to visit the cinema at Chania to watch Mamma Mia!
Alison loved the stage show (I'm a bloke, so I've not seen it), AND she loves ABBA (I like them too, but keep it quiet), so it was inevitable we had to see the film.
Alison had actually seen the film on our trip to the UK. She went to a cinema in Bolton and just managed to get a seat with her daughter and sisters – on the front row!
Unlike the UK, there's not such a rush to see it in Crete.
When we opened the door of theatre No 1 in the cinema complex at Chania, we literally had the choice of the whole place.
The main cinema at Chania is a charming theatre. There are 5 theatres and they show all the new Hollywood blockbuster releases, as well as a few lesser known ones, and Greek cinema too.
It cost €7.00 to get in and there's the usual popcorn and other sweets available inside. In the summer it is fully air-conditioned. (You might even need a cardigan!)
So, Why Mamma Mia!?
If you don't know, Mamma Mia is a film adaptation of the musical stage show about a young bride-to-be who lives an idyllic life with her mother on a Greek island. She wants her father to give her away, but doesn't know which of three men who feature in her mum's diary, is her true dad - so she invites them all!
The film stars Meryl Streep, Pierce Brosnan, Colin Firth, and (for the lads) the gorgeous Amanda Seyfried as the young bride.
The best things about the film though, are the stunning locations (filmed on a Greek Island) and the fabulous music - hit songs by ABBA!
Both me and Alison loved it!
It was full of life and energy and colour and was the epitome of the feel-good film.
Everyone coped well with the musical numbers, including a few surprises. Neither Pierce Brosnan nor Colin Firth are recognised singers, and this showed, but they equipped themselves well with the odd song they had to sing.
The real surprise was Meryl Street. She was fantastic in both her acting (no Surprise), and her singing. Her rendition of The Winner Takes It All will have the hairs standing up on the back of your neck.
There may be an Oscar nomination for that one!
The film had lots of comedy too, with Julie Walters and Christine Baranski providing the best moments.
All in all we had a great night.


---
NEWS FROM CRETE AND GREECE
This news report appeared in the Kathimerini newspaper this week:
Greek State no longer requires written reasons from parents for pulling their children out of religious classes
"The fact that parents had to provide a written explanation as to why they were pulling their child out of religion classes at school was a ridiculous requirement that was very rightly abolished by the Ministry of Education in a circular this week. The practice, after all, served no real purpose, because any reason put forward by the parent was accepted and no one - quite rightly - questioned it, so one could even lie. "
August holidays begin for thousands
"Thousands board passenger ferries leaving Piraeus this week. Winds of up to 8 Beaufort created difficult conditions for those travelling to Aegean islands. Thousands of Athenians also chose to fly to their holiday destinations. "
---
This from the National News Website in Greece (ERT).
Summer wild fires continue to plaugue southern Europe, particularly Greece. Here a story from Zakynthos – where Alison and I were married.
Big Fire in Zakynthos
"The fire in Vranas, Marathonas is under control, while the fire in Kouvaras is abating. The fire began from Damaria, Stavros in Markopoulo and in the night arrived near Kouvaras, without however causing any damages at houses. Additionally, firemen managed to prevent the fire from reaching Kouvaras forest. Combating the fire are 50 firemen with 23 fire engines, 90 trekkers, a fire-fighting plane and eight water trucks. Prefect of eastern Attica Leonidas Kouris told NET 105.8 that the bold decision should be taken so that the landfill issue in Markopoulo, Mesogaia and landfills operating in the area are resolved.
Meanwhile, the fire in Zakynthos is raging. Fighting the fire are four fire-fighting aircrafts, four water-dropping helicopters 23 fire engines and other forces.
The fire in Zevgolatio, Corinth is abating. It has burnt olive trees, vineyards and pine trees. The fires in Egio, Plaka Alexandroupoli and Trilofo, Thessaloniki have been brought under partial control."


---
Just some of the reasons we love Crete...

Did you love this page? Please share it with your friends!
---
© Copyright All Original Content 2006 - 2019 Completely-Crete.com. All Rights Reserved. Reproduction in whole or in part without permission is not permitted.

Click here to learn about developing your own money-generating website
from Solo Build It! - even with little or no web experience!