Matala - Heraklion, Crete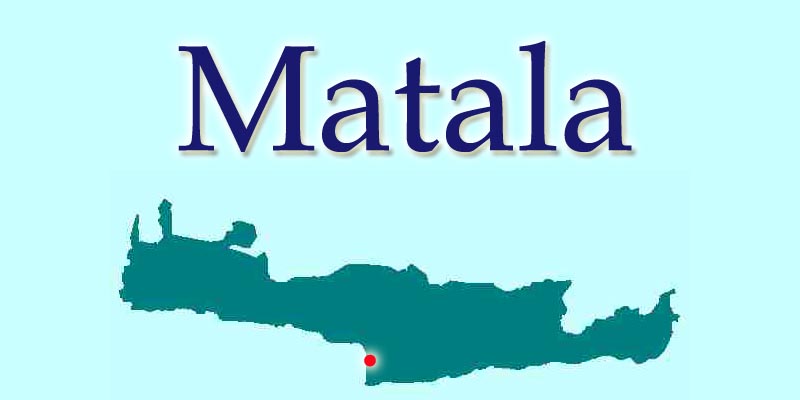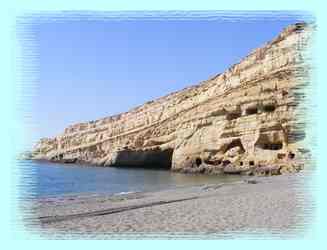 Matala is one of the most famous beach resorts of Greece and is found on the south coast of the Heraklion region. The beach of Matala is situated within an area of unique natural beauty.
The spectacular natural harbour on the Bay of Messara with its gently shelving sands and impressive sandstone cliffs are very appealing to visitors.
For fans of Greek mythology Matala is of great interest as it is the reported location of where Zeus himself swam ashore in the guise of a bull with Europa on his back.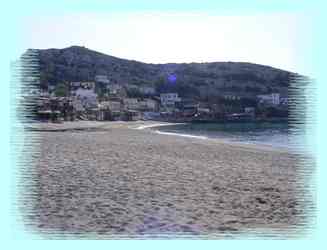 Matala beach itself has light golden sand with some pebbles, sunbeds and umbrellas for hire. The swimming and snorkelling are brilliant and for divers there are underwater remains of the Roman port on both sides of the rocks.
And if lazing on the lovely beach, having a massage, swimming, snorkelling and exploring Matala aren't enough then there's also a great choice in activities in and around Matala including horse riding, cycling and kayaking.
Wander through Matala and you'll find plenty of choice for eating and drinking ranging from large restaurants, traditional tavernas to small cafe bars and snack bars. There's also a few dancing clubs and cocktail bars for the evening too.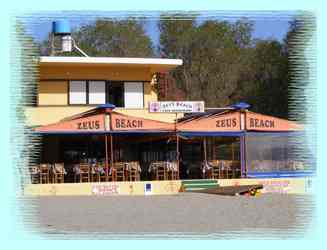 ZEUS BEACH
Right on the beach you'll find the impressive Zeus Beach taverna serving a wide range of traditional dishes.
Or try Skala which you'll find at the eastern end of the cove of Matala. It has incredible views to the village and the Bay of Messara.
In the heart of Matala you will stumble across both Antonis Taverna and Zafiria restaurant serving gorgeous traditional food.
Matala Caves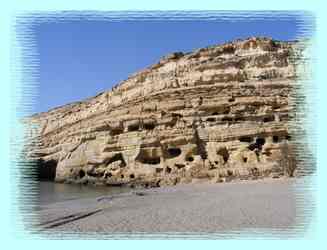 On the beach of Matala you'll see a series of carved out caves in the sandstone cliffs that make up the bay.
There is uncertainty as to the exact history and use of the caves but some suggest they are tombs dating back to Roman or even pre Roman times.
Later, it's been suggested that early Christians used them as dwellings as some of the caves have carved windows, beds and doorways.
The Matala caves became famous in the 1960s and 1970's when hippies were attracted to the peace and love they could find at Matala. The Matala caves became the temporary home to peace loving hippies who sought refuge from the materialistic world and wanted to start a commune.
Joni Mitchell, Cat Stevens, Bob Dylan and Janis Joplin all spent time here composing their songs in the hippie era. The hippies left after it became illegal to sleep in the Matala caves.
Accommodation in Matala
For such a small beach resort there is a remarkable choice of accommodation in Matala. There are some wonderful hotels, welcoming apartments and cosy studios. Click Matala Accommodation to find your perfect place to stay in Matala.
If you love Crete then you'll love the romantic Greek island of Santorini.
Visit our sister site of Simply Santorini for all you'll need to know about Santorini.
---
Just Some of the Reasons We Love Crete...

Did you love this page? Please share it with your friends!
---
© Copyright All Original Content 2006 - 2023 Completely-Crete.com. All Rights Reserved. Reproduction in whole or in part without permission is not permitted.

Click here to learn about developing your own money-generating website
from Solo Build It! - even with little or no web experience!