May in Crete
May in Crete is a wonderful time of year. This is when many flights to Crete commence or increase their flight schedules bringing an influx of visitors to the island. The May weather in Crete is normally sunny with the weather getting warmer and warmer as the month goes by and the temperatures rising.
The flowers are beginning to blossom fully and you can see the beautiful pinks, purples and whites of the Oleander lining the roads of Crete.
Most of the oranges have been harvested on Crete in May and are sold in big bagfuls at the National road roadside, usually by old women dressed in the obligatory uniform of all black.
Weather for May in Crete
May weather in Crete can see temperatures rising as the month progresses. Rainfall is not normally a feature of the May weather in Crete. There can be rainfall on Crete in May but this is normally light showers that pass quickly.
The snow on top of the mountains of Crete in May is all but melted.
Temperatures can vary from a low 15°C to a high 26°C.
We've found that in May the weather in Crete can average about 5 clear blue sky and sunny days per week with the odd cloudy or sometimes showery day. The night temperatures are pleasant enough not to need either air condition for cooling nor heating.
We also begin to swim in the sea or pool during May as the waters are getting warmer.
In the evenings you may need to wear a thin jacket, cardigan or sweater if you are dining outside.
Flights to Crete in May
Flights to Crete in May begin to get more and more frequent as the month progresses making it very easy to fly direct to Crete. International flights to Crete bring visitors to Chania Airport and the busier Heraklion Airport. You can sometimes pick up cheap flights to Crete in May if you are lucky.
Hotels in Crete in May
Visitors to Crete in May can find some very good deals. May is not as popular as the summer months of June, July and August but all the hotels are open and want to draw in visitors. Because of this you can find very cheap hotels and apartments in Crete in May. Some of the luxury hotels have fantastic deals to holiday in May in Crete offering all inclusive accommodation at a quarter of the price they charge in the height of the summer.
Things to do in Crete in May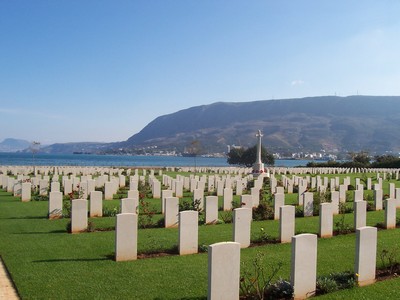 If you are visiting Crete in May around the 21st May you may witness one of the ceremonies that take place to commemorate The Battle of Crete in which the Cretan resistance attempted to fight off the German airborne invasion in 1941 during World War II.
The Battle of Crete was fought from May 20 to June 1, 1941 with heavy losses on both sides and many of the scars of that time remain today.
The cemeteries of the Allied War Cemetery at Souda Bay and the nearby German Cemetery at Maleme, Chania are well worth a visit at any time of the year but are particularly poignant around May 21st.
If you are visiting Crete in May there is plenty to do and it isn't too hot or too busy to really enjoy many of the attractions and things to do in Crete.
May in Crete sees the opening of Samaria Gorge to the public. Here you can join the many visitors who hike along this very popular Crete attraction.
Also May in Crete is a great time to visit Knossos as its not too overcrowded or unbearably hot.
May Day, Protomagiá on the 1 May is a national holiday in Greece and Crete. May 1st is traditionally seen as a flower festival to celebrate spring and fertility.
Cretan families will take the day off work and school and go to the fields and hillsides to pick wild flowers. Families will picnic in the countryside and pick the wild flowers to make into wreaths.
You'll see men, women and children with whole armfuls of beautiful and colourful flowers picked from olive groves, meadows and hillsides. Later they fashion them into wreaths and place them above doorways or in small bunches to place on vehicles for good luck and banishing evil.
---
Just some of the reasons we love Crete...

Did you love this page? Please share it with your friends!
---
© Copyright All Original Content 2006 - 2019 Completely-Crete.com. All Rights Reserved. Reproduction in whole or in part without permission is not permitted.

Click here to learn about developing your own money-generating website
from Solo Build It! - even with little or no web experience!