Moustakia, Mizithra & Mountain Water
This Moustakia Taverna review page is from the Completely Crete website Eating out in Crete section.
The Moustakia also known as Taverna Tou Moustakia is found at the village square of Stylos, close to Chania here on the Greek island of Crete.
Moustakia Taverna Serving from the Cretan Diet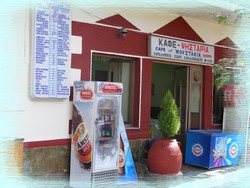 MOUSTAKIA
No better example of locally grown fresh seasonal and tasty produce cooked perfectly and served simply can be found anywhere in the world.
This may seem a grand statement to make of a simple gingham checked table clothed Greek Taverna, shaded by giant plane trees named Moustakia (meaning moustache) in a traditional Cretan village.
But we believe this to be true.
The entire menu – including meat, cheese, fish, fresh fruits and vegetables, the olive oil used, the herbs and spices, the wine served and even the bottled water are produced locally. All the foods are prepared faultlessly and served perfectly, usually by the mustachioed owner from whom the Moustakia gets its name. He and his family work hard to make a lunch or dinner eating experience sheer perfection.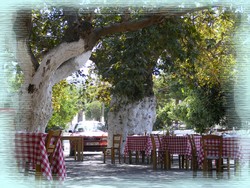 TAVERNA TOU MOUSTAKIA
The Moustakia also known as Taverna Tou Moustakia is found at the village square of Stylos (Stilos). Stylos is in the Apokoronos area of Chania and is famous for its giant plane trees, natural spring water and Diktamos Gorge.
The Moustakia is very popular with hikers and walkers who lunch at the popular Taverna after they've hiked the nearby Diktamos Gorge. The Diktamos Gorge is shorter and less famous than neighbouring Samaria Gorge but still gets its fair share of visitors who love to hike or walk. Cyclists too on cycling holidays in the area of Stylos head for the Moustakia for refreshment and reinvigoration after a hard day in the saddle.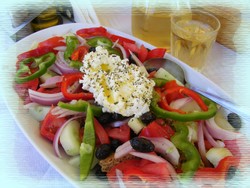 MIZITHRA
You simply must try the Greek Salad. Soft white goat's cheese known locally as Myzithra is placed on top of an amazing and huge Greek Salad.
Mizithra is a traditional unpasteurized cheese made from sheep milk, goat milk or a mix of both. Mizithra is very soft and creamy and similar to ricotta cheese. In its fresh soft form the lovely cheese is just known as Mizithra but the soured version is named Xynomizithra.
If it is allowed to age it becomes known as Anthotyros. (There is fuller information and descriptions of various Cretan cheeses, including Mizithra in the brilliant Cretan Diet Cookery book available at the bottom of this page.)
The Greek Salad has all the usual ingredients of sliced red onion, chopped tasty tomatoes, peeled and chopped cucumber, green pepper and black olives. But the Greek Salad served at the Taverna Tou Moustakia has the added additions of sliced red pepper and small chunks of doubled baked rusk.
The Myzithra cheese is placed on top of the salad vegetables, drizzled in local olive oil and sprinkled with wild oregano.
It is delicious!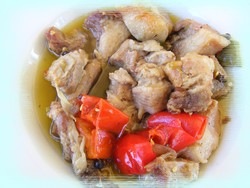 BEKRI MEZE
The homemade Bekri Meze is incredible too.
It is tastily made up of tender chunks of pork, sliced red and green peppers and a mystifying but extremely tasty mix of herbs and spices slow cooked in red wine.
Whole black peppercorns and cloves add wonderful flavour to this spicy pork dish.
The slow cooked spit roasted lamb is simply melt in the mouth delicious too.
Try also the Cretan Salad of Dakos here at the Moustakia. The whole meal double baked crispy rusk is soaked in water and olive oil and becomes wonderfully soft on the inside and crispy around the edges. Added on top of the delicious bread are grated fresh tomatoes and the soft goats cheese of Myzithra.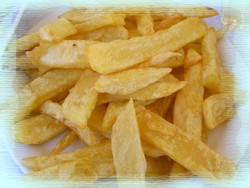 FRIED POTATOES
If you have a hearty appetite ask for a plate of fried potatoes (chips) that are simply divine.
The house wine - either red or white is incredibly cheap and very drinkable and is served in glass jugs. Don't forget to order some natural spring water too – the Samaria spring water from the White Mountains is bottled in Stylos. Wander to the other side of Stylos and you'll see the bottling plant.
And if you're dining in the evening a small carafe of Tskidoudia (Raki) and a platter of fresh seasonal fruits are a complimentary extra to round of your meal.
Three little words sum up both the Taverna Tou Moustakia and its menu – plain, simple, delicious.
So if you're planning a trip to Western Crete you must try to make a stop at this wonderful little Cretan village and sample the tastiest of fresh foods.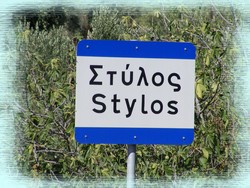 You'll find the picturesque Moustakia Taverna next to the natural spring water fountains and shaded by massive plane trees at the Stylos village platia which is around 15km from Chania.
With the gorgeous White Mountains as a back drop it really is a perfect setting for a real taste of the Cretan diet.
---
Just Some of the Reasons We Love Crete...

Did you love this page? Please share it with your friends!
---
© Copyright All Original Content 2006 - 2023 Completely-Crete.com. All Rights Reserved. Reproduction in whole or in part without permission is not permitted.

Click here to learn about developing your own money-generating website
from Solo Build It! - even with little or no web experience!