November in Crete
November in Crete becomes much quieter than the more popular tourist summer season.
Visitor numbers to Crete are very low in the month of November and because of this many restaurants, bars and hotels close on or around the 31st October and the sun beds on the beaches are stored away.
If you like a peaceful holiday and you enjoy walking then Crete in November is ideal.
November can see some wonderful sunny days but also some storms and high winds too.
November Weather in Crete
November weather in Crete can see a wide range of temperatures, rainfall and sunshine. The sea temperatures are still warm enough to enjoy a swim and the beaches are almost deserted as most of the visiting tourists have gone home.
Temperatures can vary from a low 13°C to a high 21°C with an average of 17°C. Night-time temperatures can drop too making the evenings cooler. 
Rainfall can be a feature of the November weather in Crete with the possibility of few days of rain during the month. High winds and storms too can feature during the month of November in Crete. But the rainy days can be interspersed with very warm and pleasant days.
We've found that in November the weather in Crete can average about 4 or 5 clear blue sky and sunny days per week with very pleasant temperatures allowing for a thin jacket or cardigan rather than a heavy winter coat.
Flights to Crete in November
Flights to Crete in November are not as frequent as the summer months. In fact winter in Crete can be difficult to get to as there are no direct flights to Crete in November. You'll need to fly to Athens and get a connecting flight from Athens to Chania, Sitia or Heraklion airport. This can work out to be quite costly in comparison to the direct cheap flights to Crete in the summer months.
Hotels in Crete in November
Visitors to Crete in November may have limited choices as to the accommodation and hotels that are open. There are some hotels open in November in Crete, particularly in the main towns of Chania, Heraklion, Rethymnon and Sitia but you may have to search long and hard to find hotels in the holiday resorts.
Things to do in Crete in November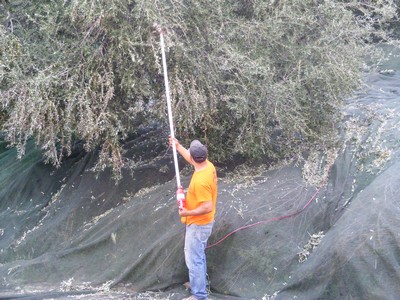 Olive picking begins its season and is very much in evidence in November in Crete. If you are visiting Crete in November offer to lend a hand with olive picking and you'll be most welcomed.
The orange groves are beginning to look good as the green oranges turn to orange.
Pomegranates too are also at their best in Crete in November and can be picked from the trees if you find a tree growing wild.
There can be some very pleasant days in November on Crete with warm sunshine and clear blue sky days, making it ideal for walking, hiking or bicycling.
November on Crete is also a perfect time to visit some of the archaeological sites like Knossos near Heraklion, Aptera close to Chania or the Minoan Palace at Malia as there aren't as many visitors as in the hot summer months.
Visiting the museums of Crete can also be great in November in Crete. The major towns of Heraklion, Chania, Rethymnon and Aghios Nikolaos all have fantastic archaeological museums featuring Minoan artefacts and other finds from the Roman era.
---
Just some of the reasons we love Crete...

Did you love this page? Please share it with your friends!
---
© Copyright All Original Content 2006 - 2019 Completely-Crete.com. All Rights Reserved. Reproduction in whole or in part without permission is not permitted.

Click here to learn about developing your own money-generating website
from Solo Build It! - even with little or no web experience!