Olive Oil Beauty Tips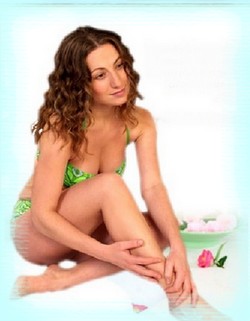 You may already be aware of the scientifically proven exceptional good health and extraordinary long lives of the people of the Greek Island of Crete who eat the traditional Cretan diet.
The Greek islanders enjoy not only wonderful weather, brilliant beaches, spectacular scenery and abundant fresh foods but also long and healthy lives.
The secret to their good health and longevity has been put down to their love of Cretan olive oil.
Made from the natural juice of the olive, Cretan olive oil is truly a precious "elixir" of life, and helps the people of the Island of Crete maintain health and long life.
Not only consuming olive oil helps with anti ageing but also using the golden liquid in natural beauty products can make a difference to your skin and hair.
Try these Olive oil beauty tips for hair, nails and natural skincare.
Olive Oil for Hair
Use olive oil, preferably Cretan olive oil, as a deep conditioning hair treatment. It's great to use on damaged, coloured or over processed hair and can really improve your hairs condition. It's also great for the scalp and can be good at getting rid of dandruff.
To treat your hair to this deep conditioning simply massage olive oil on your scalp and through your hair. Use just plain olive oil or rosemary infused olive oil for dark hair or chamomile infused olive oil for fair hair.
Leave it on your hair for around half an hour after covering your hair with a shower cap, cling film or plastic bag. Shampoo and style as normal.
Olive Oil for the Face
If you've been overexposed to the elements – sun, wind or cold temperatures – or whenever your skin seems extra dry simply massage a small amount of olive oil into your face and neck, using small circular motions.
Olive Oil for the Body
A simple but effective natural exfoliater can be made by mixing some olive oil with sugar and salt. This makes a brilliant body scrub and leaves your skin feeling silky soft.
Olive Oil for Cuticles & Nails
As a treat for your finger nails and cuticles soak them in a small bowl of warmed olive oil. Leave for just a few minutes to leave your nails in better condition and your cuticles softened pre-manicure.
Olive Oil for Hands & Feet
Anytime your hands feel particularly dry and in need of some tender loving care massage some olive oil into them before bed, put on white cotton gloves, and sleep with them on. Do the same with your feet, wearing socks to bed.
You'll awake with the softest and smoothest hands and feet ever!
Olive Oil for Lips
A wonderful natural remedy for soothing dry, chapped lips is to dab them with a little olive oil.
Olive Oil as a Shaving Oil
Men can use natural olive oil in place of shaving cream for their facial hair, (women too for legs and underarms). It's really good for even the most sensitive skins.
Olive Oil as a Makeup Remover
Olive oil makes a great make up remover and is brilliant at removing even stubborn mascara.
Olive Oil as an Ingredient
Olive oil is found in a wide range of beauty products and natural skincare ranges. You can find natural soaps, hand creams, shampoos and body lotions all containing olive oil.
The very best olive oil – Cretan olive oil – is also used as the main ingredient in anti-ageing, regenerating and anti wrinkle creams. The anti-ageing treatments are enriched with the legendary antioxidant and anti-ageing properties of Cretan Olive Oil.
Cretan Olive Oil Helps to Reduce the Effects of Ageing
A key cause of the degeneration of cells is the build up of free radicals, which are produced by the oxidization of the fatty tissues of the body. Vitamin E, phenols and other anti-oxidizing substances protect the body from the negative effects of free radicals. Olive oil contains a high percentage of phenols and vitamin E and as a result helps delay the ageing process.
Aphrodite the Greek goddess of love and beauty gives her name to a beauty product collection named Aphrodite Cosmetics using Cretan olive oil as its chief ingredient and is lovingly prepared right here in a Cretan village on the Greek Island of Crete.
Aphrodite herself knew all about the benefits of olive oil that Homer described as "Liquid Gold'.
The unpolluted and sun drenched ancient land of Crete is home to 30 million olive trees. And the Cretans make full use of the abundant fruit and have been cultivating the olive tree since 3500 BC during the early ancient civilization of the Minoan period.
The Minoan Palace of Knossos has an olive press room. During these ancient times women used the golden liquid as a beauty aid to soften their hair and skin. They combined the rich and nutritious olive oil with wild hillside herbs to anoint and beautify their skin.
And today the ancient skin care recipes still continue to be used here in Crete. The best olive oil in the world - Cretan olive oil - is carefully mixed with wild hillside herbs to nourish, heal and protect even the most sensitive skin.
---
Just some of the reasons we love Crete...

Did you love this page? Please share it with your friends!
---
© Copyright All Original Content 2006 - 2022 Completely-Crete.com. All Rights Reserved. Reproduction in whole or in part without permission is not permitted.

Click here to learn about developing your own money-generating website
from Solo Build It! - even with little or no web experience!