Paleochora
Paleochora (alternative spellings, Paleohora and Palaiochora) is perhaps the most popular of south coast Crete beach resorts. Visitors arriving in this lovely beach resort usually arrive at Chania airport or the port of Souda Bay if arriving by ferry.
The gorgeous south coast Crete village has a number of rooms for rent, budget hotels, apartments and self catering studios with just a few luxury hotels. Paleochora has a laid back charm that offers just the right amount of bars and tavernas to have choice but not to be too overwhelmed.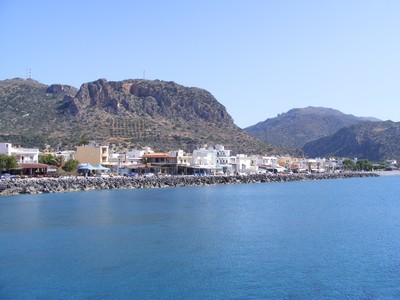 If you're looking for an action packed and energetic holiday or a relaxing beach holiday then Paleohora gives you that option.
There is stunning scenery in and around this area of Crete and with the famous Samaria Gorge and the smaller (and we think nicer Agia Irini Gorge) on your doorstep there is no shortage of hiking and walking routes to explore.
Cyclists too also love this area as the road from the north coast at Tavronitis takes you through some of the most spectacular scenery you'll find anywhere on Crete.
Alternatively if you prefer to stretch out a wonderful soft sandy beach then you have that choice too. There are two main beaches at Paleochora – one large and sandy, the other small and rocky. Both are beautiful.
The village has a couple of pharmacies, banks, a bus station, butchers, bakers, greengrocers and other shops so everything you need is at hand.
Hotels in Paleochora
The variety of accommodation in and around Paleochora makes this beautiful seaside resort the perfect place to stay for a holiday in Crete. The luxury hotels in Paleochora are the 5 star Libyan Princess and the fabulous and best value for money Manto Studios.
There are also many budget hotels in Paleochora with a choice of apartments, studios and rooms to rent. There's also camping and campervans too. 
Restaurants in Paleochora
Foodies will love this beach resort too as there is an abundance of fabulous restaurants in Paleochora. The restaurants in Paleochora, as with the majority of taverns and restaurants in Crete, serve fresh, local and seasonal food, simply cooked and served.
But one of the best restaurants in Paleochora, and we would say Crete overall, is the wonderful Methexis Taverna which is ranked first out of 23 restaurants in Paleochora on Tripadvisor Restaurants in Paleochora Guide. The Methexis Taverna has daily specials and you're invited into the kitchen to choose from a wide selection of dishes.
When last there we chose the prune, chestnut, apple and potato lamb dish – simply delicious and a little different than the many 'samey' menus you so often see in Crete. Methexis Taverna overlooks the lovely pebbly beach and is one of a number of beach front restaurants in Paleochora.
The other Paleochora restaurants can be found in the village square and little side streets running off from it. The roads are closed to traffic from 7.00pm so tables are placed along the entire road giving the place a romantic Mediterranean feel.
Crete Attractions Nearby
The best Crete attractions nearby to Paleochora are in easy reach either by road or boat.
The spectacular Elafonisi beach is a wonder to behold. It has crystal clear turquoise waters, stunning black rocks and the most wondrous pink sand!
To get to the stunning Elafonisi beach is simple from Paleochora either by road or better still by boat. The boat trip runs daily in the summer months and takes around one hour to get to Elafonisi beach.
It's also possible to get to Gavdos Island from Paleochora. Gavdos Island is the most southerly point of Europe in the middle of the Libyan Sea and has a mythical past. It is believed that Gavdos Island was Ogygia where Kalypso held Odysseus prisoner before continuing on his epic journey.
Gavdos Island has a number of beautiful beaches with crystal clear waters.
The most popular of Crete attractions in this area of south west Crete is of course Samaria Gorge but you can also try the prettier, smaller and easier Agia Irini Gorge if you are based in Paleohora.
The efficient Crete bus service also makes it very easy to travel to the impressive town of Chania with its Venetian harbour and great shopping in the old town.
Paleochora Beaches
The two main Paleochora beaches are found either side of the peninsular. In the west you'll find a deep and long sandy beach backed by cafe bars and tavernas. The east Paleochora beaches are rocky and pebbly.
Getting to Paleochora

You'll find this picturesque beach resort about 80km south of the town of Chania and its easily accessed via Chania airport or Souda Bay port.
---
Just Some of the Reasons We Love Crete...

Did you love this page? Please share it with your friends!
---
© Copyright All Original Content 2006 - 2023 Completely-Crete.com. All Rights Reserved. Reproduction in whole or in part without permission is not permitted.

Click here to learn about developing your own money-generating website
from Solo Build It! - even with little or no web experience!