Panormos
Panormos is a quaint fishing village lying on the northern coast of Crete, 20 kilometres east of Rethymno in Crete.
Panormos is one of the best Crete resorts as it has fantastic luxury hotels, a delightful harbour, two stunning beaches and a plethora of great places to eat. Because of this it is one of the best beach resorts in Crete.  
If you choose this Crete village as your holiday destination you won't be disappointed. It's location makes it perfect as a base to explore the many Crete attractions.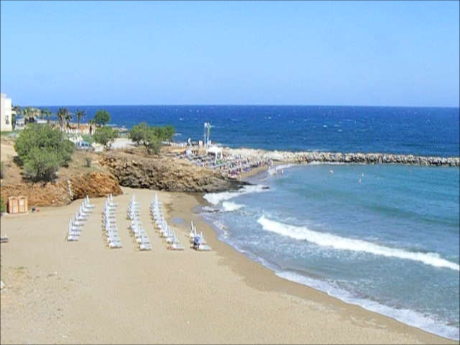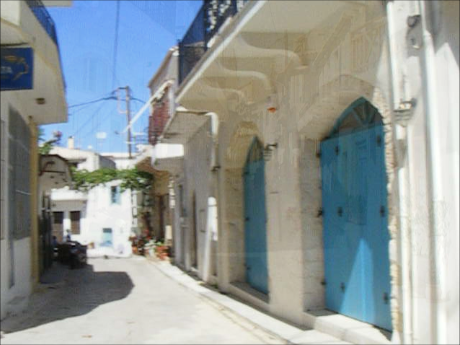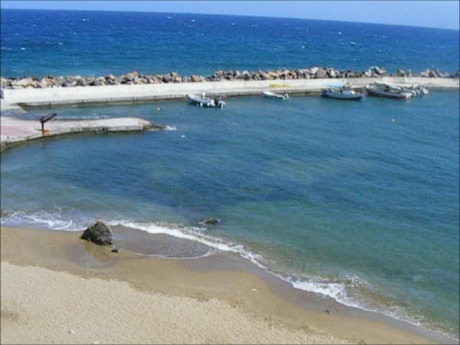 If you want a fabulous beach holiday on the Greek Island of Crete and love sunbathing on soft golden sands then this is the place for you. But equally if you like to walk, hike, bicycle, bird spot, photograph or paint glorious nature and scenery then you won't be disappointed either.
The village has a pharmacy, ATMs, a post office, butchers, bakers, greengrocers and other shops so everything you need is at hand.
Hotels in Panormos
 There are a few luxury hotels here including the all inclusive Iberostar Creta Panorama & Mare Hotel, the Iberostar Creta Marine Hotel and of course the 5 star luxury hotel Sensimar Royal Blue Resort & Spa, which we can personally recommend! The food is delicious.

There are also a few budget hotels in the village and a choice of apartments, studios and rooms to rent.
You'll also find private villas in the village and its surrounding area of Roumeli.

Restaurants in Panormos
You're assured a very warm welcome and some fine examples of traditional Greek and Cretan food and drink that make up the famous Cretan diet. Freshly caught fish and seafood are always delicious, when eaten overlooking the sea.
Many of the restaurants in Panormos offer great food at value for money prices with genuine Cretan hospitality. Great examples of the traditional Cretan Diet are offered in the small village tavernas and the beach side restaurants. We particularly like Georges And Georgia for really tasty simple food. It offers the best Stifado and Moussaka in the village.
For the best Greek Salad washed down with fresh white wine head for the Captain's Table. A varied menu of meat, fish and salads are offered and the portions are enormous.

Another restaurant we can highly recommend is the Agyra Fish Taverna which overlooks the sea. The seafood risotto is particularity tasty. 

Crete Attractions Nearby
The best Crete attractions nearby are many and varied. You'll be spoilt for choice with things to do in Crete if you choose this beach resort as your base. You can visit the historic town of Rethymnon with its marina, quaint old town and Venetian Fort. Or head for the hills and explore the Arkadi Monastery at the foothills of Psiloritis, (Mount Ida).
A visit to the waterfalls of Argyroupoli is the perfect way to cool down after hot days on the beach.

Panormos Beaches
Panormos Beach has many amenities for enjoying swimming, lounging, sun bathing or taking part in watersports. The main beach is sandy with crystal clear waters. A little further west you can find a few secluded coves that are less busy and can offer a very peaceful beach experience, making it one of the best secluded beaches.
Getting to Panormos
Flights to Heraklion Airport make it easy and quick to get to this beach resort but any flights to Chania Airport will mean a longer drive. Also arriving by sea at the Heraklion Port will make getting to the beach resort quicker than arriving at Souda Port at Chania.
By car, you can reach the town after leaving the New National Road.
A bus stop at the top of the village will allow you bus trips to Rethymnon and Heraklion or Chania.

---
Just Some of the Reasons We Love Crete...

Did you love this page? Please share it with your friends!
---
© Copyright All Original Content 2006 - 2023 Completely-Crete.com. All Rights Reserved. Reproduction in whole or in part without permission is not permitted.

Click here to learn about developing your own money-generating website
from Solo Build It! - even with little or no web experience!