Platanias – the Premier Beach Resort of West Crete…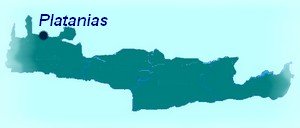 Platanias (alternative spelling Plattanias) is a wonderful beach resort crammed packed with a huge choice of accommodation, shops, restaurants, bars, discos, clubs and beachfront cafes on the Greek island of Crete. The holiday resort is just 10km to the west of the town of Chania in the prefecture of Hania and offers all you could want it terms of choice.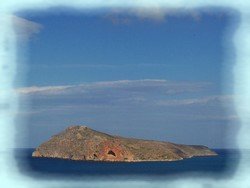 It has a superb 4km stretch of white sandy beach. The Blue Flag awarded beach is featured in our Best Beaches Guide. Opposite the beach, the small inhabited island of Theodorou is home to a number of the protected Kri Kri (wild goats) of Crete. Theodorou Island is said to be a petrified sea monster, rising from the sea with its gaping mouth wide open.
Plenty of extremely good bars, restaurants and Tavernas, some beachside others around the village square, offer the hungry holidaymaker a fabulous array of food and drink. The old and very quaint village of Pano Platanias offers even more choice and is a definite 'must do experience'. Very friendly locals, fabulous food and drink, the magnificent church of Agios Dimitris and views to die for make Platanias a wonderful place to visit.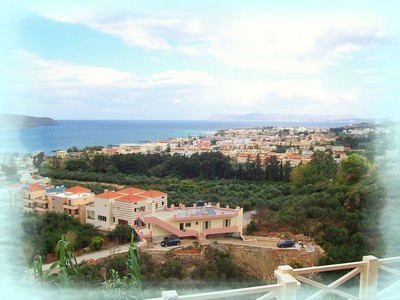 Places to See
Served well by the efficient bus service KTEL Platanias is a pleasant bus ride from the impressive town of Chania. Other excursions can take you to nearby Souda, the Samaria Gorge and Kissamos Kastelli.

Chania
Chania is a stunning town where modern, Venetian and Turkish traditional architecture are blended together creating a distinctive and attractive location. Alongside the archaeological sites, historic architecture, museums, markets and churches there are a brilliant places to eat and drink. Shopping here is also great with everything from small local goods to be bought from the indoor market, handmade leather goods from 'Leather Lane' to designer labels in the top shops.
Souda Bay British War Cemetery
The British Commonwealth War Cemetery at Souda Bay is well worth a visit if you are in or around the Platanias area. It lies 5km to the east of Chania on a small plateau just above sea-level on the eastern rim of Souda Bay. As you may expect it is a quiet, peaceful spot and is immaculately kept. Trees and shrubs on three sides with the open sea of the bay in front surround the cemetery. It is the last resting place of 1527 of the known 2000 British Commonwealth war dead, the majority of whom who lost their lives in the Battle for Crete between May 20th and 31st, 1941.
Samaria Gorge
Undoubtedly the most impressive of all the gorges of Crete is the famous Samaria Gorge in the Chania prefecture of West Crete. The Samaria Gorge is the longest gorge in Europe, measuring some 18 km and renowned for its majestic beauty.
Hiking down the gorge is permitted from May to the end of October, depending on the weather. (Please see our tale of woe Blog on this very subject).

Kissamos Kastelli
Around 30km west of Platanias is Kissamos Kastelli. It is officially called Kissamos. However, it is mostly known as Kastelli meaning castle, because of its Venetian fortress.
Along with the Venetian fortress the visitor can explore other aspects of the area of the history of Kissamos Kastelli. There are remains of Roman baths and a cemetery with interesting mosaic pavements.
Near the port there is the small church of Agios Ioannis (Saint John, the hermit), built within a cave.
Getting there
Platanias is accessible from the mainland and the whole of Europe through Chania airport, and the many daily ferry services in Souda, Hania.
Check out Flights to Crete.
Living in Crete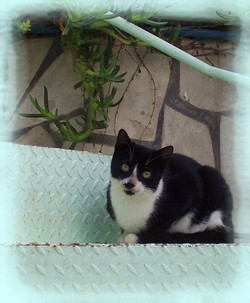 If you are thinking about buying a property here, and perhaps living in Crete, you will find some excellent real estate agencies throughout the area to help you with your choice, whatever your needs. Check out our Crete Property Guides for property throughout the island.
Whether you are looking for a permanent home, thinking about buying a holiday home in Crete or an investment property, there are some really good and inexpensive Crete properties for sale on this the biggest and best Greek Island.
Check out our What, Where and Why guide to Buying in Crete.
It might be useful to take a look at our Crete Property Frequently Asked Questions.

---
Just Some of the Reasons We Love Crete...

Did you love this page? Please share it with your friends!
---
© Copyright All Original Content 2006 - 2023 Completely-Crete.com. All Rights Reserved. Reproduction in whole or in part without permission is not permitted.

Click here to learn about developing your own money-generating website
from Solo Build It! - even with little or no web experience!