There's no better hiking in Crete than Samaria Gorge
Arguably, Europe's biggest and most challenging organised hike and the best of the Crete gorges.
SAMARIA CANYON Samaria Gorge also known as Samaria Canyon is the longest in Europe and staggers down 16 kilometres from the Omolos Plateau to the Libyan Sea at Agia Roumeli. Thirteen of these kilometres pick their way through steep stone steps, over rocks and boulders, through cold clear streams, past freshwater springs, and into mountain forests. The last 3K is a gentle walk on a paved path to the coast. Walking the Samaria Gorge is quite an achievement.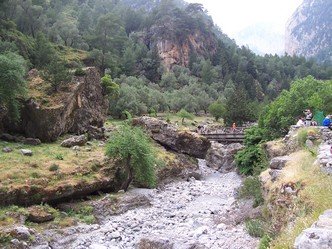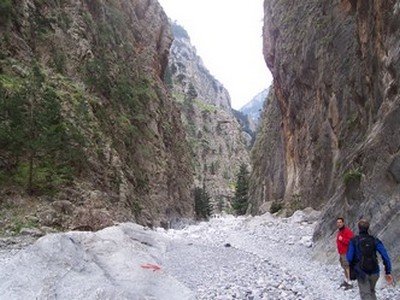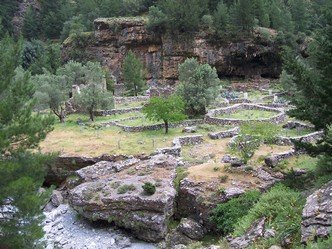 Your best way to appreciate this hike through the Samaria Gorge is via an organised tour. All the resorts throughout Crete will have agents who can organise this for you. You can be independent and do it by taxi or bus if you wish, although coordinating ferry, bus and/or taxi at the end of the hike is difficult.
Hiring a car and making your own way is not possible, unless you walk back up the Gorge of Samaria to collect your car where you must leave it, at Omolos. If you do manage to walk back up the Samaria Gorge (another 16K, uphill) please contact me and let me know which hospital you are recovering in, because I want to buy you a drink!
Costs vary depending on where you go from. We went from Kalyves, Chania in 2011:
Trip including transfers  €32.00
Admission to the Gorge €5.00
Ferry from Agia Roumeli to Sougia    €8.30
TOTAL €45.30
You will be collected from, or near, your hotel, and taken to the Omolos Plateau where the hike starts. After your long walk, you'll be put on the ferry to Sougia, Paleohora, or Chora Sfakion, from where you'll be coached back to your hotel in the evening.
The hike takes between 4½ - 6 hours depending on your speed, fitness, and the number of times you stop.Walking the Samaria Gorge takes commitment and dedication.
On arrival at the head of the Samaria Gorge, you will disembark for a coffee, snack and toilet visit at one of the restaurants there. Your guide will go and get the tickets and then you're off!
The start of the hike is a steep stepped section with slippery stones and loose pebbles, and it's easy to slip. This is not the place to stare around you. Keep an eye on where you are putting your feet.
Hikes are sometimes cancelled if the weather is bad, because this first section is treacherous when wet.
It will also be quite crowded here and as the pathway is narrow and there will be a lot of people with you. There are not many places to pass, so patience and care is needed for the first couple of kilometres, then things will get less hectic with space for passing and room to stop for pictures and a breather.
All along the way there are resting places, and your guide will give you the info on this, including his/her recommendations on when you should be arriving at each major rest place. One such place is the small church of Agios Nikolaos.
There are basic toilets at the stops and spring water taps and seating areas.
We thought we were allowed too little time to get to the first major resting place, and too much time to get to the second one. This was perhaps a bit of psychology to get people moving through the Gorge at a reasonable pace, especially at first.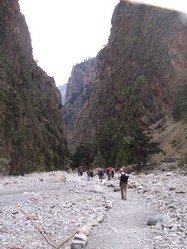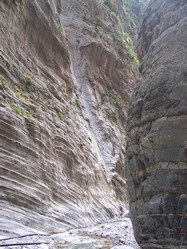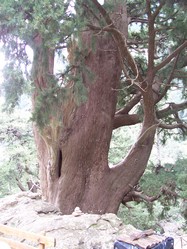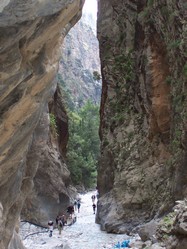 Best Tips for Walking the Samaria Gorge
You will be warned that this hike is hard on the knees, and this is certainly true. It's a downhill trek for the most part and this can jar the bones a little.
Here are some tips:
Don't burden yourself with loads of water, you can refill your bottle in the Gorge

Watch your step all the way! If you want to look at the view, take a picture, or search for Kri Kri - STOP FIRST, or you'll fall!

Apply some Vaseline to your feet before putting on your good hiking socks and boots or quality training shoes - this will help avoid blisters.

Don't leave the main path. It's mostly obvious where the path goes, but if ever you are not sure, stop and wait for someone to follow and show the way.

Don't rest too long, or your legs may seize up! Plus, you don't want to be late finishing
This is a long long walk over some difficult terrain. If you are not used to walking or are unfit then don't attempt this hike. In particular, it's not recommended for children under 8 and people with knee problems or other health issues.
Things to take with you
Don't take too much stuff with you – it's a long hike and hard work walking the Samaria Gorge and you don't want a heavy load on your back. Things to take:
A little water to get you to the first spring water fountain
Fruit, nut and/or chocolate snacks to keep you going
Lunch
Sun cream
Hat
Camera
Money for entrance fee, ferry ticket, and dinner at the end
We started our day at 5.30am which was the time we were picked up in Kalyves, near Chania.
This early start meant that we were one of the first groups down the steep steps at the start of the Gorge of Samaria. This is a good thing, because the pathway can get very busy with up to 2,500 hikers a day vying for a foothold during the height of the summer season.
This early start also means that it's cool, which is good in the summer.
In May it's COLD! But don't worry – you'll soon warm up!
What time you start will depend on where you are picked up. Tours are organised from all over the Island. The earlier the better to beat the crowds.
Kri Kri
Samaria is a large Greek National Park and the flora and fauna are protected. Picking flowers or hunting is prohibited.
This is home to the endemic Cretan Goat or Kri Kri (Capra aegagrus creticus). This is a small brown stocky animal with very distinctive curled horns. In the summer, you might find this goat coming down into the valley and it has been known to feed from hikers. At other times, you might not see them unless you stop and look upwards amongst the ledges and crevices on the gorge wall.
If you miss the Kri Kri, then there's a small colony in captivity in Chania that we know of. These are housed in the town park where you will also find some peacocks and other foul. Go up Tsanakaki Steet opposite the indoor market and the park is about 500m on your left. The café there is great too, with some handy and very clean toilets.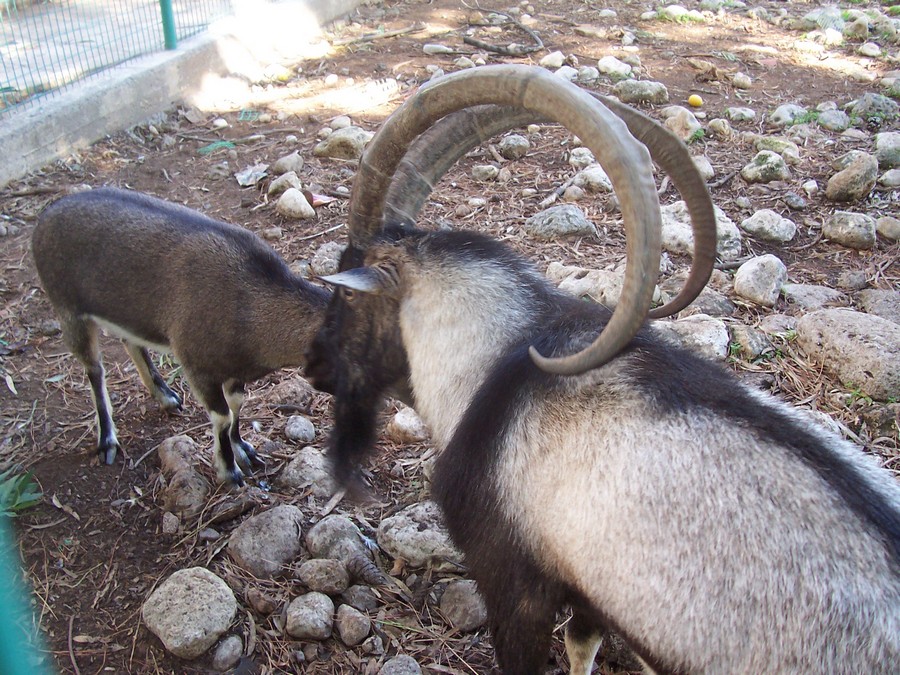 ---
Just Some of the Reasons We Love Crete...

Did you love this page? Please share it with your friends!
---
© Copyright All Original Content 2006 - 2023 Completely-Crete.com. All Rights Reserved. Reproduction in whole or in part without permission is not permitted.

Click here to learn about developing your own money-generating website
from Solo Build It! - even with little or no web experience!