Thyme – one of the Organic Herbs and Spices from Crete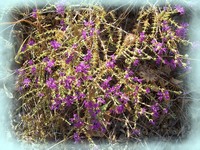 Thyme is perfect for enhancing the flavour of olive oil, butter, vinegar, meats, poultry, fish, soups and stews. Used also for salads and cooked vegetable dishes, Thyme adds a super seasoning.
In mythical folklore, thyme flowers were full of perfume and nectar for the bees, traditionally the messengers of the fairy world. Thyme honey is very popular here on the island of Crete.
Ancient Greeks believed Thyme could restore physical vigour and relive melancholy. Thyme was used in ritual altar fires, to purify the sacrifices to the gods. Thyme was also burned as incense at funerals and placed in the coffin of the dead. It was believed that the soul of the deceased took up residence in the flowers of the thyme plant, and that thyme assured the passage of the deceased into the afterlife.
---
Just some of the reasons we love Crete...

Did you love this page? Please share it with your friends!
---
© Copyright All Original Content 2006 - 2019 Completely-Crete.com. All Rights Reserved. Reproduction in whole or in part without permission is not permitted.

Click here to learn about developing your own money-generating website
from Solo Build It! - even with little or no web experience!