TV in Crete
This TV in Crete Page is from the Completely Crete Living in Crete Section.
Remember that TV in Crete doesn't just mean Crete TV.
There are many options available for ex-pats who want to enjoy a wide range of English Language programmes. Hollywood blockbusters, live sports, news, light magazine programmes, soaps – all manner of programming is available in English.
TV Sets

To watch TV in Crete you'll need a television.
One of the questions you may have if moving to Crete is: – should I bring my TV when I move, or should I buy one when I get to Crete?
You can't receive TV channels through an aerial with a UK TV.
If you intend to subscribe to a satellite service then you can use your UK TV if it connects to the receiver with a Scart connection.
A SCART socket is a 21 pin connector fitted on many European TV, VCR, and Satellite products, it provides stereo sound and video signals both in and out of the item of equipment (obviously depending on the particular type of equipment). Most can do this, unless your TV is very old.
Otherwise, consider buying a Greek TV when you get here, to keep your options open. There's some useful information on our
Shopping in Crete page.
Regular Greek TV
You can buy a TV and plug in an aerial and get regular Greek TV.
As you'd imagine, for the most part Greek TV is in Greek, and they have a wide range of programmes that are impossible to follow unless you speak Greek well. However, in addition, there are many English language programmes broadcast with Greek subtitles, mostly from America. There are also a few French and Italian language films too, again with Greek subtitles.
TV in Crete is dominated by the main Greek Channels, although there are a few Crete based channels too.
Greek programmes are an eclectic mix of soaps, game shows, family dramas and films.
The Soaps are generally quite baffling, but there are a lot of game shows in familiar format with Greek versions of Deal or No Deal, Who Wants to be a Millionaire, Fort Boyard, etc.
Greek cinema gets a good airing with, usually, a comic or dashing hero, supported by a gorgeous, sexy, blond leading lady.
Hollywood films are regularly aired on free Greek TV, as are the popular series' such as Desperate Housewives, Boston Legal, House MD, and the various CSI's.
You could get away with this, but in the winter you might get a little desperate – you can't go out every night!
It would be worth the pain and agony learning Greek if only to enjoy their TV.
The schedules are full of programmes that rejoice in such titles as:
"If you existed, I would divorce you"

About a man who lives happily with two wives and a lover, three women he adores and who, of course, know nothing about each other.
"Give your Frog a Kiss..."
A rising politician meets a beautiful girl, ignoring she is just a maid. However, the attraction between the two of them will bring about a series of unexpected developments for both of them...
"Girls to Have in One's House"
Three cheerful and unpredictable girls, one would have wanted inside his house, promise to keep you pleasant company, entertaining you and presenting interesting subjects from the political, social and, principally, the artistic circles!
"Worth Seeing It!"
It's worth watching TV in the noontime. It's worth watching unique moments. It's worth experiencing intense emotions. Everyday Tatiana Stefanidou, along with her journalistic team, shares with you human, tender, harsh and revealing stories. Do not miss a minute of it!
"ALL... BLAH BLAH"
Fei Skorda, along with an excellent company, discusses everything: the Greek television reality, the strangest news from all over the world and of course all the latest news on celebrities.
(All programme descriptions courtesy of NOVA TV).
NOVA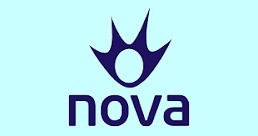 Nova is the closest thing to SKY TV in Crete. You buy a small dish and receiver and a skilled qualified engineer will set it up for you (for a fee) – and away you go.

It even has a souped up version called NOVA PVR, which is the eqivalent of SKY+.

Some of the features of the NOVA PVR service include:

    Watch two channels and record a third channel at the same time
    Record 80 hours of TV Programming
    Pause live TV
    Rewind programming
    Fast forward and slo-mo programming you have recorded

You can opt for one, some, or all of several packages including films and sports, just like Sky.

Channels include:

5 movie channels (3 of which show contemporary Hollywood blockbusters, and new films).
10 sports channels, providing live football, rugby, tennis, cricket, and a whole lot more.
6 Documentary channels including Discovery, National Geographic, History, Travel and Animal Planet.
3 Music channels including MTV.
A raft of news channels including BBC World and CNN.
A couple of kids channels, 2 Adult channels and E Entertainment to help you keep abreast of the celebrity scene in the USA and the UK, and all the Greek channels.

---
Just some of the reasons we love Crete...

Did you love this page? Please share it with your friends!
---
© Copyright All Original Content 2006 - 2019 Completely-Crete.com. All Rights Reserved. Reproduction in whole or in part without permission is not permitted.

Click here to learn about developing your own money-generating website
from Solo Build It! - even with little or no web experience!