The Palm Beach at Vai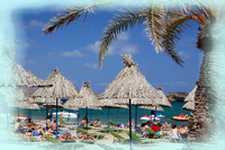 Vai Beach is Paradise
The palm beach at Vai combines soft pink sand, palm trees, turquoise sea, and a blue lagoon - you would be forgiven for thinking you were in Paradise!
Vai Beach has a real Caribbean feel to it with it's pink sand, palm trees and clear turquoise water.
This beach is so famous, you can barely move for tourists at the height of the season. It's no wonder the beach was chosen as the setting for a famous bounty chocolate bar tv commercial.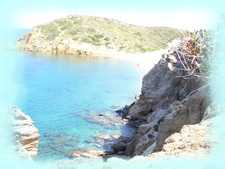 Vai Beach Lagoon
The beach is surrounded by a unique palm forest, the largest in Europe. These particular palm trees are only found here. A theory about their origin is that they sprouted from date pits spat out by Roma n soldiers, taking a break from conquering Egypt on their way back to Rome. The palms at Vai beach are closely related to the date palm.
To get here take the National Road out of Sitia and head east. It's about 25 kilometres from Sitia itself, and well signed.
There is parking just off the beach, but there's a fee. Plenty of shops selling souvenirs and knick knacks are scattered around the parking area too.
Vai beach is well organised, clean and with plenty of facilities. It has been awarded a blue flag. The rocky islet nearby is ideal for snorkelling.
There is also a scuba diving club at the beach.
The nearest village to Vai Beach is Paleokastro.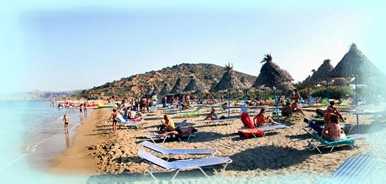 ---
Just Some of the Reasons We Love Crete...

Did you love this page? Please share it with your friends!
---
© Copyright All Original Content 2006 - 2023 Completely-Crete.com. All Rights Reserved. Reproduction in whole or in part without permission is not permitted.

Click here to learn about developing your own money-generating website
from Solo Build It! - even with little or no web experience!