The Water Melon, a real delicious summer treat in Crete...
Week beginning 4th August 2008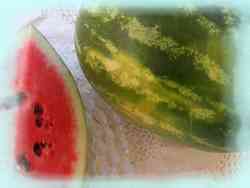 A spectacular sight (and taste) in the summer in Crete is the Water melon, or karpouzie (pronounced: karpoosie).
Outside it is a bold light and dark striped green. Cut it open and inside it is a rich deep red colour, speckled with jet black shiny seeds.
They range from about 2 kilos to 20 kilos, and it needs a couple of family members to get it to the car from the supermarket.
Only shops with special capacity weighing machines can cope. Sprightly, healthy, strong shop assistants are also required to help the old ladies wanting to buy a reasonably sized water melon.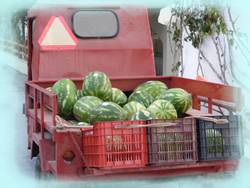 WATER MELON ON THE WAY TO THE SHOPS
Most restaurants and kafeneions will offer chunks free after your meal or with a drink, at this time of year. You will see mountains of them on the roadside being offered for sale direct from the producers, or heaped on trucks struggling to cope with the weight as they carry them to markets and shops.
The water melon is very juicy and sweet, and direct from the fridge is a perfect accompaniment to a hot afternoon by the pool.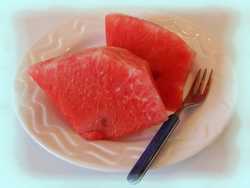 RERESHING WATER MELON
It's a sad day when the season ends and the karpouzie is hard to find. But not to worry, it only makes way for luscious grapes and ultra sweet figs!
Looking forward to next summer already!
---
NEWS FROM CRETE AND GREECE
These news reports appeared in the Kathimerini newspaper this week:
First, strange weather…
Summer storm strikes
"Athens streets were empty yesterday as many of the city's residents have left for their summer break. The summer holiday season peaks on Friday with the religious holiday of the Dormition of the Virgin. A summer storm yesterday afternoon caught many people off guard as rain pelted different parts of Greece including Elefsina, west of Athens, which was hit by a hail storm. Television footage showed pictures of holes made in outdoor plastic tables by the force of the hail which also broke car lights. The fire service said it had received dozens of calls from different areas, even in Gytheion, southern Greece, for assistance with flooding."
South Ossetia Greeks "safe"
"The Foreign Affairs Ministry said yesterday only a handful of Greeks live in the breakaway Georgian region of South Ossetia, adding that "there was no problem" regarding their safety.
"There is no problem for the ethnic Greeks. There is a family in the region that has been bombed and they are well and have been in contact with Greek diplomatic authorities," said Deputy Foreign Affairs Minister Theodoros Kassimis.
According to the ministry, a total of six Greek families live in South Ossetia.
Russia sent troops into South Ossetia on Friday, hours after Tblisi's forces tried to regain control of the separatist province following clashes between separatists and Georgian troops. On Saturday afternoon, the Greek ministry set up a crisis management center in response to the military conflict. Further information can be obtained by calling 210.368.1212 or 210.368.1730."
---
Just some of the reasons we love Crete...

Did you love this page? Please share it with your friends!
---
© Copyright All Original Content 2006 - 2019 Completely-Crete.com. All Rights Reserved. Reproduction in whole or in part without permission is not permitted.

Click here to learn about developing your own money-generating website
from Solo Build It! - even with little or no web experience!