Zygos Taverna in Istron, Kalo Horio is one of the best in Crete...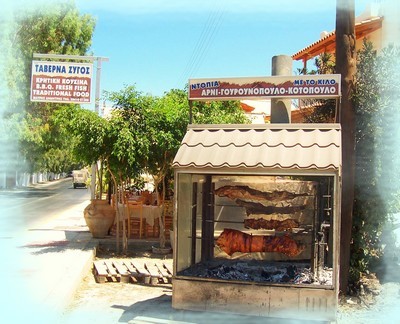 ZYGOS TAVERNA
If you're visiting Istron Kalo Horio in eastern Crete then Zygos Taverna should be top of your list for one of the best Crete eating experiences.
Zygos, which is the Greek Zodiacal sign equivalent to Libra, means balance and harmony. And it certainly lives up to its name with a great balance of good food, good wine, great live Cretan music and great ambience.
The speciality of the house is the spit roasted suckling pig or the spit roasted lamb, which is served with Cretan roasted potatoes and fresh salad.
Or try a Meze of Cretan and Greek favourites like tiny Cheese Pies, Dolmades, Tzatziki, Taramasalata and Giant Beans.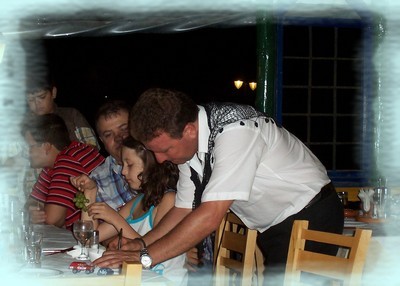 DIMITRIS WEARING TRADTIONAL SARIKI
You will be made to feel really welcome by Dimitris and all the staff who bend over backwards to please you. Dimitris and his male staff wear the traditional black scarf or shawl known as a sariki. Sarikia are traditionally hand woven and hand knotted in the Cretan villages and are an integral part of the traditional Cretan costume for men
There is a huge menu available at Zygos ranging from traditional Cretan dishes like rabbit stifado and lamb kleftiko right through to pizzas and pasta dishes.
Because it is in the heart of the small village of Istron Kalo Horio, it maintains small village prices and is incredibly good value for money.
A huge bowl of olive oil is presented on the table, with chunks of rustic fresh bread. A surprise pudding is given to all guests at the end of their meal.
Dimitris makes his own wine and Tsikoudia or Raki and will be more than happy to serve you with a glass or two. Genuine Cretan live folk music is performed usually on Friday evenings from 9.00pm and adds great character and charm to a wonderful dining experience.
The sounds of the lute, lyre and mandolin reverberate throughout the Zygos Taverna and in fact the entire village of Istron.
We have eaten here over 100 times and can fully and wholeheartedly recommend the fantastic Zygos Taverna in Istron, Kalo Horio. Enjoy!
---
Just Some of the Reasons We Love Crete...

Did you love this page? Please share it with your friends!
---
© Copyright All Original Content 2006 - 2023 Completely-Crete.com. All Rights Reserved. Reproduction in whole or in part without permission is not permitted.

Click here to learn about developing your own money-generating website
from Solo Build It! - even with little or no web experience!